BRICS okays list of research projects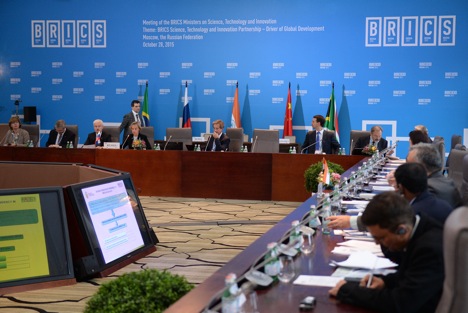 The Meeting of the BRICS Ministers on Science, Technology and Innovation in Moscow.
BRICS2015.ru
BRICS Ministers of Science, Technology and Innovation have signed a declaration outlining the directions on research that member countries will be working on over the next three years.
Ministers of Science, Technology and Innovation from BRICS countries met in Moscow recently and outlined, in the Moscow Declaration, basic directions of technical and scientific cooperation until 2018.
Among those who attended were Lyudmila Ogorodova, Russia's Deputy Minister of Education and Science, Carlos Cardim, Brazil's Ambassador and Head of International Affairs Office of the Science, Technology and Innovation Ministry, Dr Harsh Vardhan, India's Minister of Science,Technology and Earth Sciences, – Cao Jianlin, China's Deputy Minister of Science and Technology, and Naledi Pandor, South Africa's Minister of Science and Technology.
The declaration outlined the creation of joint BRICS scientific research and innovation platforms to work in five different areas, proposed and agreed upon by each country. Russia's proposals related to water resources and combating water pollution; Brazil's to preventing and mitigating adverse effects of natural disasters; India's related to geospatial technologies and their application; China's, to new and renewable sources of energy efficiency; and South Africa's to astronomy. They also decided to cooperate via networking in the following areas: biomedicine, human health and neuroscience; information technologies, software for high-performance computers; study of the oceans and polar research; coordination of materials on nanotechnologies and photonics.
India's minister also proposed that such meetings should be arranged for young scientists from BRICS countries. They also discussed the issue of creating major research infrastructure and "mega-science" projects. The participants concluded that despite occupying leading positions in the world, no country alone was the global leader in developing such projects. Among the projects to be implemented is the NICA (Nuclotron-based Ion Collider Facility) complex, in Dubna. The NICA complex can be characterized as the "little brother" of the Large Hadron Collider at CERN near Geneva.
"In Brazil, we are working on creating cooperation between the private sector and the state. This item should also be discussed at our meetings. Such cooperation should be present in all sectors and manufacturing fields. Only with the joint efforts of the ministries and the scientific community will we succeed. Not only when it is financed by the state, but also by the private sector," said Cardim, the Brazilian Ambassador.
Cao said the rate of economic growth is slowing, and all countries are encountering difficulties. He said China was willing to promote multilateral cooperation among countries, to form the technological basis to move ahead.
"In India, we are paying great attention to science and education. It is important to keep this in mind when creating our plans for cooperation. By 2016, we plan to create a special forum for young scientists of BRICS countries. Technologies of the 21st century have been focusing at the competitive component. Now, to obtain more opportunities and knowledge, it is necessary to unite," said Harsh Vardhan.
South Africa's Pandor supported the idea of a youth forum for young BRICS scientists.
"As for the young scientists' forum – this is our future and the legacy of our organization. Many conflicts in the world are the consequence of a lack of understanding of our differences, and we have to attract young people of different nationalities into such cooperation," said Pandor. "Cooperation within BRICS is important for the development of not only South Africa, but also the entire African continent."
First published in Russian by Izvestia.
All rights reserved by Rossiyskaya Gazeta.