How to learn the Russian language, with ease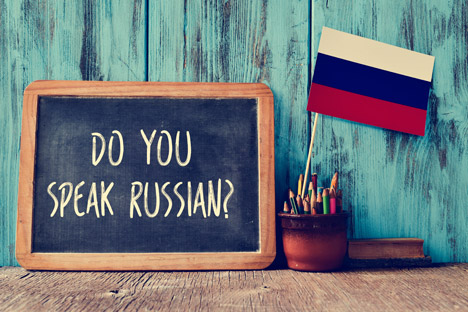 There are varieties of options to learn the Russian language even for those who don't have time to visit Russia. Outlined below is a list of online language courses.
As an MSU student via the internet
Moscow State University provides online Russian lessons via Skype. This course is not free, but the price is quite affordable; a sum of just 16 euros for a course with a minimum of eight classes.
It is then possible to check your level online with their free tests.
From the beginning to advanced vocabulary
RT suggests free online Russian lessons starting with the alphabet for beginners and more advanced tasks for those who already know Cyrillic. Lessons consist of a wide range of learning materials from easy exercises to grammar tables and tests.
Russian for free
The Russian for Free website has a large archive of step-by-step lessons in Russian, from beginning exercises (alphabet, vocabulary games) to fairly advanced tasks (like music videos and comics in Russian). It features a phrasebook for tourists who wish to practice and hone their skills before travelling to a Russian-speaking country, and a special language guide for romantics if you need help in that department. The website also offers a trial Skype private language lesson for just one euro.
Free apps
"Learn any language with 10 words a day" is the motto of The Easy Ten app. You can choose words from several topic groups and the app will arrange them in an enjoyable format, including spelling practice and audio tests. This is a really fun way to learn Russian and has all sorts of advantages for those that can't break free from their smart phones; including push notifications and the possibility of accessing via social networks so you can invite friends to compete in quizzes. The application is available as a free download in both the App Store and on Google Play
Another app simply called Russian provides different ways of learning vocabulary from quizzes to listening. For iPhones and iPads only.
A convenient app for beginners, Russian Alphabet is available both in the AppStore and on Google Play.
Podcast of your choice
One of the easiest ways to learn a foreign language is by listening to a podcast to kill time on your way to work or as a pleasant alternative to the radio during a long drive.
Tatiana Klimova has recorded around 200 short dialogues, in which she explains the meanings of complicated words. This is a good tutorial for those who want to expand their vocabulary.
Bonus
If you are in Russia, you will have a great opportunity to learn the language, but most formal courses are not free. On the positive side, most language programmes can sponsor your visa to Russia.
Outlined below are some useful links for those who wish to investigate further:
All rights reserved by Rossiyskaya Gazeta.