World Wheelchair Dancers: overcoming disabilities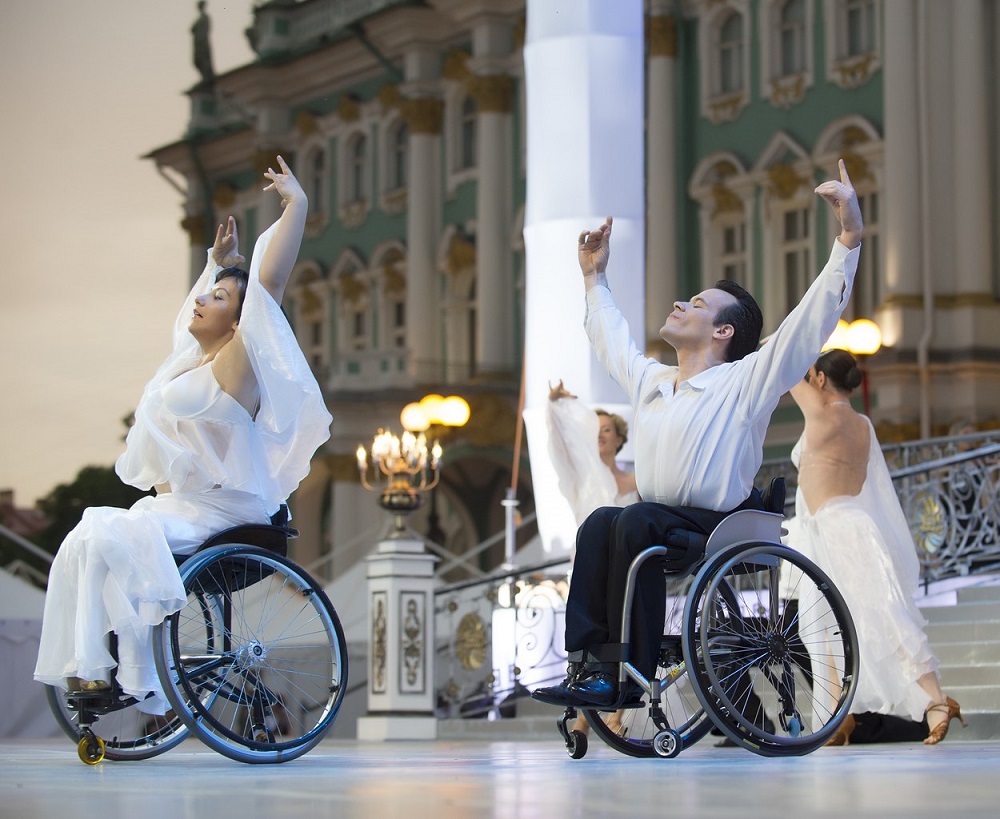 Alexandra Berdnik and Sergey Antonov.
Press photo
Dance becomes a form of therapy for people with disabilities. Some people with disabilities aim further and push the envelope in this Paralympic sport- all the way to winning the World Cup.
A girl in a wheelchair is sitting on a massive granite front step at the entrance to a sports facilityin the heart of St. Petersburg. She has come to train and calls the guard. He helps the girl to go inside; there is no ramp at the entrance. I follow them. In the hall, I find out that the girl is an honoured master of sports in wheelchair dance, a member of the Russian national team that came first, winning 5 gold, 4 silver and 6 bronze medals at the 2015 World Championships in Wheelchair Dance in Spain.
Coaches from the Academy of Russian ballet
The World Champions train in small room. They are confined to a wheelchair for different reasons, but they came to the club largely on the advice of family and friends.
Source: Press photo
According to Elena Lozko, president of the Russian Wheelchair Dance Sport Federation, dancing first of all serves as a method of rehabilitation: a person learns to control the body and the muscles, learns to breathe. Social function is also essential, as people in wheelchairs are usually insecure.
"The female dance partners feel shy to wear skirts for first recitals; they try to put onhigh-necked outfits. However, then they become very open and bright on the dance floor and in life," said Elena. Almost all the members of the club have families, they study and work.
Becoming a champion on a dare
Alexandra Berdnik, multiple national champion, World and European champion, participant of the Paralympic ceremonies in Sochi, took classes in wheelchair dance company, when she was little, but in 2007 she had to leavefor health reasons. "I really wanted to dance", said Alexandra, and then "Maxim, who joined the dance company, advised me to come to "dancing on wheels". He just dared me."
Source: Press photo
Alexandra came and stayed. She travels around the world a lot to take part in dance competitions. She learned English, and started learning Spanish, became more sociable.
"It is very difficult to dance sitting in a wheelchair: at first I would come home after training and fall asleep in my outer garments. Many people cannot handle these stresses. However, in the end, dancing is important to enjoy yourself on the parquet floor. This is very serious physical and psychological help," says Alexandra.
This year, the team will perform at the Open Championships in Kazakhstan, Finland, at the World Cup in St. Petersburg and at the European Championship. All of this requires hard training.
Source: Press photo
"We have great coaches. Some of them are even hereditary, whose families have worked in the Vaganova Academy of Russian Ballet, therefore, the level of training is very high," said Elena Lozko.
"We are not going to Rio"
"What is that?" asks club coach Konstantin Vasilyev sternly. "Is this cha-cha-cha? Your rumba is not that bad, but everything else you need to train!"
Vasilyev is a member of the International Paralympic Committee and coach of the Russian national team. Last year he received the title of honoured coach of Russia.
"Wheelchair dance is a Paralympic sport, but it is not included in the sports programme of the Paralympics", said the coach. "For instance, we're not going to Rio. And the budget is calculated exactly on the basis of the programme of the Olympic Games".
Source: Press photo
Vasilyev believes that the Russian team is unique. The single category in wheelchair dancing, which now has spread around the world, first emerged in Russia. It is not easy to find a pair for a person in a wheelchair.
"And don't forget that we invented Combi-freestyle, where acrobatics is allowed, unlike in the traditional programme. Latin American countries liked this style," said Vasiliyev.
Russia is not viewed as one of the most trouble-free states for people with disabilities. However, Elena believes that there are some positive tendencies. She remembers the late 1990's when, at the first major competitions which she organized, there were no volunteers or infrastructure, and no one met athletes at the airport.
Now all this is available and continues to make progress, said Elena.
All rights reserved by Rossiyskaya Gazeta.