Bright Russian opportunities for Indian higher education aspirants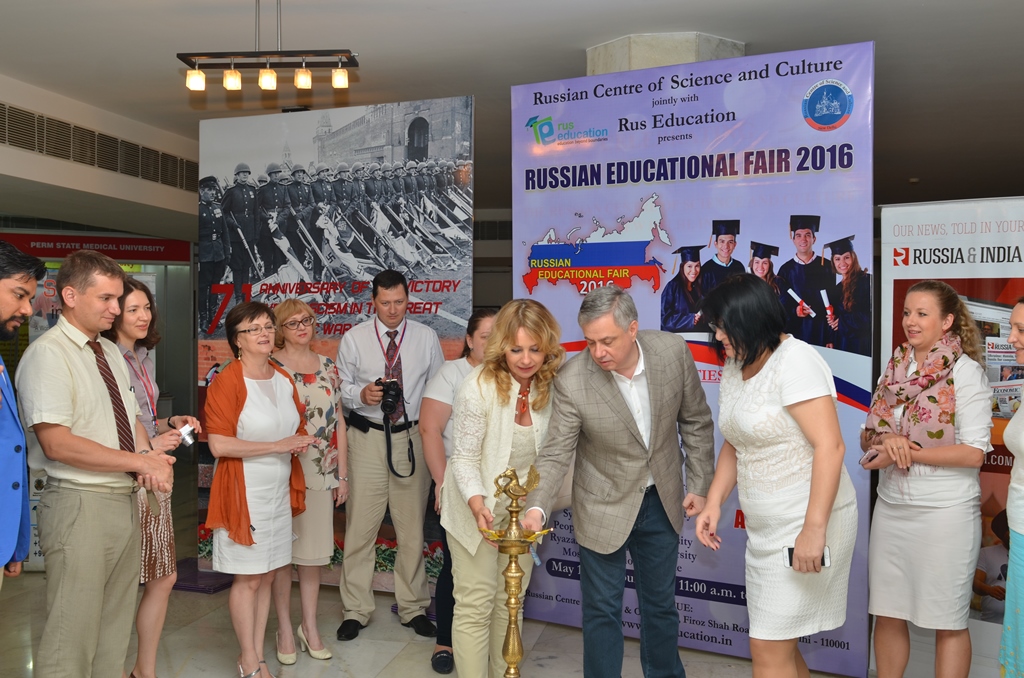 Fifteen leading Russian Higher Educational Institutions participated in the Fair.
RCSC
The Russian Centre of Science and Culture collaborated with Rus Education to jointly organise the annual Russian Educational Fair at the RCSC on May 15. The fair elicited an excellent response.
The annual Russian Education Fair, jointly organised by the Russian Centre of Science and Culture (RCSC) in association with Rus Education, was held on Sunday, May 15 at the RCSC in New Delhi. The fair, the 17th in the annual series, elicited an excellent response.
Fifteen leading Russian Higher Educational Institutions, including medical and engineering universities, participated in the Fair. They included Tver State Medical University, Southern Federal University, Orenburg State Medical University, Smolensk State Medical University, Volgograd State Medical University, Kazan State Medical University, Mari State University, Northern State Medical University, Omsk State Medical University, Perm State Medical University, Syktyvkar State University, People's Friendship University, Ryazan State Medical University, Moscow Aviation Institute and Kursk State Medical University.
A large number of Indian students and their parents, and media people attended the Education Fair's inaugural session, headed by Fedor Rozovskiy, Director, RCSC. Among others present were Elena Barman, head of Higher Education, Rus Education, Tatyana Perova, Head of the Russian Language Teachers Training Centre, Veronica Usacheva, Representative in India for Russia Beyond the Headlines and others.
Rozovskiy emphasised that the 17th edition of the Fair opened a golden opportunity for aspiring Indian students seeking admission to higher education in Russia. He said higher education in Russian universities was of high quality and widely recognised, and comparatively less expensive. He further pointed out that the successful conduct of the annual Education Fair with active participation of Russian educational experts in India has met with tremendous response in the past, attracting substantial and growing numbers of Indian students to higher educational courses. Among these, medicine, engineering, aviation, and computer science courses in leading Russian universities are most popular. He recalled the credible professional achievement of Indian students emerging from Russian universities.
Other than Delhi, members of the Russian educational delegation participated in the Education Fairs held in Mumbai, Kolkata, Trivandrum, Ahmedabad, Madurai and Chennai, aimed at promoting Russian education among Indians, establishing regular inter-university exchanges and attracting Indian youth and younger Russians to quality education in Russian universities.
The cost of higher education in Russia is relatively cheap compared to that in India, because it is highly subsidized by the Russian Government. Scholarship seats, including free tuition and accommodation are also provided to eligible candidates. There are around 10,000 Indian students currently studying at various faculties of arts, science, engineering and medical institutions in Russia.
Over the past three years, the number of Indian students going to Russia has increased considerably. There are no pre-qualifying exams like CET, IELTS, and so on for admissions to universities in Russia. Students should get a minimum of 50 per cent marks in the relevant core subjects/degrees. In the case of SC/ST and OBC students, it is 40 per cent. The academic year starts from September 1, 2016. Each academic year comprises two semesters, excluding annual holidays during July and August.
All rights reserved by Rossiyskaya Gazeta.