Surviving a train journey across Russia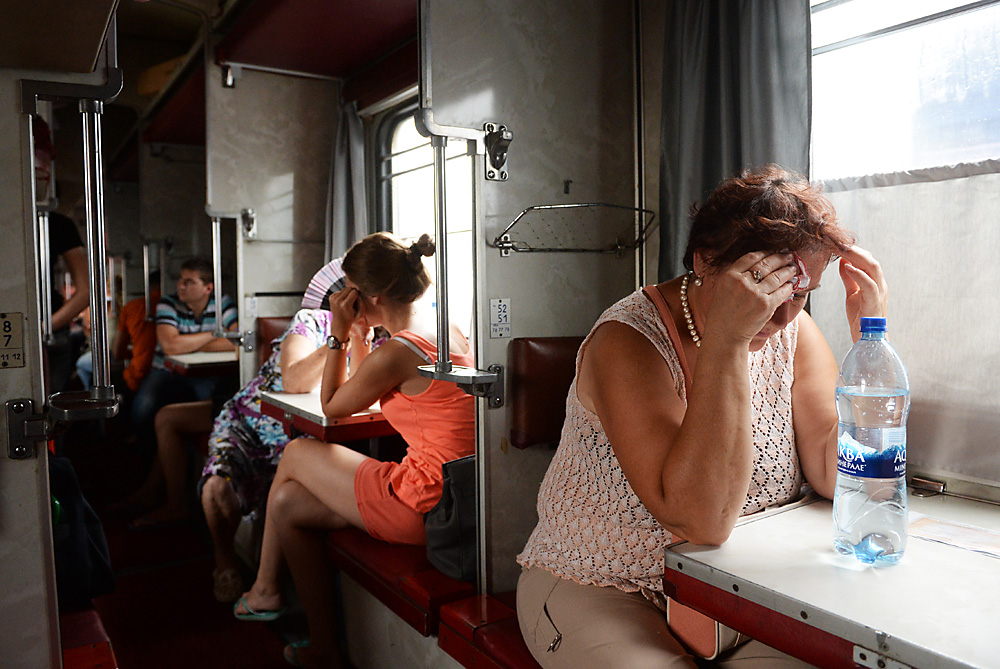 Passengers inside the train that started daily service on the route Moscow - Simferopol through the Kerch ferry passage, from August 1.
Kirill Kallinikov/RIA Novosti
A journey across Russia by train is the best way to learn about the country (as it is about most countries). To get a feel for the real Russia, a journey by train is perfect. The trip will take a lot of time, but you will get a chance to understand why Russians are who they are. But before you get on the Moscow-Vladivostok train, take careful note of the following…
In Russia, the length of the journey is not measured in hours. Here the scales are different, and people measure trips in days. There are high-speed trains, like the Sapsan (from Moscow to St. Petersburg takes just four hours by bullet train). But the Sapsan is a business-class train, and the majority of Russians, saving money, prefer to travel on ordinary trains. If your travel is not for business, but to see Russia, download some movies and books onto your tablet, sit back, and enjoy the ride.
Be prepared: it is unlikely that there will be a Wi-Fi connection on the train, and sockets are available only in the corridors. Russian Railways has promised to equip all trains with Wi-Fi hotspots but it is unclear by when this will happen. So it's prudent to send important e-mails in advance. Other difficulties you might encounter are the loss of your cell phone connection as soon as you get out of reach of a city.
Most compartments in Russian trains are for four people, so it's best to travel in groups of four, if possible, so you won't need to worry who your fellow travellers will be. I once encountered a drunk woman on the Sochi-Moscow train who claimed she was my sister.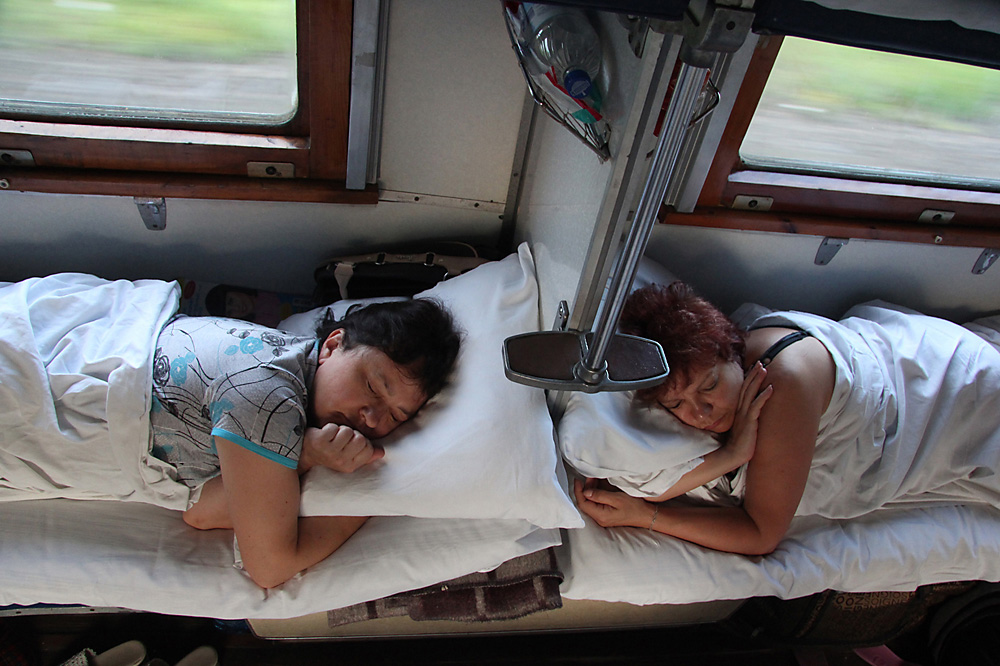 Source: PhotoXpress
In addition to second-class sleeping carriages (kupe), there are also third-class sleeping carriages (platskart) in Russia. They differ in the absence of walls and doors. A ticket in economy class is much cheaper, but it is recommended only for fans of extreme sport: You will encounter wailing babies, football fans, soldiers and noisy groups of students, so forget about a quiet night's sleep on the train.
On the other hand, your fellow traveller is your chance to understand what Russia is like. He may want to have a heart-to-heart talk with you. Don't be surprised and don't resist: Revelations on the train are a phenomenon of Russian culture. Probably your fellow traveller's wife has left him, he has got fired from his job, his cat has died, nobody likes him, he's depressed or has taken to drinking. A European or American in his place might go to a shrink. A Russian gets on the train, takes a shot and opens his heart to an innocent fellow passenger. The fact that he will never see him again only enhances the degree of sincerity.
In addition to heart-to-heart talks, there is no way of avoiding treats in a regular Russian compartment. The price-to-quality ratio in the dining cars often leaves much to be desired, so Russians prefer to stock up with food in advance. The standard passenger lunch is boiled chicken and eggs. Everyone starts eating as soon as the train leaves. It's nothing to do with hunger; it's just tradition. If someone invites you to dig in, don't refuse, otherwise you may offend your fellow passenger.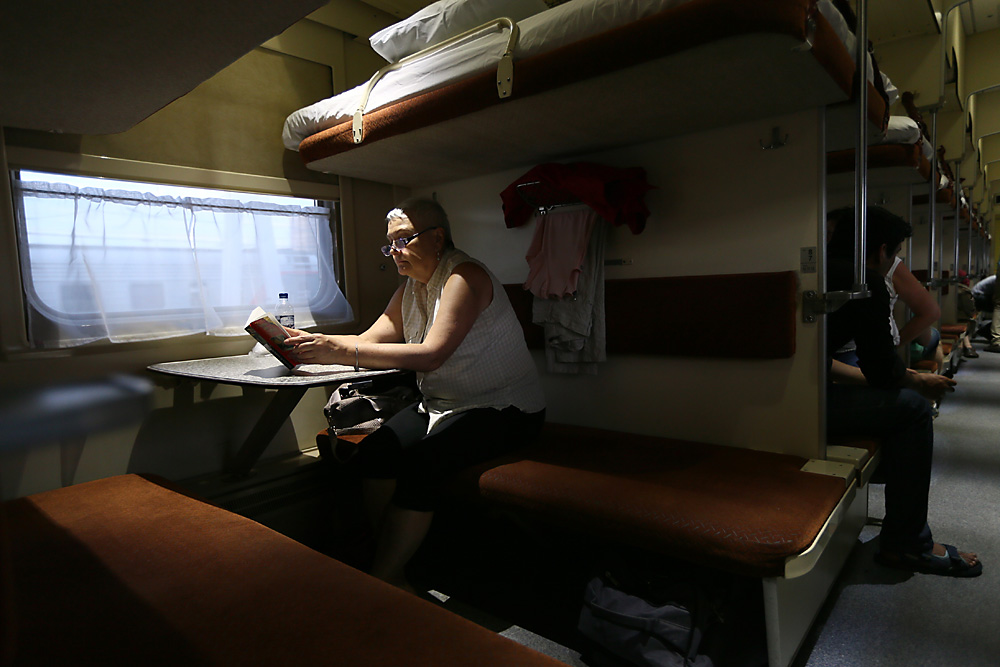 Source: Alexander Shcherbak/TASS
If the train is solely a means of transportation in Europe, in Russia, because of the duration of the journey, in some way it's like home. So don't be surprised if even before departure your fellow traveller, with a detached air, fishes some sweat pants and flip flops out of a bag and begins to change. In Russia, we like to travel in comfort.
Earlier, when smoking was allowed in the vestibule (the passage between cars), people not only smoked there, but would indulge in debates on the fate of Russia and play the guitar. Smoking has recently been forbidden in public spaces, but if your fellow-passenger leaves the compartment and does not return, most likely you will find them in the vestibule.
Tea cups and cup holders also merit a mention. In terms of recognition in Russian culture, these accessories are somewhere between Red Square and (Malevich's) Black Square. Yes, when the train is in motion, they clink. But imagine that these are tiny bells, and you'll understand why so many people in Russia say they love trains. After all, it's nothing if not romantic – the chime of cup holders, a drunken and heartbroken neighbour, five-minute stops for a cigarette break, and wide open spaces outside the window.
All rights reserved by Rossiyskaya Gazeta.