Yelena Isinbayeva: I'm sure Russia will take part in the Rio Olympics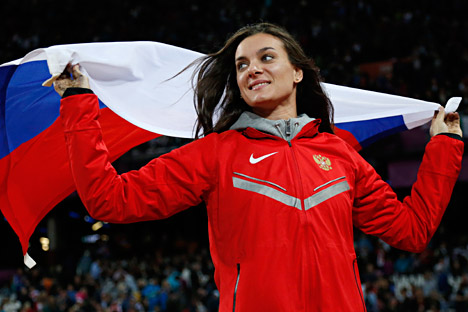 Russia's Yelena Isinbayeva celebrates winning bronze in the women's pole vault final during the athletics in the Olympic Stadium at the 2012 Summer Olympics, London, Monday, Aug. 6, 2012
AP
Yelena Isinbayeva, two-time Olympic champion, seven-time world champion and holder of 28 world records in the pole vaulting event, tells RBTH her thoughts on the crisis in Russian athletics following the country's ban from participation in international competition over a large-scale doping scandal.
RBTH: What do you think of the situation with the disqualification of Russian track and field athletes from IAAF (International Association of Athletics Federations) competitions?
Yelena Isinbayeva: I think that the IAAF Council's decision is unjust, groundless and dishonest in respect to the athletes not involved in the doping scandal, to those who never had and currently don't have problems with doping. I believe that in such a situation it is necessary to be selective, that is, make a decision about each individual case, when not everyone is responsible but only specific individuals for specific deeds.
I strongly believe that the ban will be lifted very shortly and all Russian track and field athletes, in particular me and the others who are not involved in the scandal, will be able to perform in international competitions, as well as at the Olympics in Brazil.
I have no doubt that our Athletics Federation will listen to all the recommendations made by the IAAF and WADA [World Anti-Doping Agency] and very soon we will present an account of the work done.
RBTH: Why did such serious doping problems affect the Russian national team in particular?
Y.I.: This is a global problem and it must be decided globally. The doping problem is not only a Russian problem, in fact it is not so much a Russian problem as it is an international issue.
In Russia there are many talented athletes and coaches, but problems arise when some think that they can bypass the law and take performance-enhancing drugs. It is necessary to understand that punishment will be inevitable, regardless of the country where this happens.
RBTH: How did the IAAF's decision affect you personally? Are you considering other ways of participating in the 2016 Olympics?
Y.I.: I am not considering any way of performing at the Olympics other than as part of the Russian national team. I believe that the current problem will be solved very shortly, that our Athletics Federation will be restored and we, members of the Russian national team, will perform under the Russian flag at the Olympics in Rio.
Personally I was shocked and upset by this decision, but this has had no impact on my training sessions. I continue to prepare and train myself. Yes, the performance schedule has changed, since we were deprived of the right to perform at international competitions in the winter, in particular the World Championship in Portland, U.S. But I will be performing in Russia. The schedule is already set and I, like all honest Russian athletes, will continue to perform inside the country.
RBTH: What did you do during the break you took from your career?
Y.I.: In 2013 I established the Yelena Isinbayeva Charitable Foundation, whose aim is to use sport to help children in difficulties. We try to support children who come from dysfunctional families and orphans and give them a chance to do sports. Thanks to sports I was able to change my life and the life of my family for the better, and now I want to help others and give them opportunities. We have a lot of work, which is why the charity now occupies practically all of my free time.
RBTH: How are you able to combine a major sport, charity work and family?
Y.I.: When everything is well organized, it is not difficult. At home my husband and other family members help me, while my training schedule, which I follow to a T, is prepared by my coach Yevgeny Trofimov. And the people who work at the foundation are responsible professionals. I've really been lucky, since I'm surrounded by a harmonious team of like-minded people. Thanks to them I'm able to combine everything: sports, charity work and bringing up my daughters.
RBTH: What do you plan on doing after you finish your athletics career?
Y.I.: I will definitely continue working at the foundation. I'll keep developing it to an international level. The charitable foundation is an important part of my life. It is important for the residents of my native Volgograd, as well as for Russians in general.
I'm fortunate because I found myself, I found my niche in sport. Today I want to give children hope, the hope of realizing themselves. Our motto is "Every child is talented." Our objective is to help each young athlete discover their talent. We build and repair sports grounds for them, organize competitions, tell them about sports. We believe that this is how we can change their lives for the better.
I have a lot of life and professional experience, experience that I dream of sharing with young people. That is why I want to help develop the Olympic movement in Russia and in the world. For this I'm going to move in the direction of the International Olympic Committee. I may even take up business and promotion.
All rights reserved by Rossiyskaya Gazeta.