2018 World Cup: Russia to spend $5 billion on transport, despite cuts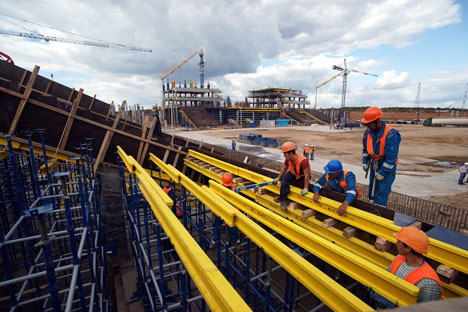 Construction of Cosmos Arena Stadium in Samara ahead of the 2018 FIFA World Cup.
Yuri Streletc / RIA Novosti
Russia is preparing to host the FIFA World Cup in 2018. The tournament will be held in 12 stadiums in 11 cities in three different time zones. The average distance between the cities is 400 miles, while between Yekaterinburg and Kaliningrad, the westernmost and easternmost cities, the distance is 2,000 miles. Russian authorities and transport experts say that such distances require a special approach to organizing transport for the tournament.
The Russian government is allotting 664.7 billion rubles (about $10 billion) to the preparation of key infrastructure for the 2018 World Cup. Half of that amount (337.4 billion rubles) will go towards the development of transportation infrastructure.
Due to the ongoing economic crisis in the country, the final sum has been reduced almost threefold. In this year alone the budget was cut twice: In June hotel expenses were cut by 30 million rubles ($450,000), while in August another 150 billion rubles ($1,350,000) was slashed from the budget. One of the high-profile casualties of the cuts was a 240-meter-high TV tower to be built in Samara.
The budget's transportation component, however, has not been changed. The money will be destined to the reconstruction and construction of more than 100 transport sites and facilities, with airport infrastructure and the road network the top priorities.
Modernizing airports and roads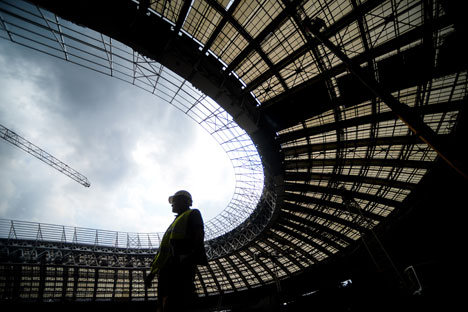 According to Russian Transport Minister Nikolai Asaul, the federal and local authorities are currently developing logistics solutions based on estimates of passenger flows. Part of the work has already been completed: Pulkovo Airport in St. Petersburg has been reconstructed and a new terminal has been added to Samara's Kurumoch International Airport.
The reconstruction of St. Petersburg's airport took three years. Originally there were plans to connect Pulkovo Airport to the city center with a light-rail tramline, but due to the economic crisis the local authorities abandoned the idea. Fans will be now transported to the city in buses with special routes.
Meanwhile, regional authorities are building roads for the World Cup that will improve communication between city neighborhoods. According to Yekaterinburg Region Governor Yevgeny Kuibashev, Moscow has allotted 1.5 billion rubles ($22.5 million) for the completion of a ring road in Yekaterinburg that was started more than 20 years ago in 1994.
Adopting the experience of Brazil
According to Konstantin Trofimenko, head of the Center for Studying Transportation Problems in Metropolises at Moscow's Higher School of Economics, fans will be ferried around the host cities using public transport and shuttle buses.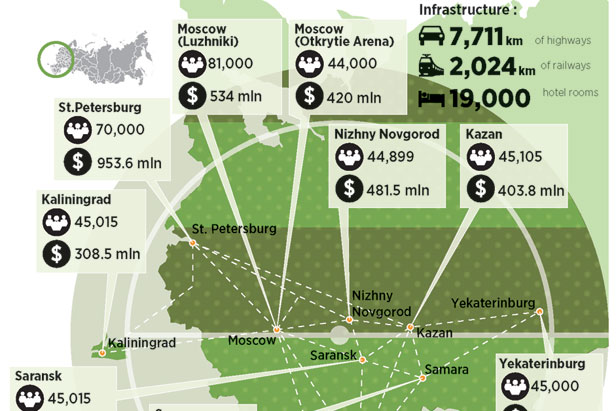 How much is Russia investing in new stadiums and infrastructure for the 2018 FIFA World Cup?
"In the big cities that have a metro, such as Moscow, St. Petersburg and Kazan, the fans (50,000-80,000 people) will unite with the passenger flows, while in other cities they will use the bus," said Trofimenko.
"FIFA has detailed instructions on how to guarantee transportation. This is a standard procedure, which is why in Russia it will be organized the way it was in Germany, Brazil and South Africa," he said.
Transporting fans from city to city, however, will require original solutions from Russia, considering the dense match schedule and the long distances involved. Trofimenko says that Russia still does not have a detailed plan for this.
"In the 18 hours separating the matches, transportation for fans with tickets should be free," he said. "How this will be done is still not known, since it hasn't been decided on a federal level. But it is clear that transportation between cities will be provided by means of buses, trains and planes. Here Russia can adopt Brazil's experience, in which fans traveled between cities for free."
All rights reserved by Rossiyskaya Gazeta.