Citizen Maradona? 4 job opportunities if the football star becomes Russian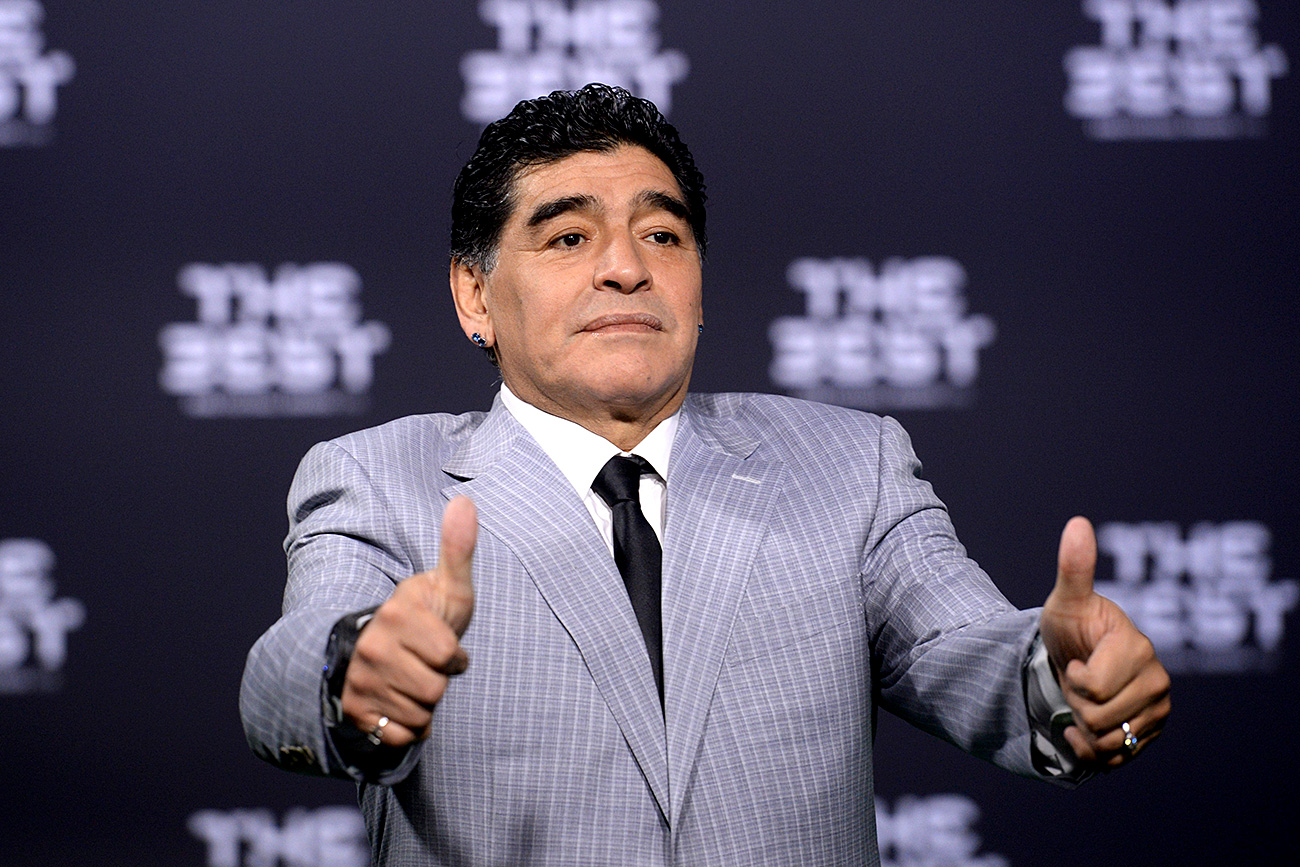 Diego Maradona said he'd like Russian citizenship, but what will his life in Russia look like and where will he work? His job opportunities range from the Russian national football (soccer) team to a position in government.
According to media reports, Maradona, who came to Russia for the FIFA Confederation Cup final, is considering Russian citizenship. He also hinted in his interest to head the Russian football team, and if he gets citizenship then in addition to the Russian national team, he can find a job in at least three other places in Russia. RBTH explores his job prospects.
1. Russian football team coach
Maradona told the media that anyone would like to become a coach of the Russian football team. When confronted directly with the question whether he plans to head the team, Maradona admitted that it's the true reason of his visit. The Argentinian said the team doesn't know how to attack and lacked confidence, and he could work on it as a coach.
Maradona has coached a national team before, when he coached Argentina between 2008 and 2010. During that time, Argentina reached the Word Cup quarter-finals in South Africa in 2010; though Maradona himself considered it to be a crushing defeat.
However, Russia's head coach position won't be vacant soon. The current coach, Stanislav Cherchesov, seems to be motivated enough to continue leading the team despite media reports about conflicts between him and players. Maradona, however, could also repeat his experience as a "spiritual coach," which he held in 2013 with the Argentinian club, Deportivo Riestra.
2. First foreigner in government
Given his experience as a player and a manager, he might be considered for a higher position. Maybe he could be appointed as a head of the Russian Football Union (RFU), or even as Sports Minister. The current RFU head, Vitaly Mutko, has worked in both places. If this happens, then Maradona will be the first foreigner to take a government job in Russia.
Obviously, it is going to be a political position, and Maradona's political views and his attitude towards President Putin might be helpful. The Argentinian has voiced support for Putin's policies, and during his recent trip to Russia he called Putin "a phenomenon" in the "top league" of world leaders.
3. National team player
4. TV commentator
In Russia, Maradona can also use his talents as a football TV commentator, and in fact, he worked as a TV commentator for the Tele America channel during the 1998 World Cup. Maradona did it again during the two next championships in 2002 and 2006, but for other Latin American TV channels. There seems to be a lack of charismatic sport TV commentators in Russia nowadays. Maradona with his knowledge, energetic personality and vivid statements can fill this gap. But he will certainly have to work hard on his Russian language skills.
Whatever the results of his recent trip, the Argentinian did not leave Russia empty-handed. One of the local football clubs gifted Maradona wine named after the famous Soviet goalkeeper, Lev Yashin, as well as two traditional Russian items: a samovar and a round loaf of bread. Now, the football star can contemplate his future options drinking tea from his samovar.
If using any of Russia Beyond's content, partly or in full, always provide an active hyperlink to the original material.