The Legendary Tarasov family: Born to skate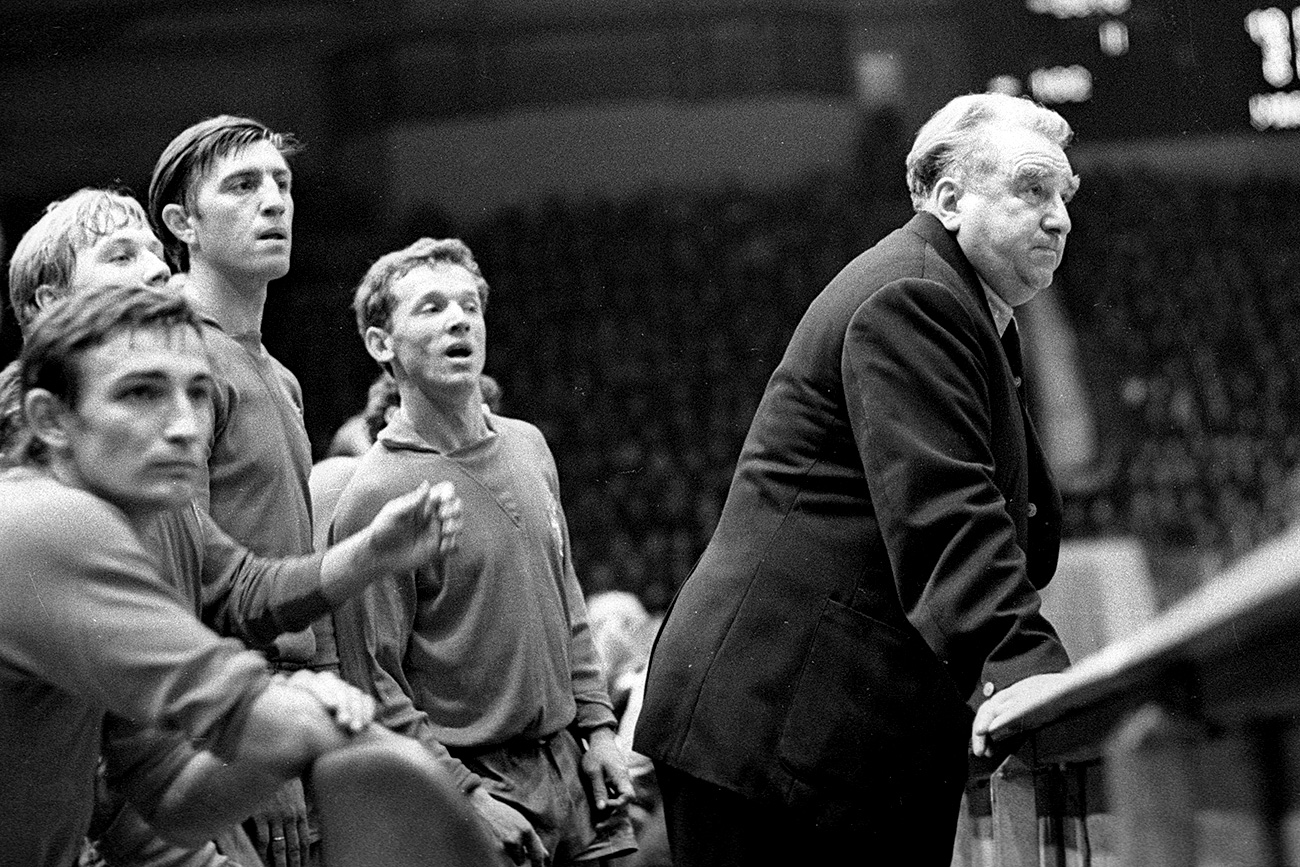 Anatoly Tarasov. / Yuriy Somov/RIA Novosti
Anatoly Tarasov (1918-1995) was one of the most revered Soviet ice hockey coaches. He was known as "the father of Russian ice hockey." Largely thanks to his tactical brilliance, the USSR hockey team was transformed into the dominant force in international competition. Under his tutelage, many athletes became legends, winning the likes of the World Ice Hockey Championships and the Olympics.
In 1974, Tarasov was the first Russian to be included in the Hockey Hall of Fame in Toronto.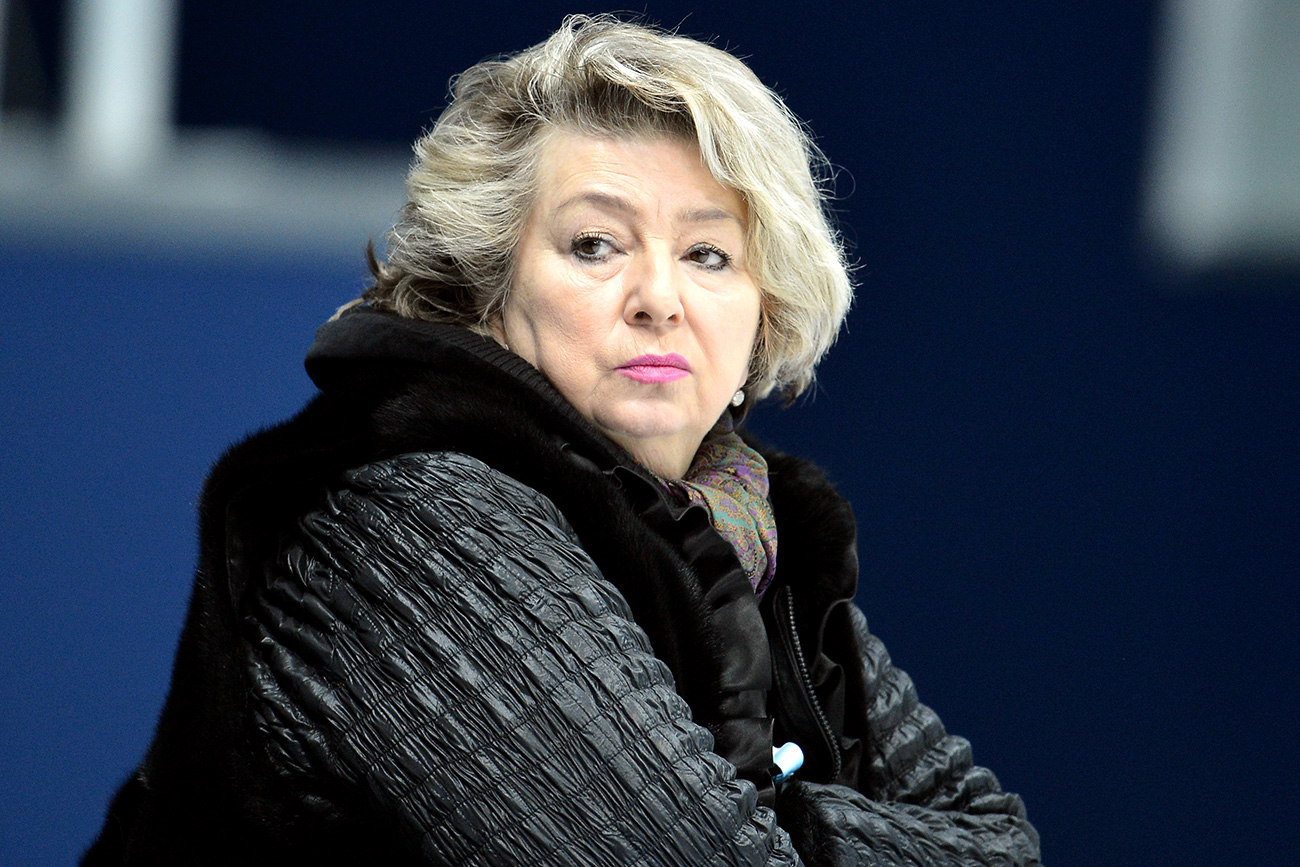 The coach Tatiana Tarasova. / Alexander Vilf/RIA Novosti
His daughter Tatiana inherited her father's love for the ice: She is one of the best figure skating coaches in history and has trained more world and Olympic champions than anyone elese, racking up a total of eight Olympic golds, and no more than 41 gold medals at both the European and World Championships.
Running into the history books: Anfisa Reztsova and her daughter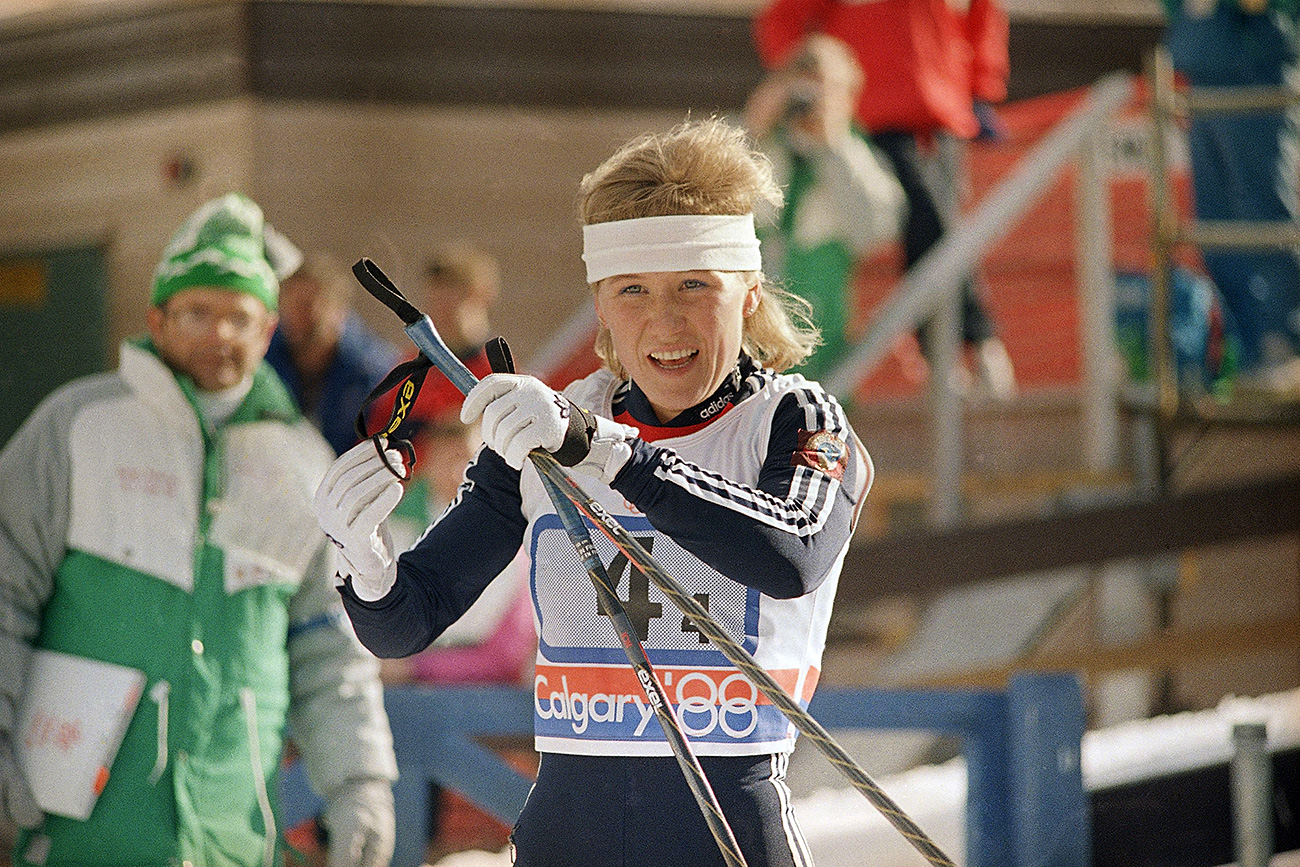 Anfisa Reztsova of the Soviet Union wins the gold medal for her team in Olympic women's cross country 4x5 km relay race, Feb. 21, 1988 in Canmore, Alberta. / AP
Anfisa Reztsova is the only woman in the world to have won two Olympic golds in two different sports. After her daughter was born she competed in cross country, but later switched to biathlon. At the 1988 Winter Olympics in Calgary she scooped gold in the cross country 4x5km relay. Four years later at the 1922 Winter Olympics in Albertville, she won gold in the 7.5km biathlon sprint - but this wasn't all. Her will to win still burned bright and two years later in Paris Reztsova became a three-time Olympic champion by triumphing in the 4x7.5km relay.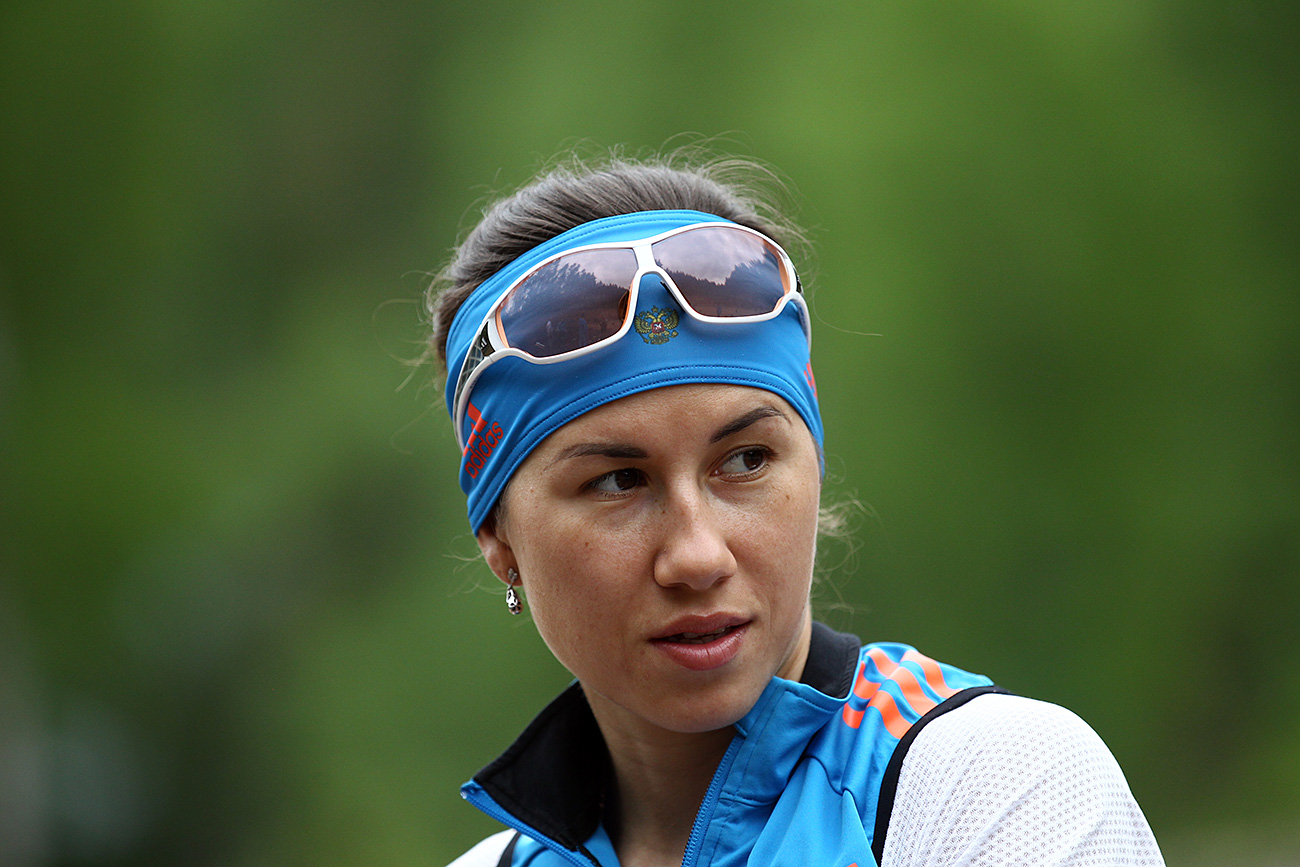 Darya Virolainen during a pre-seasonal training session of the Russian national biathlon team in Belokurikha. / Andrey Anosov/SBR
Anfisa's daughter, Daria Virolaynen, is also a professional biathlete and a member of the Russian women's team. She won bronze in the pursuit competition at the 2014 European Championships and ran her way onto the World Cup podium twice after this.
Water and ice: Vladimir Bure and his sons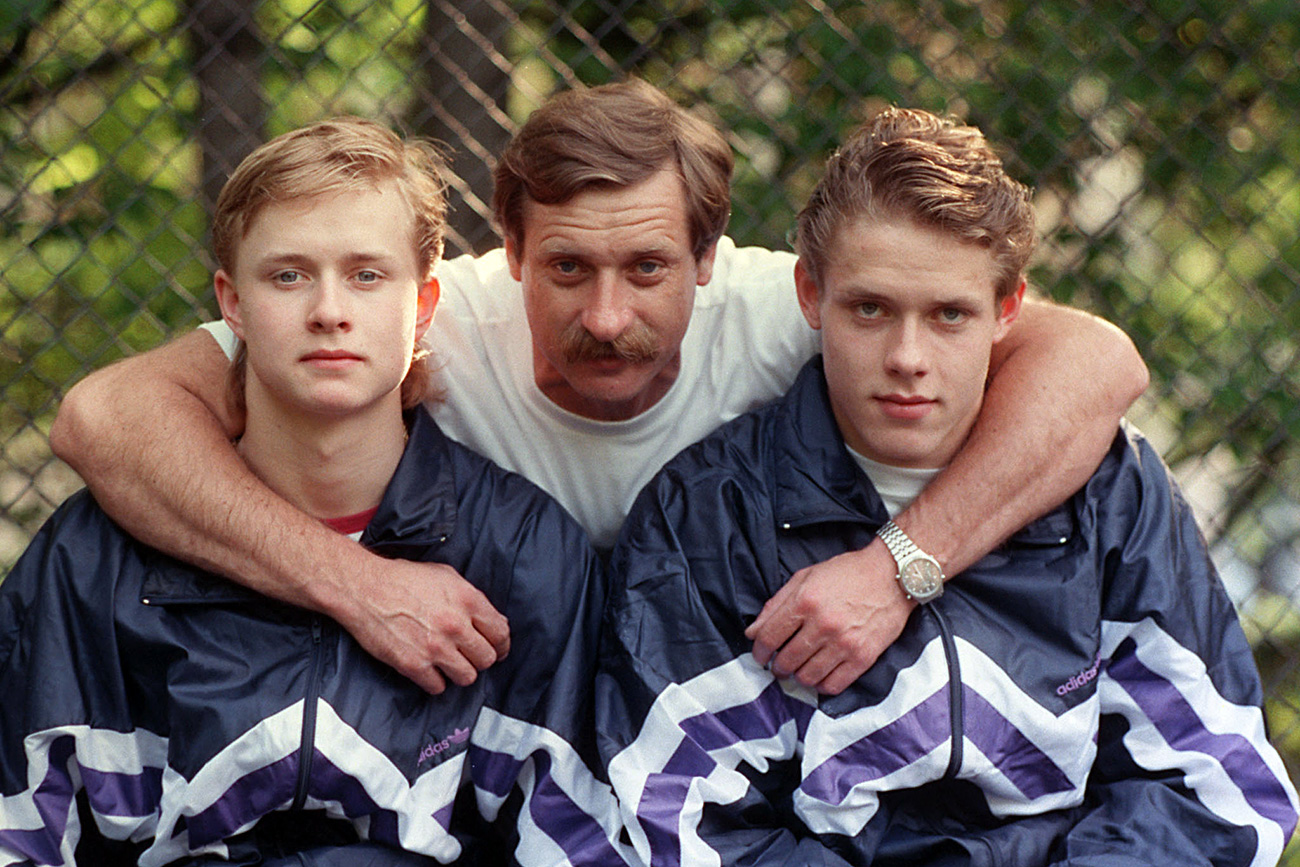 USSR. Moscow. Bure is a well-known name in the sport. Vladimir Bure is a Soviet swimmer. His son Pavel Bure and Valery Bure play ice-hockey. Bure family: Valery, Vladimir (father) and Pavel. / Igor Utkin/TASS
Sons of the famous swimmer Vladimir Bure, Pavel and Valeri opted to make waves on the ice instead of in the water, and became a brilliant hockey players. They possessed flair in abundance and had an eye for goal. Valeri played 10 seasons in the national hockey league and combined with his brother to set a NHL record: Between them they scored 93 goals in one season, the most recorded by siblings. Pavel was nicknamed "The Russian Rocket" for his extremely high speed on ice, and he scored 50 goals in one season more than five times, winning many trophies along the way.
Their dad, Vladimir, won gold at the European Swimming Championships in 1970 and was also a 17-time Soviet champion. He scooped an impressive four medals at the 1968 and 1972 Olympics as well. After retiring from the pool, he joined his eldest son Pavel in becoming a fitness coach for the NHL team New Jersey Devils.
The Anisin ice dynasty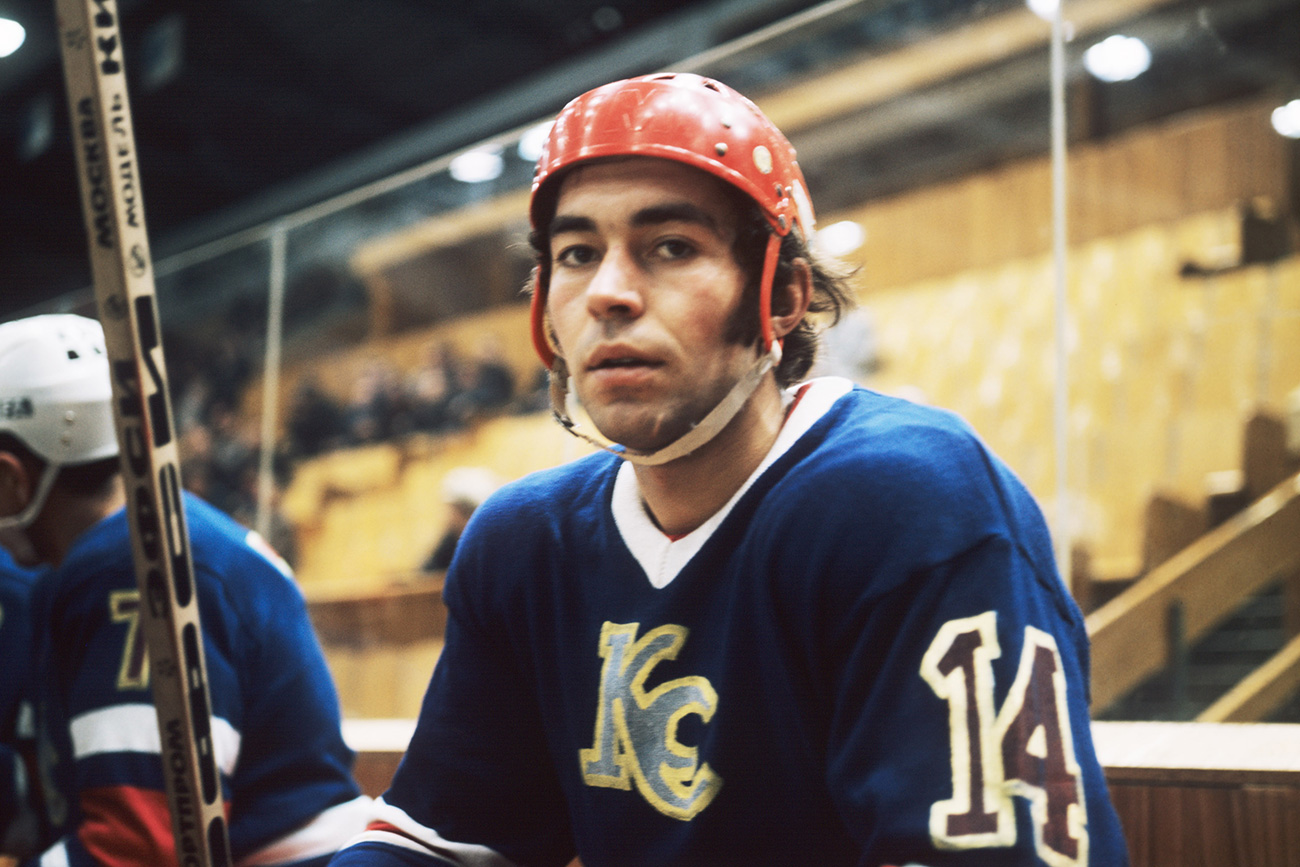 HC Krylya Sovetov Moscow and Soviet Olympic ice hockey team forward Vyacheslav Anisin. / Vyacheslav Un Da-sin/TASS
As a lethal finisher for the Soviet hockey team, Vyacheslav Anisin is a three-time Ice Hockey World Champion who played in the legendary eight-game Canada-USSR Super Series in 1972. He was regarded as the best Soviet power forward from 1973 to 1974.
His wife Irina was a professional figure skater, who won the 1972 Soviet Championships. Their daughter Marina followed in her mother's footsteps and became a famous Russian ice dancer.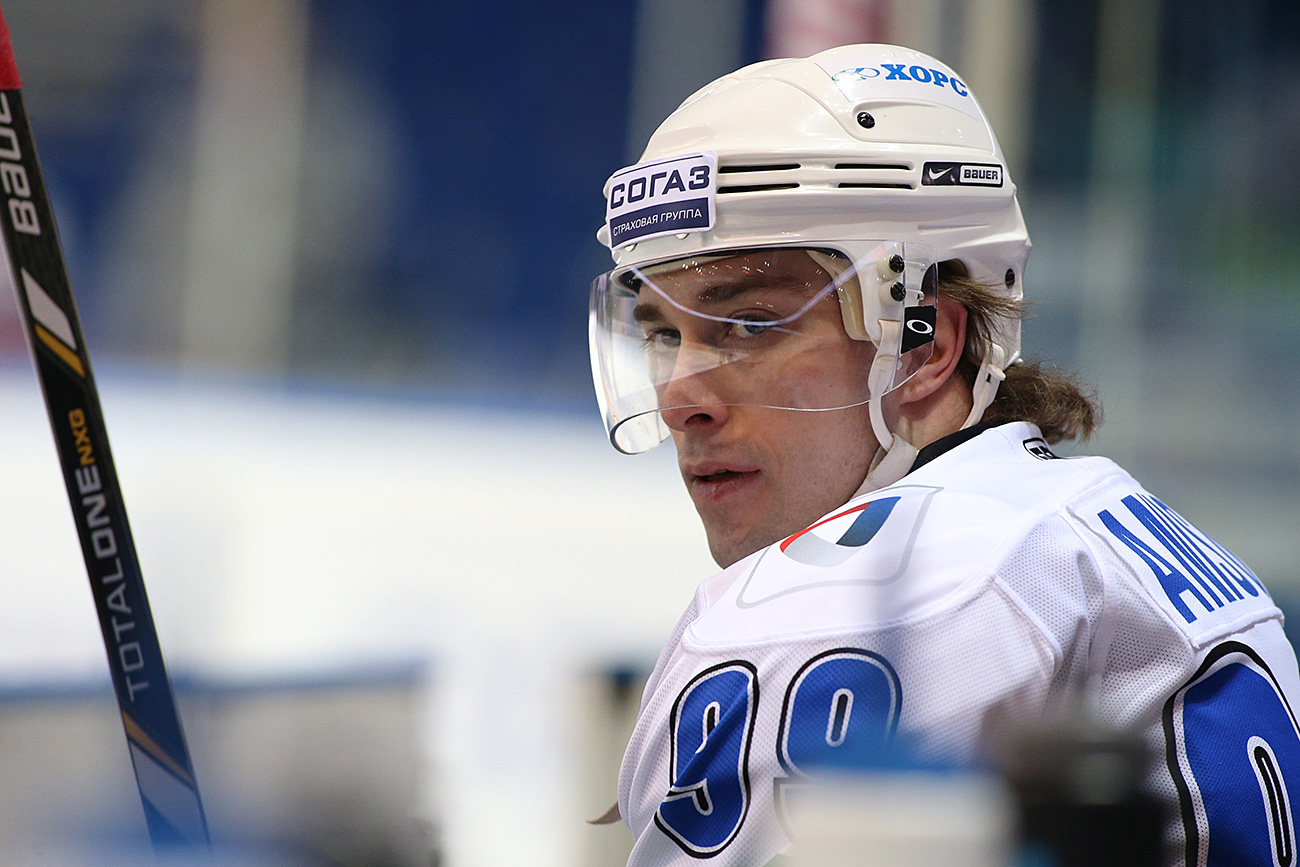 Mikhail Anisin. / Yaroslav Neyelov/RIA Novosti
Marina's younger brother, Mikhail, took to the ice like his dad, winning the Gagarin Cup in 2012 and scoring 14 goals in the process.
The terrific Ovechkin family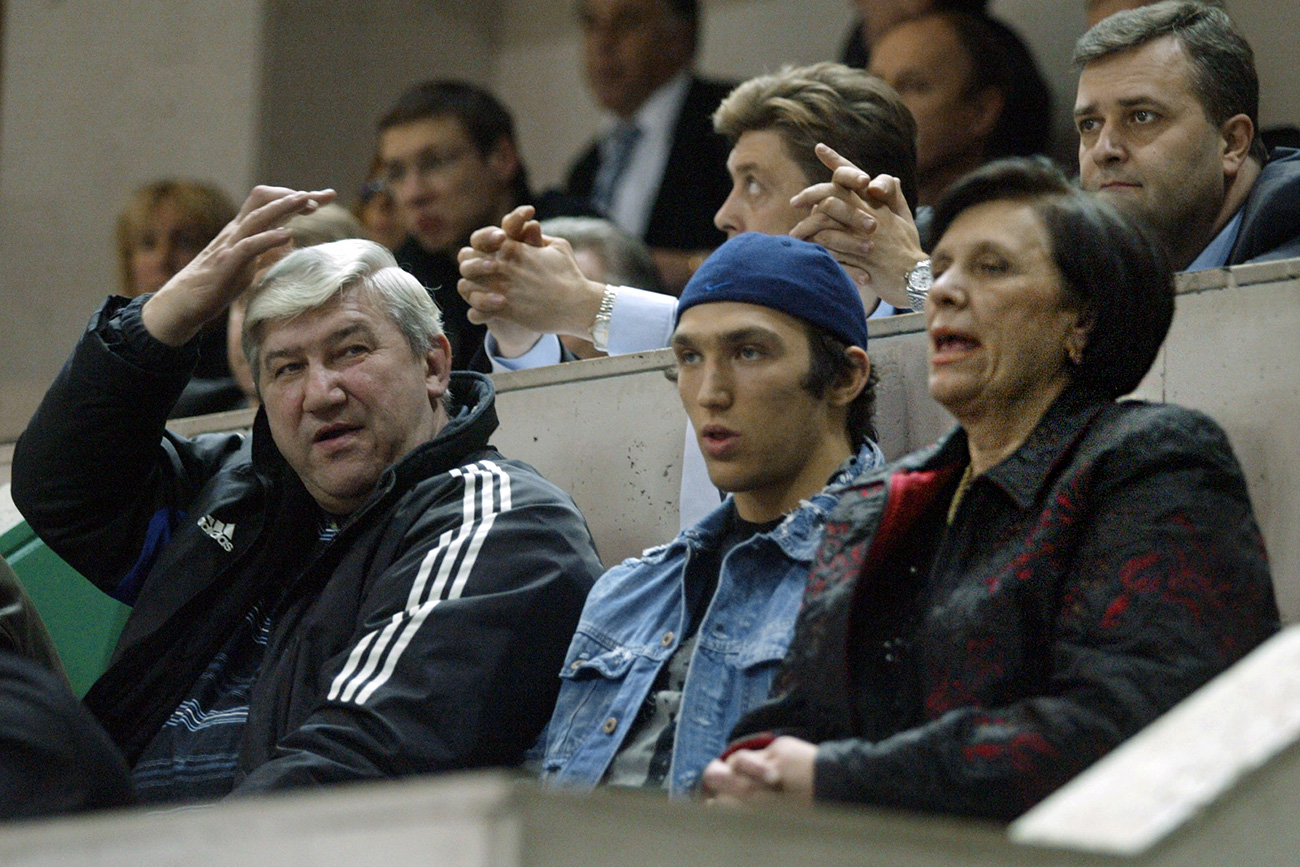 Tatyana Ovechkina, president of the women's basketball club Dinamo, with her husband Mikhail (left) and son Alexander (center). / Vitaly Belousov/TASS
Alexander Ovechkin is the son of the famous Soviet basketball player Tatyana Ovechkina. After moving to America Alex thrived on the ice hockey rink, enjoying iconic status while playing for the Washington Capitals. He inherited the athleticism of his mother, who was an Olympic gold medalist.
She played for the Soviet national team that also triumphed multiple times, including at the 1975 World Championships.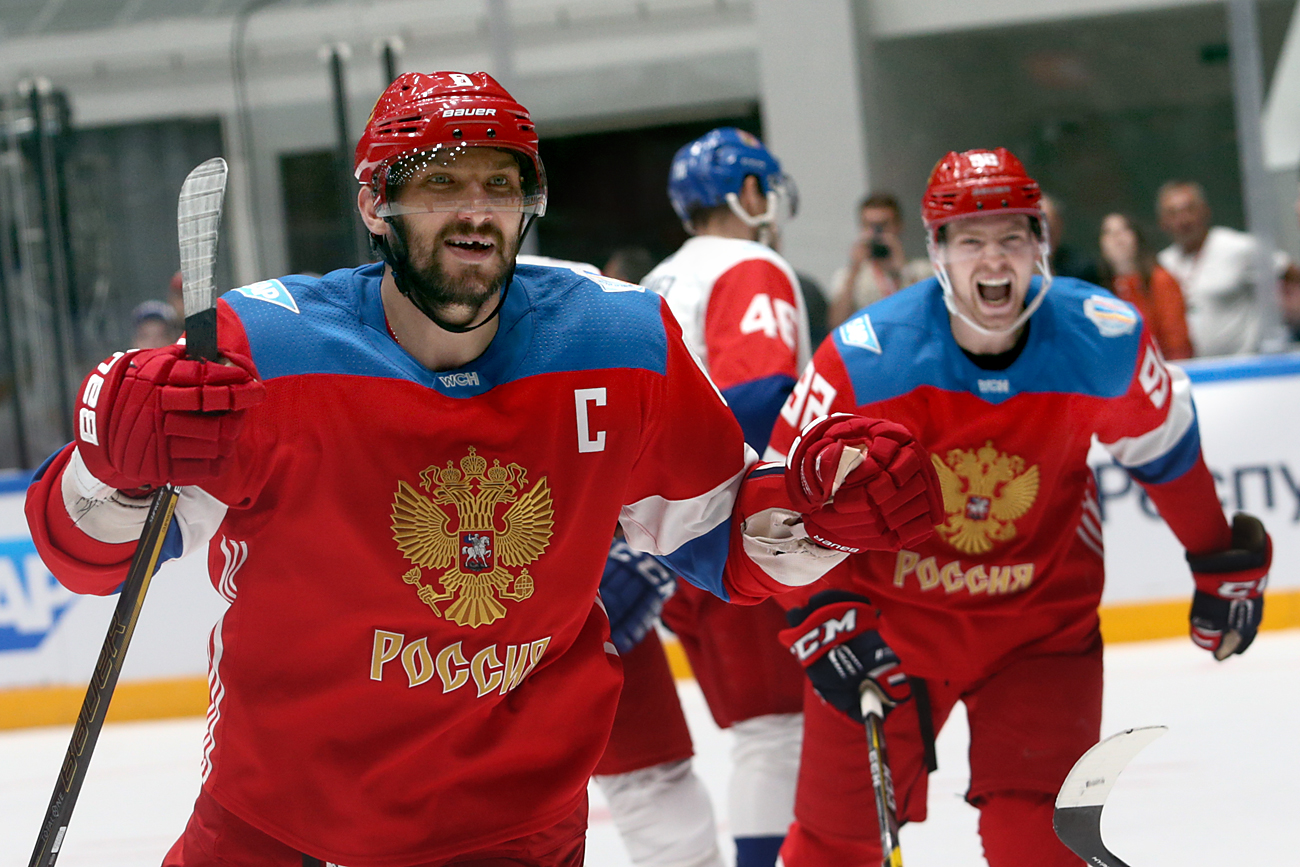 Team Russias forward Alex Ovechkin in action during the World Cup of Hockey pre-tournament game between Russia and Czech Republic at the Yubileiny Palace in St. Petersburg. / Getty Images
And if there wasn't already enough sporting blood coursing through Alex's veins, his dad played for the Moscow Dinamo football team. Quite some family!
Tikhonov ice hockey dynasty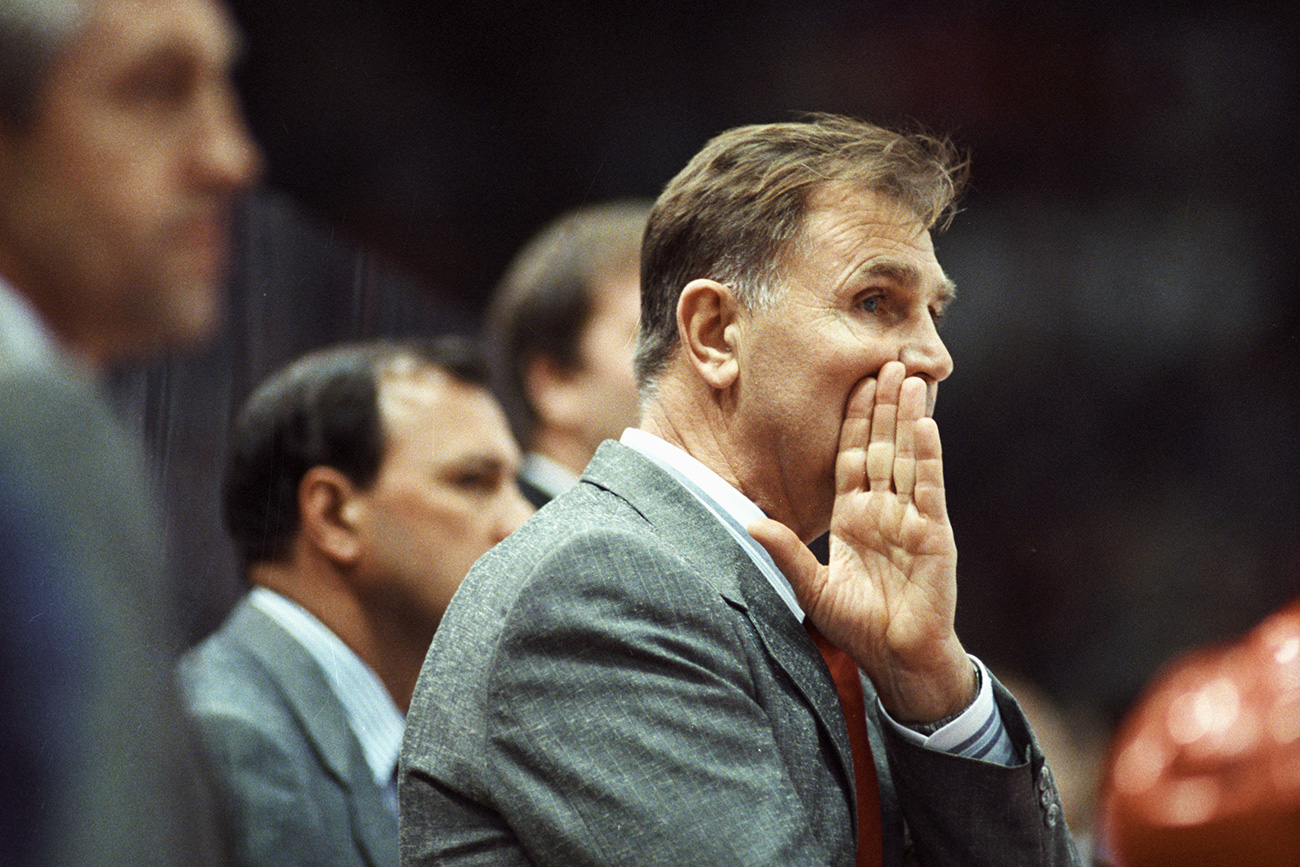 CSKA ice-hockey team coach Viktor Tikhonov leads his players during a match. / Dmitryi Donskoy/RIA Novosti
Famous ice hockey coach, Viktor Tikhonov (1930-2014), led CSKA Moscow to twelve consecutive league championships, which is pretty good going - but it got better. He also led the Soviet hockey team to eight World Championship gold medals, as well as Olympic gold in 1984, 1988, and 1992.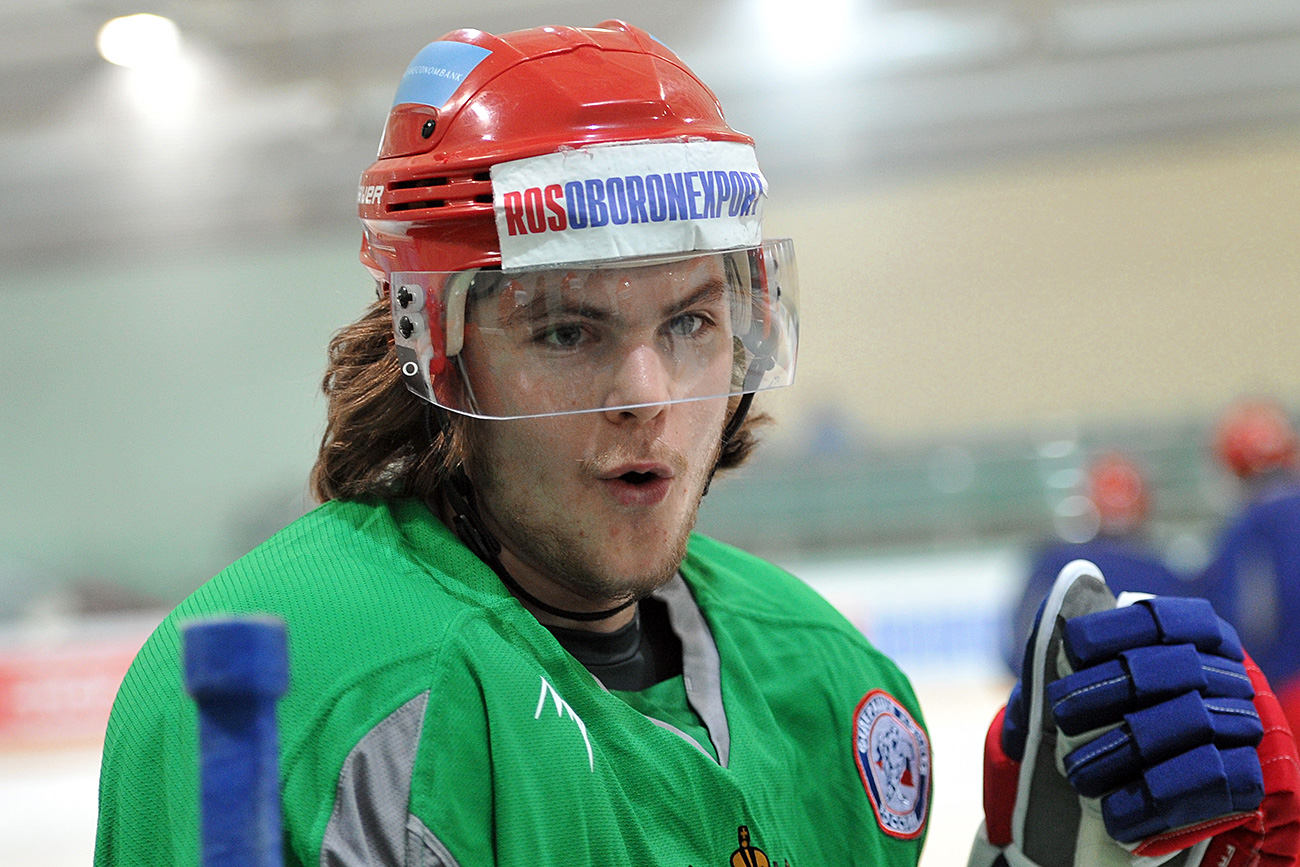 Russian national hockey team player Viktor Tikhonov at the team's training session ahead of Karjala Tournament, part of the Euro Hockey Tour. / Alexey Kudenko/RIA Novosti
Viktor's son and grandchild also devoted their lives to hockey. His son Vasily became a coach and trained Soviet, Swedish, and Finnish teams. Moreover, he was the assistant coach to the San Jose Sharks in the NHL. Vasily's son, also Viktor, is a professional ice hockey forward who brought home gold from the 2014 World Championship.
If using any of Russia Beyond's content, partly or in full, always provide an active hyperlink to the original material.