Kazan: Where Europe and Asia meet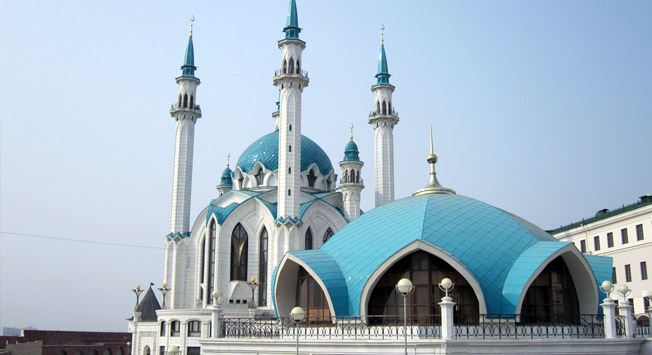 The best place to see a clash of Russia's varying cultures and religions lies a 90-minute flight from Moscow - on the banks of the Volga River.
The city, which will host the 2013 World Student Olympics, or Universiade, July 6-17, is the capital of the Republic of Tatarstan – whose population is almost evenly split between the Muslim Tatar and Orthodox Russian communities. Kazan's appeal is rooted in this mix of cultures, which is reflected in the city's architecture and cultural offerings.
Dominating the city skyline is the kremlin, Kazan's ancient fortress. There is a large mosque as well as a Russian Orthodox cathedral – Tatarstan became part of Russia during the reign of Ivan IV (the Terrible), whose forces put the city under siege in 1552. Next to the mosque, the Annunciation Cathedral is revered by Orthodox believers as the home of the icon of Our Lady of Kazan, one of the holiest in Russian Orthodoxy, built between 1554-62.
As well as the religious sites, the kremlin also features the Söyembikä Tower, which leans on its side. English-language tours are available.
The Kazanka River joins the Volga at Kazan and gives a good view of the city's modern face, including Millennium Bridge, built in 2005 for the 1,000th anniversary of the city's founding.
Heading back into the city from the river, you see its Russian heritage. The Kazan Theater of Opera and Ballet dominates Liberty Square, and closer to the citycenter is Kazan Federal University, near Bauman Street, a long pedestrian walk at the heart of the city. Here the souvenir shops alternate with restaurants, many offering Turkish cuisine – a testament to the ethnic ties between Tatar and Turkish cultures. You'll also find traditional Tatar dishes – the honey-coated fried dough known as chak-chak, served with tea, comes highly recommended.
Across the Bulak canal is Kazan's central market, which is not on the tourist trail but shouldn't be missed. The vendors are primarily Tatar or central Asian, and it's a good starting point for exploring the Tatar district.
All rights reserved by Rossiyskaya Gazeta.