Celebrating International Women's Day in Moscow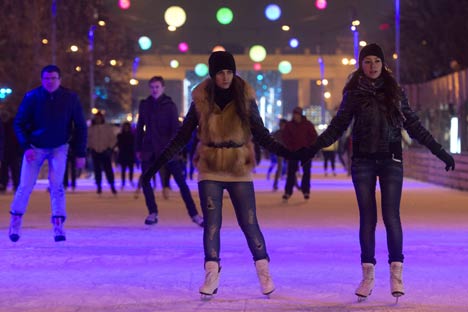 The owners of the Gorky Park rink have a special gift for their female guests this International Women's Day: they can skate for free on Mar. 8. Credit: RIA Novosti
Where to spend International Women's Day in Moscow and honor women around the world. RBTH is your tour guide around the capital to celebrating March 8 in true Moscow style.
By a stroke of luck, International Women's Day (Mar. 8) falls on a Friday this year, meaning that Russians will have a whole three days to celebrate. RBTH is your tour guide around the capital for Moscow-style Women's Day celebrations.
Bid farewell to winter as a Soviet-era "Oar Girl"
According to the calendar, spring is already upon us. Still, the first days of March are chilly in Moscow. Those wishing to bask a little longer in the winter frost and enjoy its unique recreations should visit Europe's largest artificial skating rink in Gorky Park.
Oar girl
Prior to 1941, Gorky Park featured a full-size sculpture by Ivan Shadr of a woman holding an oar in her right hand. The height of the sculpture, including the bronze pedestal, was 39 feet. The statue was destroyed during World War II, but was restored later by the Association of Rowing Enthusiasts and placed on Pushkin Embankment near Novoandreyevsky Bridge.
You can bid farewell to winter from 10 a.m. to 3 p.m. (and from 5 p.m. to 11 p.m. during holidays). Entrance costs between $9 and $13. You can book tickets in advance at http://bigkatok.ru/. You can also rent ice skates with a $52 security deposit, leave your stuff in a luggage locker and eat in one of many cafés. It is a perfect place to spend the holiday evening with family, girlfriends or the love of your life, in a place filled with music and the sounds of skates on the ice.
The owners of the rink have a special gift for their female guests this International Women's Day: they can skate for free on Mar. 8. A group of well-known artists will be on hand from 3 p.m. to 6 p.m., to paint all women in the style of the Soviet-era sculpture "Oar Girl" — the symbol of the park.
"Oar girl" - the symbol of Gorky Park. Credit: RIA Novosti
Welcoming in the spring
A special entertainment show has been planned in Perovsky Park for International Women's Day. A dancing artist will paint a picture while dancing to music, or, a group of caricaturists will paint your portrait — all to music from popular Russian and foreign movies. The park will welcome guests from 12 p.m. to 3 p.m. Whatever the weather on Mar. 8 may be, female visitors will receive bouquets of flowers with spring cheer.
See women through the eyes of artists
Those who prefer cultural recreation will want to visit the "Feminism: from Avant-garde to Present Day" exhibition, which opens in the pedestal of Worker and Kolkhoz Woman monument near VDNKh metro station on Mar. 8. The history of feminism will be presented from the perspectives of Russian and foreign artists, in painting, graphic arts, textile, sculpture, posters and even porcelain.
The exhibition will be open every day (except Monday) from Mar. 8 to May 12, from 12 p.m. to 9 p.m. The entrance fee is $12.
… Or see nothing, and be blown away just the same
If you're tired of the same old routine of romantic dinners every national holiday, but wish to stick to the tradition, turn a visit to a restaurant into an adventure in the dark.
The restaurant In the Darkness?! on Oktyabrskaya Street will allow you to enjoy a nice meal in pitch black, and invisible waiters will serve you. You will be told about the rules at the entrance, and managers will help you order. The "dark hall" menu is divided into several color blocks (each having its own set of dishes), and, for an additional fee, you can enjoy a massage in a special chair.
If you feel that eating in the "dark hall" is more complicated than it is exciting, you can move to the "light hall" to eat dinner the "traditional" way. You can see how many seats are available in the "dark hall" on the restaurant's website. There will be more guests than usual on Mar. 7–10, so you should book a table in advance.
All rights reserved by Rossiyskaya Gazeta.