A tour of one of the largest oil reserves in the world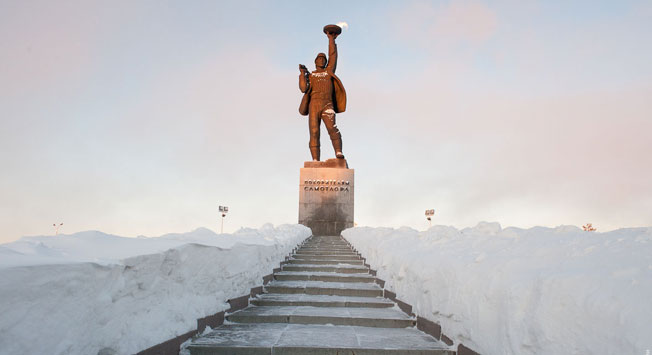 Tourists can learn the process of oil refinement inside and outside the classroom, dine with oilmen and even turn on a piece of machinery.
"You know what Yugra looks like from space? It's red," local journalists tell me. "All red. The flares paint it red. They've burnt all the air here."
The flares in the Khanty-Mansi Autonomous Region (Yugra) burn off a mix of natural gas and crude oil that reaches the surface. The mix is burnt because an accumulation of gas would risk an explosion. Though it could be separated and refined, the process of doing so is more costly than the finished product.
Visits to the region showcase the oil-producing units of the Russian majors, specifically Lukoil , Rosneft and Surgutneftegaz. A tour includes a basic course at drillers' school, where students can see the chain of oil production and learn of the exploration of Siberia. When finished, students are allowed to switch on a pump or contact breaker. Afterwards they are treated to an oilman's dinner, and can shop for souvenirs, such as bottles of real crude oil.
According to local tour operators, the demand for oil tours has soared more than 20-fold during the last decade. A one-day oil tour costs 1,000 roubles ($30).
Drillers' school
"It takes two weeks to a year to drill a single well, depending on the depth and certain other factors. The depth is about 2.5 kilometres in Yugra. To avoid moving the unit and to drill less wells, they often drill diagonally," a lecturer explains.
TNK-BP drillers' school in Nizhnevartovsk is an educational institution training future and current oilmen. Ordinary people can only come here as part of a tour organised in Yugra.
"We introduced oil tours in Yugra back in 1999. We take tourists here, to the drillers' school, and then go to Samotlor, an oil-bearing lake, where we visit one of the labs. They show how to separate oil from water there," says Vasily Sochilin, Deputy Director of a big travel agency in Nizhnevartovsk. His company is the only one in Russia ready to open up the tightly closed world of oil production to outsiders.
"In order to visit such a lab, you have to book a tour at least one month in advance," Vasily says. "Your guide is a real worker. He will tell you what the cisterns are for, which processes are underway now: separation of oil from water, clean oil pumping, etc. Then the tourists are taken to a lab. It is very hard for an outsider to get in there. After the tour, we go to the field canteen on the industrial estate in Nizhnevartovsk. It is a regular canteen, the only difference being that real oil workers eat there. Tourists will have good meals and talk to those who produce millions of tonnes of oil every year."
Lake Samotlor
In 1965, the first oil was struck near Lake Samotlor. Though some countries have bigger oil reserves, Russia remains the leading oil producer. Yugra provides 57% of Russian oil and accounts for 7% of global oil production.
From the air, Lake Samotlor looks like a human heart with a network of vessels. The vessels are man-made: dams, causeways and "bushes."
"Bushes are typical of Yugra deposits. We only have bogs here, so you can't drill here. So you drain the bog first and then make a sand dump, called a bush. We have these bushes everywhere," Vasily Sochilin's words are interrupted by icy blasts of wind.
We are standing next to the lake's main historical landmark: the monument to the first well. The dummy drilling device reminds visitors that, in 1965, one of the world's largest oil deposits was opened here.
Originally published in Russian in strana.ru
All rights reserved by Rossiyskaya Gazeta.