A holiday in St. Petersburg: get the most out of winter in Russia's cultural capital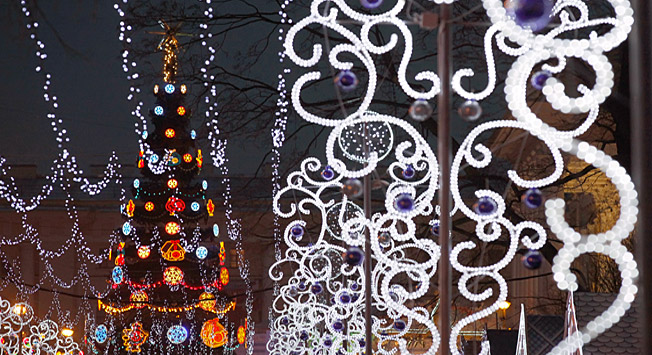 RBTH has investigated the best ways for you to prepare for and enjoy the holiday period. Remember to be a Russian doesn't mean you like winter; it just means you know what to do with it.
Preparing for the holidays
St. Petersburg features numerous holiday fairs throughout the city with almost too many to count. They are much more personable than a crowded shopping mall and many offer some of their proceeds to charity. Here are a few top choices:
Christmas Eve on the Side
This one-day-only holiday market specializes in holiday tree ornaments, decorations, handmade greeting cards, designer soaps and shampoos, sweets and clothes. There will be a master class on gift-wrapping and cartoons to distract the young ones while you drink a glass of glintwein and contemplate what to buy.
December 23
17:00-21:00
Art space SIDE, Morskaya naberezhnaya 19
Metro: Primorskaya
There is an entrance fee of 100 rubles (1,5$)
Art Market on Elagin Island



Photo credit: Photoxpress
This traditional European-style Christmas market mainly sells toys and artisanal holiday decorations with all vendors housed in stalls made to look like miniature cottages out of a fairy tale. Besides gifts, this is a great excuse to come out to this gorgeous area of St. Petersburg.
December 19-29
16:00-21:00
Kirov Park of Culture and Recreation, Elagin Island 4
Metro: Krestovsky Ostrov
Free entrance
Big Christmas Market on Pionerskaya Square


Photo credit: RIA Novosti/Alexei Danichev
This is the city's biggest market and "Ded Moroz" (Russia's Santa Claus) has been hired to man the door. There is an outdoor skating rink, live performances and an international pavilion explaining how winter holidays are celebrated throughout the world. They have perhaps the city's largest selection of gifts here with everything from candles, tree decorations, ceramics and handicrafts to foods ranging from handmade chocolates to Spanish salami. Visitors can give to charity and receive a unique holiday card in return, which they will help design on the premises.
December 19-January 11
12:00-22:00, until 03:00 on December 31
Pionerskaya Square
Metro: Zvenigorodskaya
Free entrance

This is but a sample of what is on offer this season. An extensive list of holiday fairs can be found here: kudago.com/spb/yarmarka/.
Glintwein, or mulled wine, has become something of a staple in St. Petersburg in recent years and is often served at holiday parties and outdoor markets. Zoom Café, Café Botanika and Café Leica are three centrally located spots to fetch a glass of this hot, spiced, fruity and very wintry drink. 'Tis the season!
The general consensus is that the best places to buy a live tree are often right near your apartment. Rather than ordering a tree online (they often arrive in the twilight of their lives), get one in your neighborhood: look out for tree sales near the entrances to large apartment buildings 7-10 days before the New Year.
What to do during the holidays


Photo credit: RIA Novosti/Alexei Danichev
The biggest party in the city is on Palace Square on December 31. Thousands of Peterburgers and guests assemble at the tree to watch fireworks and ring in the New Year at midnight.
It has long been a tradition among locals to go to a concert on New Year's Eve. Remember, this is the cultural capital. The St. Petersburg Philharmonia hosts a classical Christmas concert on December 25 and multiple New Year's concerts on December 30-31. Check their website for details. There are New Year's concerts at 16:00 and 18:30 at Mikhailovsky Palace at Sadovaya ul. 2. See this site for more details: www.muzklondike.ru/afisha/.
Then there's that other holiday. If you're a fan of Christmas, you may be disappointed that it takes a back seat to New Year's. However, the upside is you can celebrate it twice. On December 24 or 25 check out a mass at St. Catherine's Catholic Church at Nevsky Prospekt 32-34. It is the oldest Catholic Church in Russia dating from the 18 th century and the only minor basilica in Russia. For the other end of the tradition, celebrate Christmas mass at midnight at "Nikolski Sobor" (St. Nicholas Naval Cathedral) at Nikolskaya Square 1/3. As a reward for the long periods of standing during the mass, take a seat at nearby Shamrock Irish Pub afterwards for a snifter of something strong.
After January 1


Photo credit: Photoxpress
St. Petersburg is a temperamental city with wildly fluctuating temperatures. Not all of these activities will be possible all winter long.
Over 200 ice skating rinks will be open this winter in St. Petersburg, so if you can't find one, you're clearly not trying hard enough. The skating rinks at "Park Pobedy," "Krestovsky Ostrov" and Palace Square are all popular. Located about 35 kilometers from the center is Okhta Park, which features snowtubing, skiing, a snowboard park and ice skating on a 1.5 kilometer path that winds through the forest.



Photo credit: Lori/Legion-Media
This is the perfect time of year to get out of the city to the suburbs. Pavlovsk is gorgeous in winter and there are often very few tourists. The museum is open and it is a perfect spot for sledding and cross-country skiing. Another great excursion is to take an "elektrichka" (commuter train) to Tarkhovka station from metro station "Staraya Derevnya" and then hike to Lenin's "Shalash", where he hid out before the Revolution. It is several kilometers from the road along a lake and there is a museum and a Soviet-themed retro restaurant, which is a perfect place to shake off your New Year's hangover.
All rights reserved by Rossiyskaya Gazeta.