Moscow by tram: See the city from a different point of view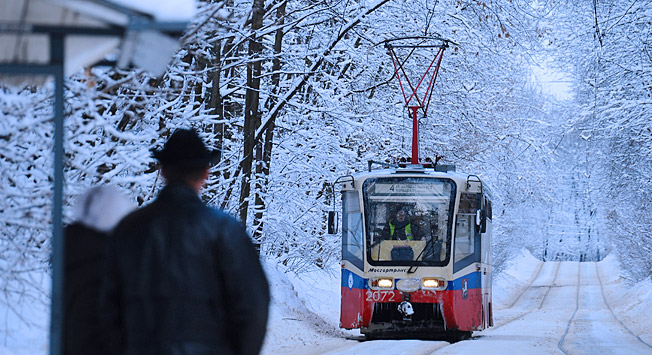 Travelling around the city by tram is a great way to explore Moscow and is ideal for urban adventurers and amateur geographers. RBTH presents the three best tramways in Moscow's city center.
Moscow has a very different city center as compared to European cities like Prague, Vienna, Riga and others. Its architectural exterior has grown in layers, like an onion, and was substantially reshaped in Soviet times.
By the 1970s numerous historic alleys and 19th-century mansions had been replaced by wide avenues and standard high-rise buildings. After the fall of the USSR the city center was under attack again, this time by the "neomodern" style, with a lot of stucco and mirrored exteriors. Indeed, all these contrasts are precisely what make travelling around Moscow's center by tram such an interesting experience.
There are at least three good reasons why you should take a tour around Moscow by tram in winter:
1. It's warm
Trams are a great way to travel around Moscow when it's freezing cold outside. The tram's slow pace will allow you to examine the city without exposing you to the risk of catching a cold as all seats in Moscow trams are heated.
2. It's comfortable
Since 2014 all central stops of Moscow's ground transportation have been equipped with electronic screens that inform passengers how long it will be until the next bus or tram comes. Additionally, all routes listed here take no longer than 25 minutes and are connected to central metro stations, allowing you to easily plan your day.
3. It's cheap
The last argument in favor of this type of winter adventure is that trams in Moscow are cheap. A journey costs only 40 rubles (less than $1). Blue cards (and the universal "Troika" cards) sold in the metro also work on trams.
Route 9: Lesnaya ul., 20 minutes roundtrip
The most historic one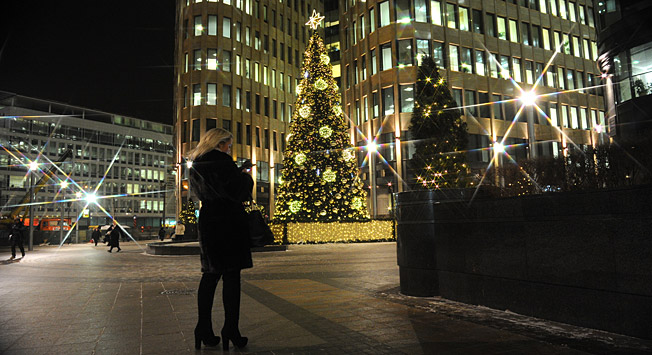 Photo credit: TASS/Valery Sharifulin

This tram route is the oldest one in Moscow, having been inaugurated on Lesnaya ul. in 1899. Today this route is the shortest one in the capital, going around the central area between the Belorusskaya and Novoslobodskaya metro stations. Its point of departure is the same as its terminus. There is a tram stop next to the Belorusskaya metro station behind the office buildings on Lesnaya ul.
This route is ideal for those wanting to visit Belaya Ploshchad, especially vibrant this time of year when it is decked out with holiday decorations and lighting. After your tram journey take refuge in one of Belaya Ploshchad's cosy restaurants or cafés, such as "Kofein" or the "Kulinarnaya Lavka Bratyev Karavaevykh," both of them popular Russian chains.

Route 39/Route 3: Chistye Prudy-Paveletskaya, 15 minutes
The most picturesque one

Photo credit: Photoxpress
The tramway begins at a stop next to the metro station Chistye Prudy and goes through part of Moscow's Boulevard ring road dotted with several 19th-century mansions. Then the tram crosses the Moskva River at the place where it meets the Yauza River. From the bridge you can enjoy an amazing view of the Kotelnicheskaya Embankment Building, a well-known Stalin-era high-rise where the Soviet art and theater elite lived.
Further on the tram stops at Novokuznetskaya and then the Paveletskaya metro station, where the picturesque part of the route ends. Get off at Paveletskaya or return to Novokuznetskaya, where you can have a walk along one of the city's newest promenades, Pyatnitskaya ul., which became a pedestrian zone in 2014.
If traveling by tram further than Paveletskaya you will pass a large industrial area. The landscape's monotony is broken up by Danilov Monastery, the Danilovsky Market (at Tulskaya metro station) and the towers of Moscow State University (MGU) at Universitet metro station, the final stop. From there you can walk to Sparrow Hills and appreciate the enormity of MGU's main building, one of Moscow's seven famous Stalin-era skyscrapers.

Route 7: Novoslobodskaya-Komsomolskaya, 25 minutes
The most anthropologically interesting one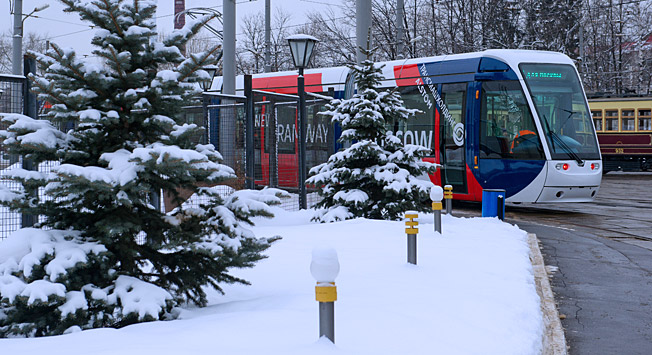 Photo credit: RIA Novosti/Denis Grishkin

If you get on the tram at Novoslobodskaya metro station and take it to Komsomolskaya metro station, then you'll see the best of what Moscow's vibrant center has to offer. The tram stops at the Dostoevsky Museum, the Russian Army Theater and the Durov Animal Theater and goes by what will be Moscow's biggest mosque after construction is completed. Then after that it passes the Olimpiisky Sport Complex, bends at ul. Gilyarovskogo and arrives at Three Station Square (Ploschad trekh vokzalov).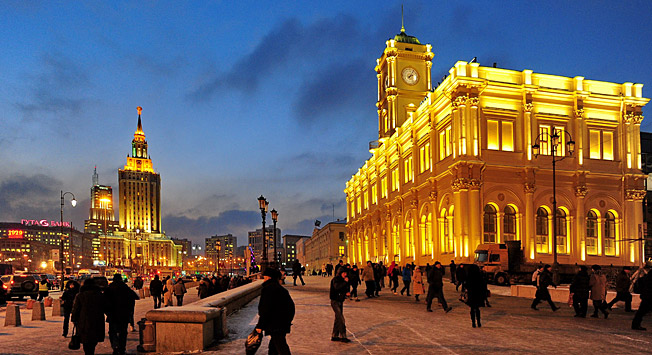 Photo credit: TASS/Vladimir Smirnov
If you're a fan of architecture get off at ul. Gilyarovskogo to see an area featuring buildings constructed in Moscow "modern" style that have miraculously survived intact. If you're a fan of Russian cuisine and speak at least a little Russian, then travel another 20 minutes passing Sokolniki metro station and the bridge over the Yauza River along the way. Get off at Preobrazhenskaya ploshchad metro station, where you'll find the Preobrazhensky rynok (market). Located on the premises of a former monastery, you can buy Russian sauerkraut, Abkhazian tangerines and Adygeian cheese for very low prices here. If you get lost, just ask the locals, "gdye rynok" (where's the market)?
All rights reserved by Rossiyskaya Gazeta.