Father Frost approves: Russia's 5 coldest cities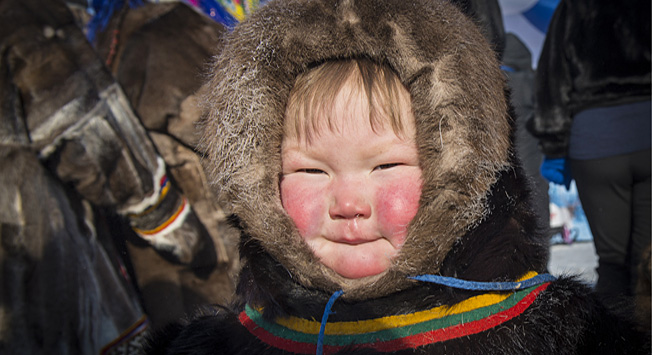 It should come as no surprise that there are places in Russia where –30 degrees Celsius is not considered cold at all. RBTH has researched and chosen five of Russia's (and the world's) coldest travel destinations, which all make for adventures of a lifetime.
Life in northern Siberia in Russia is almost eternal winter: the crunch of snow under your feet, dark Polar nights, icy bays, with valenki (felt boots) and unty (high fur boots) being the most practical footwear.

Yakutsk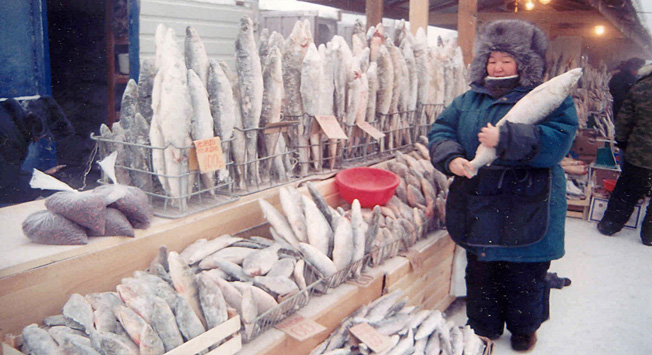 Photo credit: RIA Novosti/Anatoly Falamov
"On my arrival at Yakutsk airport, I feel scrutinized — not because of my physical appearance but, I suppose, because people want to see how the only 'tourist' is dressed to face a type of cold that only people from this part of the world confront almost every day," says Swiss photographer Steeve Iuncker about his photo sessions in Yakutsk ( 4880 kilometers from Moscow ) . Indeed, going to Russia's coldest city without an additional pair of solid gloves in winter is a risky idea as the average temperature here is –40 to –50 degrees Celsius. The lowest temperature recorded here was –65 degrees Celsius.
Despite these extreme conditions there are about 300,000 people living in this city of diamonds, pile-supported houses and wooly mammoth remains. One Yakut couple even established the record for the world's longest kiss (22 minutes) at temperatures of –30 degrees Celsius. If you dare to travel to this end of the world in winter wrap yourself in a scarf (or better buy a balaclava) and run from one place to another.
Yakutsk is surprisingly a city full of museums. The Mammoth Museum, which exhibits gigantic skeletons is especially popular as is the Museum of Permafrost, where you will be given valenki to wear and will learn about all the different kinds of ice. Also notable is the Museum and Center of The Khomus of The People of The World and the Treasury of The Republic of Sakha (Yakutia) Exhibition, which surely houses one of the world's greatest collections of diamonds. After taking in all that culture, stop into a restaurant to dine on broad whitefish, reindeer or young horse meat.
Norilsk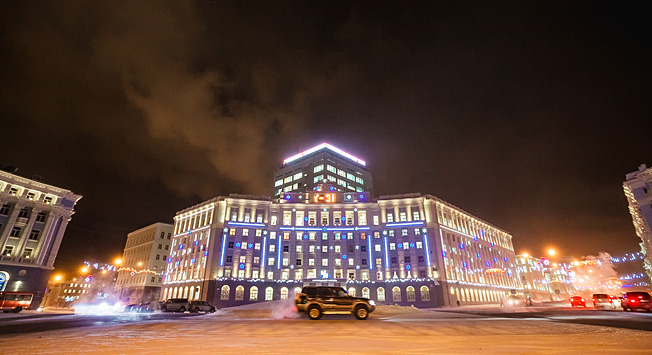 Photo credit: Anna Gruzdeva
Situated in the northern part of Krasnoyarsk territory, Norilsk (2878 kilometers from Moscow) is known for being one of the coldest cities in Russia and most polluted cities in the world: palladium, platinum, gold, silver, nickel, cobalt, and copper are all mined here in great quantities. Despite this Norilsk is an interesting city where it is possible to experience –30 degrees in winter and plus 30 degrees in summer.
Norilsk was founded as a mining complex and the center of an enormous Gulag labor camp in 1935, which was in operation for the city's first 21 years of existence. Reportedly 400,000 people were imprisoned here throughout its history. At Norilsk's State Museum of Exploration and Development History of Norilsk Industrial District you can read letters written by Norillag labor camp prisoners, who detailed the horrific conditions of the camp. The museum also holds rare ethnographic items such as the clothing of shamans, and of the indigenous Evenki and Nganasan peoples.
After a frosty walk get some reindeer meat pelmeni (dumplings) and look at the photo series about Norilsk by Elena Chernyshova, Days of Night — Nights of Day. Last year Chernyshova received a World Press Photo prize for these works.
Note that Norilsk is a closed city, so all foreigners must receive a permit before traveling there. Apply for yours well in advance of your trip.
Dikson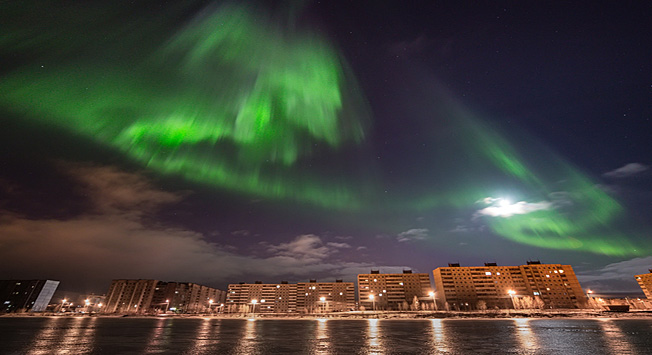 Photo credit: Lori/Legion-Media
Dikson (2729 kilometers from Moscow) is the northernmost village in Russia in Krasnoyarsk Territory, located on the coast of the Kara Sea. It was called the "capital of the snowy Arctic" in Soviet times, when a large Russian seaport was located here. In summer it is possible to get to Dikson by boat along the Yenisei River.
The climate here is harsher than in Norilsk: polar nights are black, the temperature drops below zero as early as September, the snow melts in June or later and ski competitions are held as late as May. Quite often so-called black snowstorms – very strong blizzards that turn into tornadoes – occur here. Locals say that black storms can cause dogs and empty fuel barrels on the coast to start flying in the air.
But despite this almost eternal winter, Dikson is one of the most beautiful villages in Siberia. It is a place where you can stand on the edge of the icy Arctic, feel the power of the Kara Sea, see Belukha whales, walruses and the Northern Lights. As opposed to Norilsk where the clarity of the skies is dimmed by illumination and harmful emissions, here they are bright and distinct.
Verkhoyansk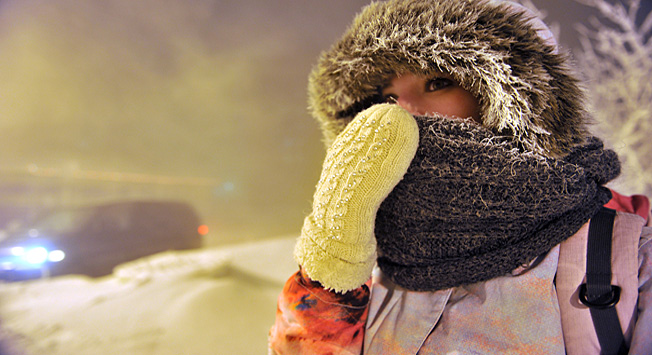 Photo credit: TASS/Denis Kozhevnikov
Verkhoyansk (4675 kilometers from Moscow) is a small town with a population of just over 1,000 people at the Yana River. The city figures prominently in the contest for world's coldest city. Scientists still argue which settlement represents the true "cold pole" - Verkhoyansk or Oymyakon (another northern city that also claims to be the world's coldest). But for ordinary residents this argument is not so important. The lowest temperature recorded in Verkhoyansk was –69.8 degrees Celsius.
Starting from the 19th century Verkhoyansk was a place of exile for rebels and revolutionaries such as the Decembrists. WacÅ'aw Sieroszewski, a Russian-Polish ethnographer and expert on Siberia, spent 12 years (1880-1892) here, the first eight as a prisoner for revolutionary activities. But even then, in this icy land far away from his native Poland, he didn't lose the interest in life – he married a Yakut woman and started to study local ethnography. He wrote a book called, "The Yakuts: An Ethnographic Study." Indeed, besides reading what else can one do here during the long Polar nights?
Dudinka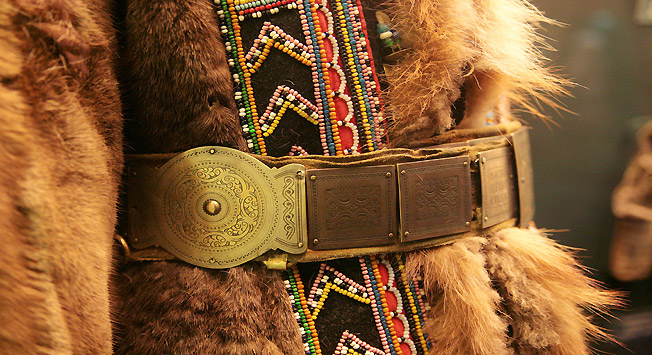 Photo credit: Anton Petrov
Going to the northern town of Dudinka (2801 kilometers from Moscow) located at the top of the Yenisei River is worth it to visit the Day of the Reindeer Herder, which is held here and in the neighboring villages of Syndassko, Potapovo, and Popigai annually in March. Despite a –30 degree frost, the Nenets, the Evenki, Dolnagy, Nganasan and Entsy peoples put on their best national costumes and participate in reindeer races in the tundra.
In the Mukustur workshop or in the House of Folk Arts and Crafts tourists can buy unty boots made from reindeer skin decorated with traditional patterns. These high quality boots can handle the local frosts. As in Yakutsk, here to you can buy rare precious items such as brooches and other jewelry made from mammoth tusks; they will always remind you of this faraway frosty land.
Note that Dudinka is a closed city, so all foreigners must receive a permit before traveling there. Apply for yours well in advance of your trip.


All rights reserved by Rossiyskaya Gazeta.