The icy kiss of the North: A few tips on exploring Northern Siberia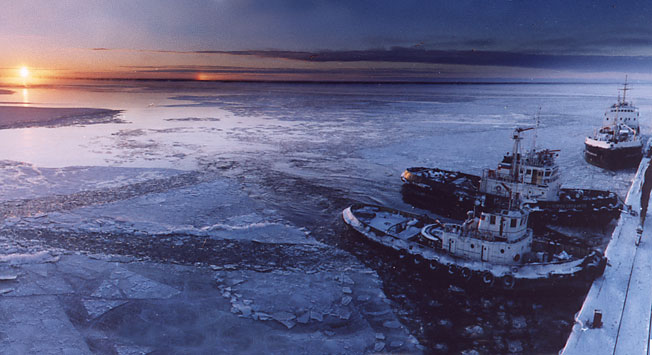 Taking Dudinka as a sample destination, Anna Gruzdeva, a Siberian native and a travel writer, offers a few examples about where to search for stories about shamans, taste cloudberries and take a glimpse of bone-carvers at work.
Upon arrival at Alykel Airport, which is located halfway from Norilsk to Dudinka, we got in an old cramped minivan. The driver, a man of Central Asian descent, slammed the doors shut, but invisible gaps still let an unpleasant chilly draft into the vehicle.
"They say we are going to be in for some harsh weather in Dudinka in a couple of days," announced my colleague without taking their eyes off the weather forecast on the screen of her tablet. "In short, it means around – 30 C (-22 F) and winds of about 25-30 meters per second (about 80-100 feet per second)."
Leaving the crowded airport behind, the driver took the road to Dudinka, and in some five minutes, all we could see was a long snow-bound track and the flat ice-clad tundra and a frighteningly barren wilderness intimidating in its splendor. At this point, the tablet lost its 3G connection.


The love for the North comes onto you like a piercing gust of a snow storm: vehemently, abruptly, and without waiting for your consent. Snow stuffed in your pockets, freezing toes, a wind-chapped face, and locals passing by you in the streets – all of these start forming the invisible strings that attach you to this land. Having visited Dudinka just once as part of a cultural research team, I had sometimes yearned for more personal or professional reasons to return to this unusual city in Krasnoyarsk Territory on the banks of the Yenisei River 2800 kilometers (1740 miles) away from Moscow, with a population barely exceeding 20,000.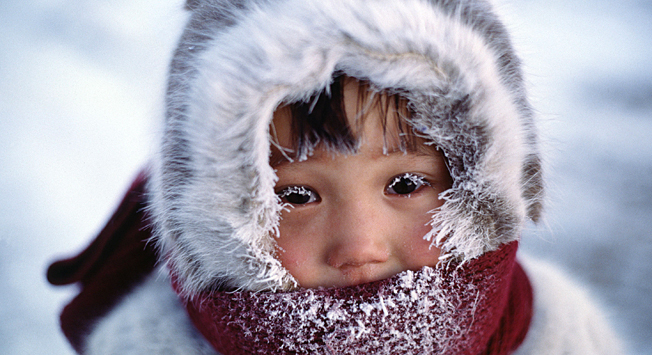 A local child in the streets of Dudinka. Photo credit: TASS/A. Prosekov
At first sight, Dudinka appears rather unwelcoming, with its simplistic houses on piles sunk into the permafrost, their walls painted blue or pink in order to make the scenery a bit more cheerful. The city's bus stops are marked by nothing but a small crowd of passengers patiently standing together by the road, with a lack of indoor parking, coffee shops or other familiar and comfortable facilities for tourists.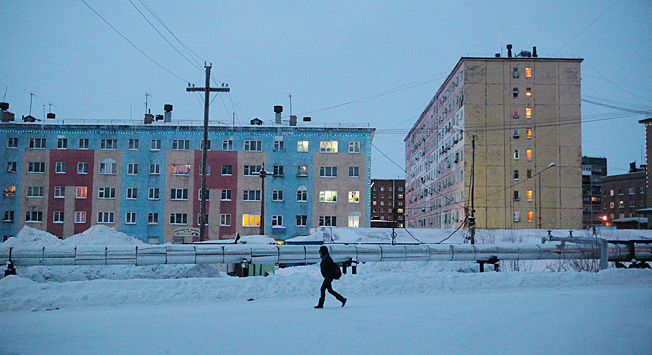 Photo credit: Anna Gruzdeva

However, this is just the outer facade of Dudinka and pretty much any other northern Siberian city. Inside, behind the frozen doors, you will find the cozy glow of lamplight, the revitalizing warmth of living rooms and exhibition halls and many different kinds of people open for conversation and ready to treat you to a cup of tea and share some unbelievable northern tales.


It took me two years of occasional visits to the North to realize that you can truly feel the northerners' hospitality only if you act like the director of your own road trip through the key attractions, adding plot twists when you feel like it. You need to ask questions of people you meet and show genuine curiosity. Given that Dudinka is inhabited by the indigenous peoples of Siberia, including Dolgans, Nganasans, Nenets, Enets, Evenks, as well as throat singers, fishermen, hunters, and dock workers, you have a chance to hear a host of unconventional stories.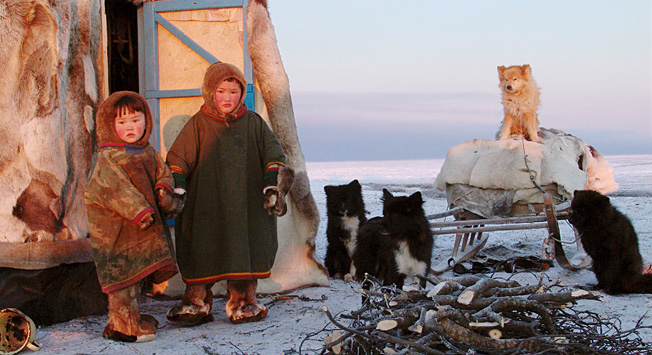 Photo credit: Rimantas Ramoshka

Thus, dropping by to a souvenir shop to fetch a magnet with a deer on it, I made the acquaintance of a Dolgan woman. In the course of a brief, but sincere conversation, the shop owner gave me an account of the indigenous peoples' Soviet past, showed her fur boot workshop to me and offered me a cup of tea with frozen cloudberries, which tasted a bit salty. It is a rare delicacy, as neither cloudberry jam nor fresh cloudberries can be found in local food stores.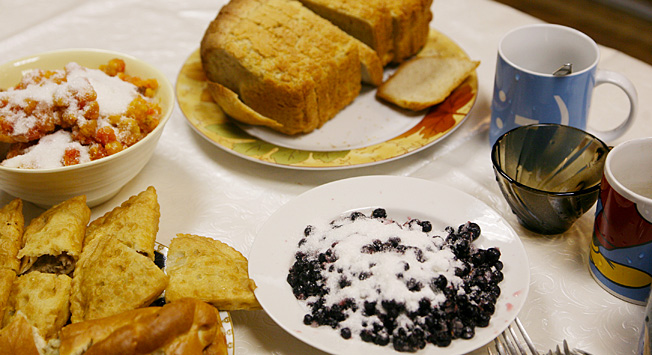 Photo credit: Anna Gruzdeva

Due to our own curiosity at Dudinka's regional museum we managed to learn about the last shaman of the Taimyr region, which is located around the city. Before his death, the shaman gave the museum his shaman outfit, his headdress and a tambourine. It is extremely rare to find all of this in one place, as usually ethnographers are only able to acquire some elements of ritual attire.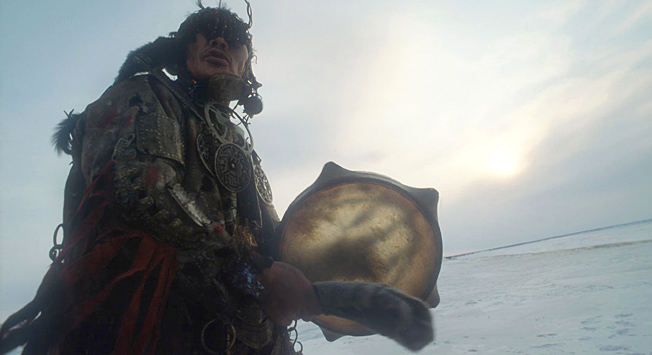 One of the last shamans in Dudinka. Photo credit: RIA Novosti

"Does your center have any other line of work?" we asked at the gift shop of the Folk Art Center. No more than 10 minutes later we found ourselves watching skilled bone-carvers cut amazing filigree figures of northern nomads from buckhorn.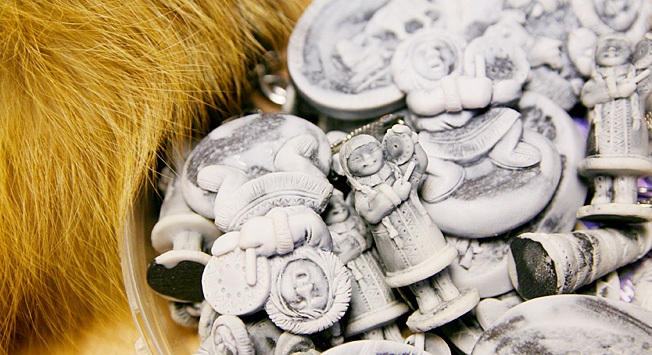 Photo credit: Anna Gruzdeva

"So where is the fish factory that supplies your shop with fish?" I asked. A short while later, my friends and I were standing in a local fish smoking facility, wearing smocks and watching how valuable coregonus fish is salted – Arctic whitefish, broad whitefish and muksun.

In every building and cultural venue that provide refuge from the cold in Dudinka, you will find people that can make your journey unforgettable in the most positive sense, filling it with meaning and discoveries. All that is required from a newcomer is a sincere interest, a few questions and flexibility in case there is an unforeseen change of plans. If you have these qualities, the harsh weather won't scare you and a strange, but unyielding love for the North will be reciprocated.

How to get there
Take a plane from Moscow, St. Petersburg, Novosibirsk or Krasnoyarsk to Norilsk, then a fixed-route taxi from Alykel Airport to Dudinka. In the summer, a motor ship shuttles along the Yenisei between Krasnoyarsk and Dudinka.
Where to stay
Dudinka's only hotel is Severnoye Siyaniye, taimyrbit@mail.ru (they understand and will reply in English). Dudinka is a closed city therefore in order to visit foreign citizens need an entry permit, which must be obtained in advance by contacting the Federal Security Service for the city of Norilsk.
All rights reserved by Rossiyskaya Gazeta.