Winter romance: How to celebrate Valentine's Day in Moscow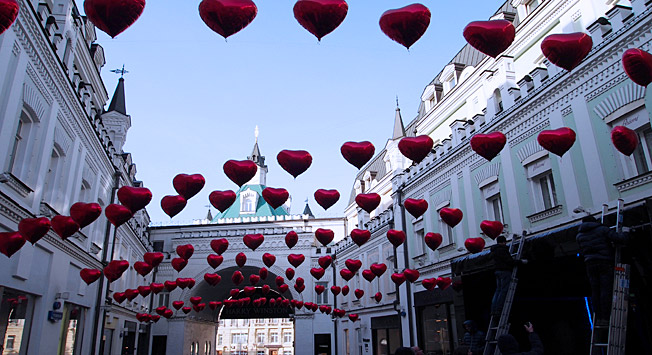 Three different strolls through historic Moscow that culminates with a romantic dinner for two in a cozy cafe.
RBTH suggests going to the secret spots that Muscovites themselves love most, rather than the obvious, popular and touristy places that are ubiquitous throughout the capital.

O'Jules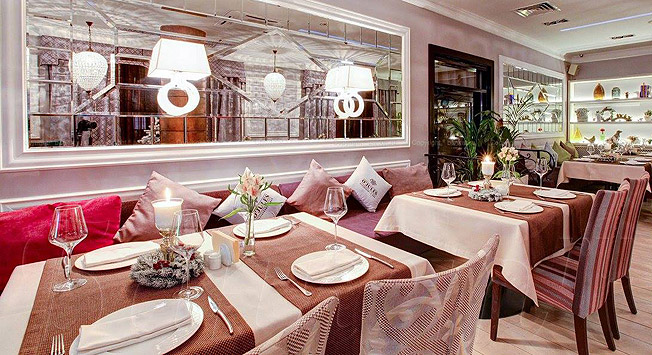 Source: O'Jules press photo
Exiting from Dostoevskaya metro station, take a pleasant walk along Dostoevskaya ul,, famous for the enigmatic Russian Army Theater and the museum of the important Russian writer. The tramways lead to Ploshchad Borby, where perhaps the most romantic of Moscow's monuments is hidden: that to writer Venedikt Yerofeyev and his blind sweetheart from the prose-poem "Moskva-Petushki."
Further on, the tramways lead to a building that for many years was home to a bookshop and now hosts a brand-new posh restaurant. Inside there are many small intimate corners where a couple can easily find a place to be alone. The interiors feature a multitude of details – such as candles, flowers, trees growing through the floor – that make the atmosphere even more romantic.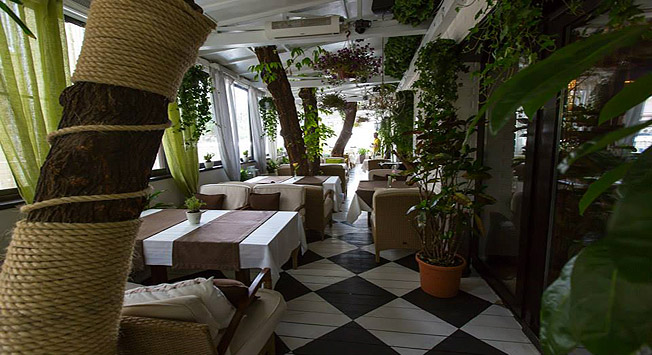 Source: O'Jules press photo
O'Jules Restaurant prides itself on its collection of organic and biodynamic wines, which are well known for being the purest sorts of wine on earth. Wine is served in elegant, refined wine glasses and after the opening of a bottle a sommelier aerates it in an antique decanter in a shape similar to a snake. This decanter even has a proper name: Eva. It is not surprising that, after the degustation of such wines, evenings in this restaurant culminate in a French kiss, as most wines served here are French.
Brusnika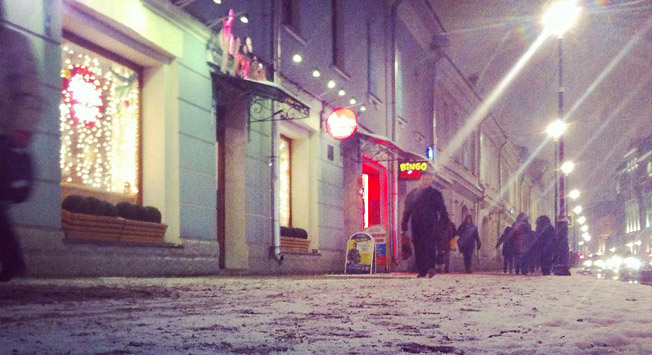 Source: Brusnika press photo
After a walk through some of Moscow's oldest districts such as Kitay-Gorod and along ul. Maroseika, it is nice to warm up at the bakery-rotisserie, Brusnika. Brusnika is marketed as a cheaper alternative to coffee houses and fancy cafes with their business lunches: here they offer a wide range of tasty, healthy and inexpensive dishes.
Despite being extraordinarily affordable for lunch or dinner, money was not spared on its interiors. The wooden benches and the counter were crafted by a Moscow design bureau and the furniture has been fashioned by the Italian firm Pedrali, a favorite at recent exhibitions in Milan. The enormous glass window is the central part of an interior that was created by the French company Epta.
The pride and joy of the place is the "sweet part" of this counter, where your eyes will rove restlessly over the variety of desserts: the shelves are filled with multicolored macaroons, éclairs, cheesecakes, an original mille-feuille cake with strawberry, a sumptuous poppy seed cake and an assortment of tartelettes with fresh berries. Together with its varied wine list, Brusnika's amazing selection of baked goods can be an excellent pretext for a romantic dinner.
Capuchinoff


Source: Capunchinoff press photo
After a romantic walk in snow-covered Kolomenskoye Park, this is the best place to warm up, enjoy a coffee or have a dinner for two on Valentine's Day. Guests here will find reasonable prices, pleasant jazz, attentive waiters and a cozy atmosphere.
The owners pay great attention to every single detail and have included only those dishes that they themselves would eat on the menu: namely food that is healthy, original and delicious. This restaurant is very tolerant towards visitors with children: here there is always an activities organizer for kids on call, special toys and a playground for the youngest visitors.
Still another nice plus of Capuchinoff is their support for the trendy phenomenon of BookCrossing: visitors are encouraged to leave some books behind that they have liked and whoever wants them can take them home for free.
All rights reserved by Rossiyskaya Gazeta.