Chekhov with subtitles: Choosing a theater in St. Petersburg and Moscow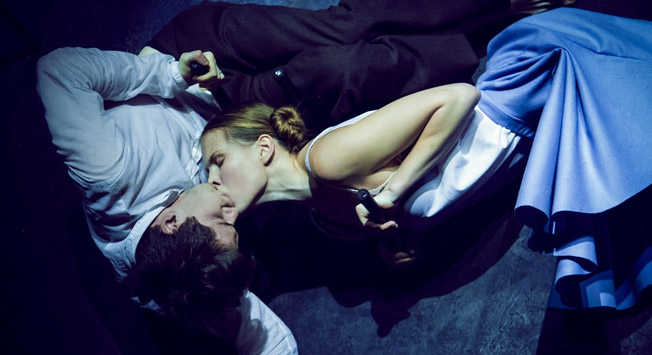 RBTH has prepared a selection of Russian theaters whose performances feature subtitles for international spectators. For foreign visitors listening to Chekhovian dialogues in the original, appreciating the details of Tolstoy's novels or letting oneself be swallowed by Gogol's satire was impossible until recently because of the linguistic barrier. Subtitles have removed this obstacle.
The first theater to provide subtitles for wider audiences was Moscow's Masterskaya Petra Fomenko (Petr Fomenko's Workshop) in 2013. "The 'Masterskaya' often goes on tour abroad, so we have accumulated a certain amount of subtitles for our shows," explains Maria Kozyar, the theater's press-attaché. "Hence we had the idea of giving foreign spectators the possibility of enjoying performances in our own theater, too."
For similar reasons St. Petersburg's Maly Drama Theater and Moscow's Gogol Center have also begun to provide subtitles for their performances. The Gogol Center's press service has recently observed an increase in English-speaking spectators to the theater. The Maly Drama Theater's press service added that, "the idea came out of necessity and the interest of foreign spectators. The interest is rather constant."
"Subtitling is a quite laborious process, related to financial and time questions," says Darya Alenina, Gogol Center's press-attaché. As a rule, theaters use their own specially commissioned translations for subtitles. In Kozyar's words, the text for the subtitles is prepared separately and is based on the performance's version, not on the original text of the play.
MasterskayaPetraFomenko – Moscow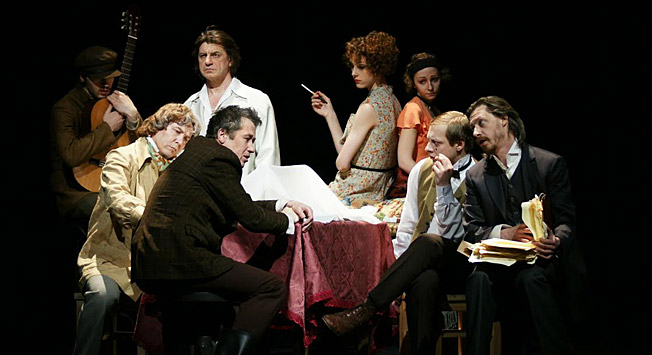 Source: Masterskaya Petra Fomenko
Technical solution: The subtitles appear on a special tablet. The brightness of the tablet's backlight can be regulated and it is possible to change languages during the performance.
Languages: English, German, French
Shows:
Three Sisters – Anton Chekhov
War and Peace. The Beginning – Leo Tolstoy
Family Happiness – Leo Tolstoy
Without a Dowry – Alexander Ostrovsky
Wolves and Sheep – Alexander Ostrovsky
The House Where Hearts Break – George Bernard Shaw
Rhinoceros – Eugène Ionesco
A Russian at a Rendezvous – Nikolai Chernyshevsky
Theatrical Novel – Mikhail Bulgakov
Why to go: The Masterskaya is an art theater founded by Petr Fomenko in 1998. The theater's repertoire is largely based on classical literature, yet the actors offer a contemporary approach to the re-reading of classics, which makes this theater's style truly unique.
Advice to travelers: A tablet with the subtitles is provided free of charge, but you must place an order in advance by e-mail (fomenko@theater.ru) or by phone. Visitors must leave a piece of identification as a deposit to take a tablet.

Prices: 1200-5000 rubles ($19-80)
Masterskaya Petra Fomenko contact information: http://fomenko.theater.ru/way/
Schedule of performances:http://fomenko.theater.ru/

GogolCenter – Moscow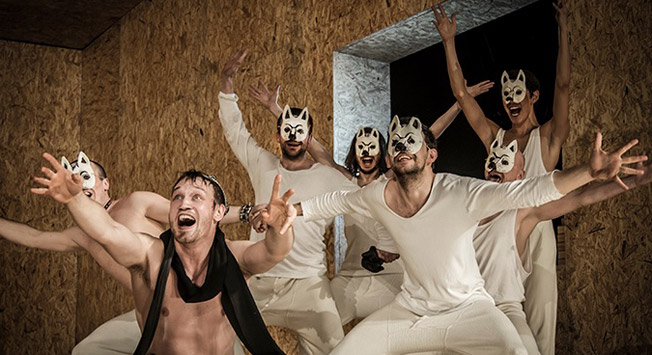 Source: Gogol Center
Technical solution: Subtitles are transmitted through a projector or shown on plasma screens. There are hall transformers, so for each show there is a different seat layout and a different location for the stage.
Language: English
Shows:
Dead Souls – Nikolai Gogol
Mitya's Love – Ivan Bunin
Why to go: Gogol Center is the newest and most ambitious and modern Russian theater. It opened its doors in 2012 and is not just a theater, but rather an art complex with lectures, film screenings, a bookshop and a café. The theater's Artistic Director is Kirill Serebryannikov, one of Moscow's most in-demand theatrical figures.
Advice to travelers: Mitya's Love is sometimes staged without subtitles, therefore it is best to check the schedule in advance or inquire at the theater's ticket office.

Prices: 500-3500 rubles ($8-56)
Gogol Center contact information: http://en.gogolcenter.com/contact/
Schedule of performances: http://en.gogolcenter.com/events/playbill/

Maly Drama Theater-Theater of Europe – St. Petersburg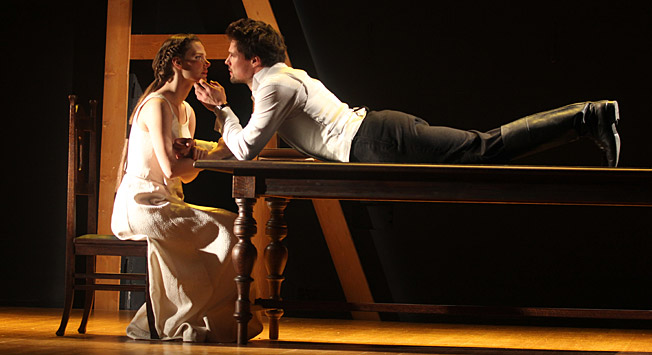 Source: Maly Drama Theater-Theater of Europe, St. Petersburg
Technical Solution: Subtitles are transmitted by a projector.
Language: English
Shows:
Three Sisters – Anton Chekhov
Uncle Vanya – Anton Chekhov
King Lear – William Shakespeare
Life and Fate – Vasily Grossman
Intrigue and Love – Friedrich Schiller
Why to go: In 1998 the Union of European Theaters awarded the Maly the status of "Theater of Europe." The theater's Artistic Director is Lev Dodin, one of St. Petersburg's most-renowned purveyors of the stage. His productions are well known outside of Russia. The Maly specializes in the best of Russian theatrical classics.

Prices: 200-1500 rubles ($3-19)
Maly Drama Theater-Theater of Europe contact information: http://mdt-dodin.ru/eng/index.html
Schedule of performances: http://www.mdt-dodin.ru/index.html
All rights reserved by Rossiyskaya Gazeta.