Unforgettable Russian travel destinations for 2015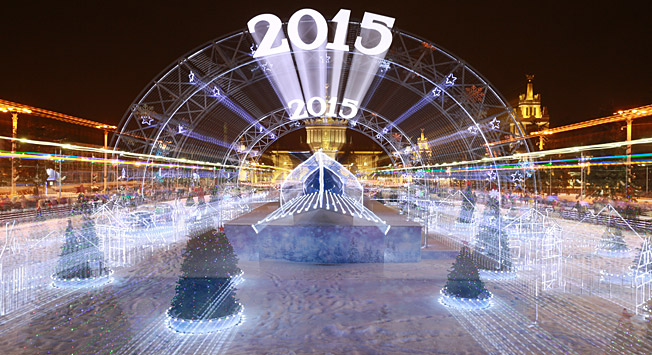 High travel season is just a few months away. As many travelers are already busy planning their vacation, a timely question arises: what is the best destination for travel this year?
Our answer is Russia! The world's largest country is in the headlines of many major media outlets, but this time it's not about politics. Though the conflict in east Ukraine still smolders, there are no travel warnings against visiting Russia this year. In the meantime, the ruble's slide means that your visit to Russia will be way more affordable than even just six months ago. Furthermore, let's not forget about the 2014 Winter Olympics in Sochi and the corresponding upgrade to the country's infrastructure, which means your time in Russia will be both more convenient and more tourist-friendly.
So why not come to see the abundant Imperial palaces, the pristine beauty of Lake Baikal, Moscow's extravagant underground stations and some of the world's most iconic fortresses this summer? Here's the list of Russia's Unforgettable Destinations for 2015.
Slava Shirokov, CEO at Travel All Russia and a keen globetrotter, recommends inspiring destinations for a tour of Russia.

Timeless classics - Moscow and St. Petersburg


Phot credit: TASS/Sergei Kulikov
Of course, you simply can't skip Russia's two magnificent capitals - Moscow and St. Petersburg. These are the most iconic cities in Russia, and if you're a first-time visitor, stopping here for several days is an absolute must. Apart from world-famous sights, both Moscow and St. Petersburg offer plenty of exciting activities during the summer: from the inspiring White Nights Festival on the banks of Neva river to the colorful open-air shows in Moscow.
The perfect blend of the sea and mountains - Sochi


Phot credit: Lori/Legion-Media
The host city of the last Winter Olympics has always been a popular resort among Russians. Sochi's popularity lies in its unique geographic location. Stretching along the Black Sea coast, Sochi is a place where you can enjoy almost every recreational activity imaginable. From soaking in mineral springs with healing qualities or skiing at popular mountain resorts to lazy sunbathing on the beach or reenergizing in a traditional Russian "banya" - planning your vacation here offers plenty of options.
This year, after its major upgrade for the Winter Games, Sochi has everything in place to make international tourists feel comfortable. Enjoy its unique flora, full range of vacation activities and convenient transportation links with other tourist hubs of Russia.

The ultimate journey of a lifetime - Trans-Siberian


Phot credit: Shutterstock/Legion-Media
This is probably the best time to finally go on that trip you've always wanted to take across Russia, Mongolia and China. And 2015 may very well be the perfect year to do a Trans-Siberian trip. According to our estimates, costs per person will be at least $800 lower than one year ago.
Start in Moscow or St. Petersburg and pick one of the two classic route options - ending in either Vladivostok or Beijing. We recommend planning your trip carefully and making stops along the way in beautiful cities like Yekaterinburg, Irkutsk and Ulan Ude in Russia. Additionally, Ulaanbaatar in Mongolia is an absolute must. The Trans-Siberian is one of the most exciting travel experiences on Earth, yet it does involve some advance planning. We recommend that you familiarize yourself with these Trans-Siberian planning tips carefully or use professional assistance to organize your trip.

The rising star of Russia - Kazan


Phot credit: Shutterstock/Legion-Media
Labeled as the third capital of Russia, Kazan deserves all the praise it gets. The city itself is most famous for its colorful Qolşärif Mosque (one of the largest mosques in Europe), the Temple of all Religions (includes a mosque, a pagoda, an Orthodox church and a synagogue) and the Kazan Kremlin. However, this is only the tip of the iceberg. Other top sights include a 16th-century fortress, the Raif male monastery and the House of Tartar Cuisine. As you can see, Kazan features many traditional and unusual sights.
Its convenient transportation links with Moscow and St. Petersburg (by train or plane) and the city's celebration of its 1010th anniversary make it a perfect tourist destination for 2015.

Far Eastern jewels of Russia – an expedition cruise to remember forever


Phot credit: Yuri Smityuk for RBTH
Nature lovers and adventure seekers will enjoy taking an expedition cruise along the rim of the Pacific Ocean and exploring the unspoiled nature of the Russian Far East. These programs offer a wide variety of activities: from whale watching to visiting remote Eskimo settlements. The best part about them is that every group member partakes in nature conservation activities led by professional biologists, ornithologists and enthusiastic naturalists.
So, if spending a couple of weeks on a well-equipped expedition vessel and surviving the rough conditions of the Far Eastern weather while enjoying some of the best natural scenery on Earth sounds like a plan for you, this cruise is just what you've been looking for.
There's a lot more to see in Russia! Be sure to check out all available options and find a perfect trip to Russia that fits your interests and budget. We will be happy to share more amazing travel ideas and help you plan an amazing journey!
All rights reserved by Rossiyskaya Gazeta.