Bike the city: Exploring central Moscow's embankments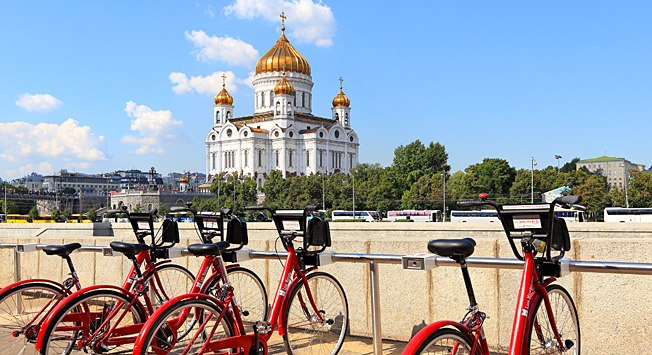 Just four years ago there were no bike paths in Moscow, yet today the number of cyclists, roller bladers and skateboarders outnumbers those on foot in city parks. RBTH presents the best cycling route in central Moscow, going through four parks and over five bridges.
Route: From Muzeon embankment to Sparrow Hills (Vorobyovy gory). Keep in mind that you will likely have to cycle the way back to your starting point.
The length of the route: Five kilometers one way (10 kilometers round trip)
Disclaimer: Unfortunately, taking bicycles on the Moscow Metro is not permitted. For this reason you will most likely have to rent a bike. Despite the fact that there is an excellent system of bike rentals organized by the city, RBTH recommends using private bike rentals. In order to use the city bike rental one needs to speak Russian and have a Russian mobile phone number to register in the system. Besides, bikes offered by the city rental service are of one type and are much heavier and are not as comfortable as usual bikes.

Muzeon (Krymskaya Embankment)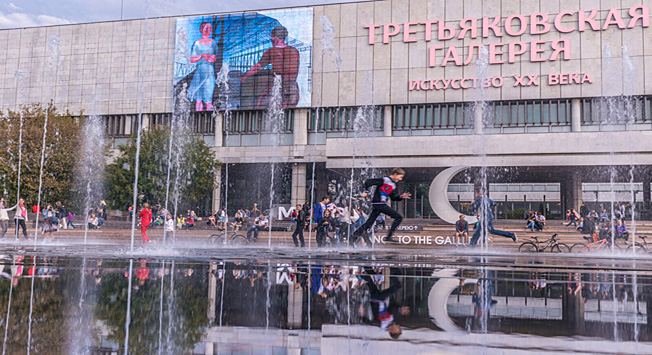 Photo credit: Elena Larionova for RBTH
Muzeon Park is the perfect place to start your bike travel as here you can rent a bike for approximately $7 per hour. If you don't manage to get a bike in Muzeon, you can rent one at Gorky Park across the street where you can also find rickshaw and segway rentals. As soon as you get your bike you may ride along the embankment directly to Krymsky Bridge. But if you have enough time at your disposal we would recommend exploring Muzeon Park and riding between the jumping streams of the famous fountain installed on the embankment.

Gorky Park


Photo credit: Elena Larionova for RBTH
Muzeon's cycling trail will lead you under the bridge and bring you to a huge embankment. On your right you will see the Moscow River, on your left will be Gorky Park, which has been referred to as a "new city legend" by RBTH editors. You should be careful though, as the park lures visitors with numerous temptations. It will entice you with its sun loungers, hammocks and the smell of delicious food. Be strong, cycle your way along the embankment and make a plan to stop here on your way back to enjoy all of the amenities.

Neskychny Garden (Pushkinskaya Embankment)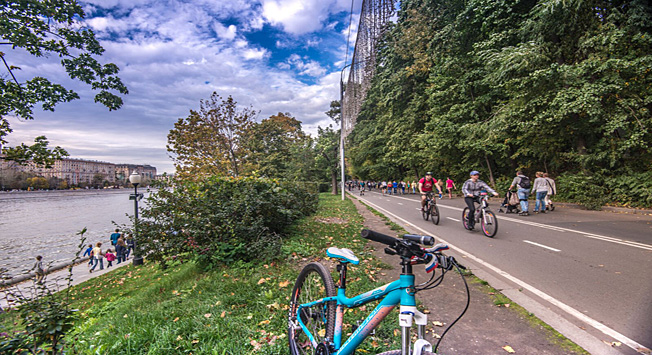 Photo credit: Elena Larionova for RBTH
The cycling trail goes under the bridge of blue and green glass and takes you to Pushkinskaya Embankment. This embankment goes along the magnificent and quiet park that emerged here in the middle of the 18th century known as Neskuchny Garden. Nothing is more peaceful than the views of 200-year-old trees on your left and the flowing water of the river on your right. Descents and rises paint the natural landscape of the area, which has almost managed to escape the influence of time.

Sparrow Hills (Andreevskaya Embankment)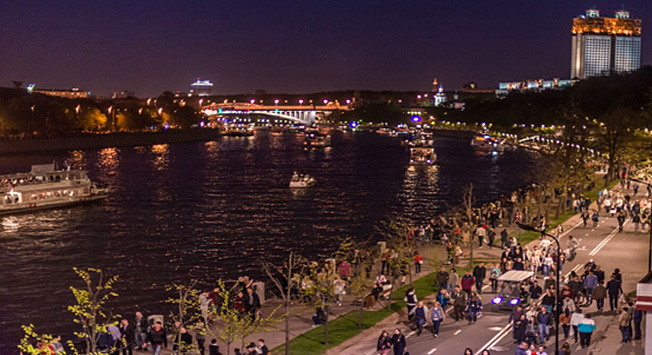 Photo credit: Elena Larionova for RBTH
The trail breaks off at the end of Neskuchny Garden at Novoandreevky Bridge. You will enter a private area where cars park and turn around. Be careful and attentive. About 300 meters later the Sparrow Hills area begins – you will see the hills, the cycling trail and the tower of the most famous Stalin-era skyscraper, the main building of Moscow State University.

Luzhniki Bridge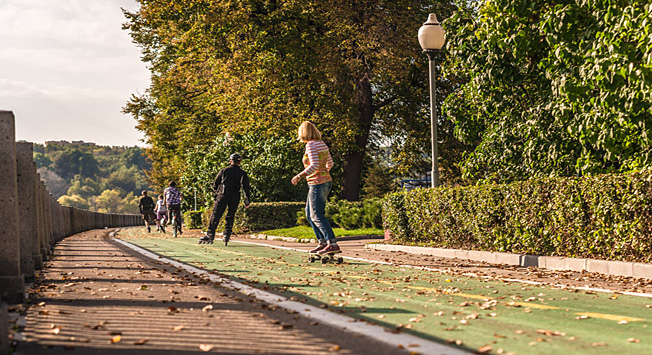 Photo credit: Elena Larionova for RBTH
We advise you to stop at Luzhniki Bridge and consider how much fuel you have left in your tank. If you feel like your body can go another 10 kilometers, cycle further along the Vorobyevskaya Embankment. Alternatively, you can cross the Luzhniki Bridge where the Vorobyevy Gory metro station is located and ride along the sunlit Luzhnetskaya Embankment (2.5 kilometers). We recommend that you cycle your way back along the same route as you came, as there are not many other cycling trails in the city yet.
All rights reserved by Rossiyskaya Gazeta.