Bar-hopping in St. Petersburg like the locals do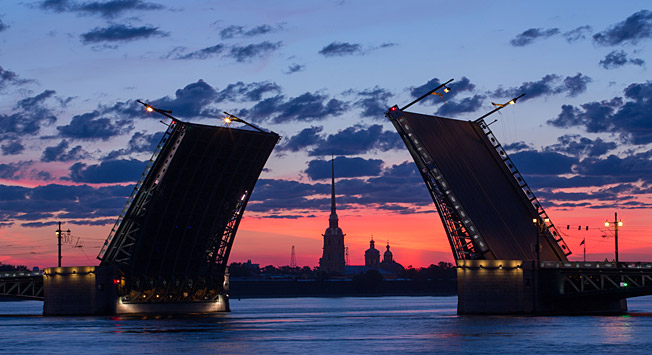 Every seasoned traveler knows that it's always a good idea to get some tips on where to go and what to do from
Tripadvisor
and other such websites. What's even better, however, is being under the caring wing of the well-connected socialite by the name of
Rinat Umyarov
, who guides you around the hottest spots where the city's cool kids and the foreign creative types spend their hard earned rubles.
A good start to the day is a hike up to the rooftop Green Room Café of Loft Project ETAGI (a multifunctional art space in the center of the city) and, if you're lucky with the weather, enjoy a nice slow breakfast on the terrace. Stick around till the evening and you'll also get to enjoy a live music concert! Then, the sky's the limit. Climb up a few more floors to Rooftop Vision and you'll get the ultimate panoramic view, as well as friends tanning and taking selfies, couples enjoying some wine on the cloud-like beanbags or yogis meditating.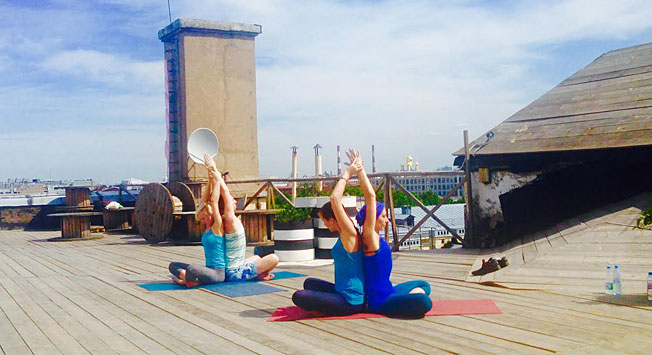 Photo courtesy: Maria Stambler, RBTH

Walking around the Venice of the North really makes one work up an appetite just in time for lunch. There are several options that are really European but, at the same time, are not your typical tourist traps. Pan-Asian really seems to be the "in" thing these days. Jack and Chan (just a stone's throw away from Mikhailovksy Garden) has a very laid-back atmosphere, believes in chic minimalism and delicious Tom Yums, Pho Bos, spring rolls and so on for a very reasonable price - by Moscow standards for sure. Wong Kar Wine on Fontanka Embankment is a cozy intimate space and is interesting in the sense that you don't often find a wine bar that combines it with an Asian menu. But apparently Asian countries are becoming quite the wine aficionados and have discovered that their foods spiciness can actually go quite well with wine.



Photo courtesy: Maria Stambler, RBTH

If Asian is your cup of tea and you want to get a taste of something authentic, us Muscovites were thoroughly impressed by KoKoKo, the brainchild of Leningrad's controversial lead singer Sergey Shnurov and his wife Matilda. Knowing his usual stage antics, you'd expect KoKoKo to be totally decadent and over-the-top with everything but no, the interior is very calm and pleasant with touches of uniquely Russian things. The chef turns old-time Russian recipes into a vibrant modern dishes that are presented very tastefully and use only local and seasonal ingredients, which causes frequent menu changes and short special offers.
For a quick bite and a real sense of street food, Bekitzer on the popular Rubinshteyna St. is a good call. It's definitely the closest you'll come to an authentic shawerma or falafel pita that you can find in Tel Aviv on every corner. The atmosphere is very relaxed – maybe even too relaxed for a pair of Muscovites who are used to waiters going straight to the chef with their orders rather than sitting down at the table and start chatting away about everything and anything.
Several bars are worth noting before hitting the Saint Petersburg's clubs. Bar Mishka on Fontanka gets all the artsy locals down into its basement. Even on Tuesday evenings it gets busy! All the shots are served with gummy bears because "Mishka" translates as "little bear" which is confusing because their symbol is a wolf.



Photo courtesy: Maria Stambler, RBTH

Pif-Paf bar on Griboedova Embankment is a cozy little bar slash…wait for it…hair salon! The décor is fun and youthful and the drinks are great though, like with many places in Saint Petersburg, services can be a bit slow. The Hat Bar on Belinskogo is a funky little jazz bar with fun-loving atmosphere, trendy people, good drinks and live music every weekend. A totally fresh newcomer on Saint Petersburg's bar scene is Beatniki (Italianskaya St.) from the good people who brought Moscow Solyanka. The bar combines a multifunctional indoor space where local DJs deliver the finest beats and barmen mix the yummiest drinks with a spacious inner courtyard veranda all year round.

As for clubs, well, Saint Petersburgers really are 24-hour party people! At 10am on Saturdays or Sundays clubs such as Mosaique and Stackenschneider are only just starting their techno parties, especially in the summer when white nights make days flow into nights back into days. As soon as you're done there, you can carry on with your cultural program because these places are literally around the corner from Tripadvisor's 12th most important landmark for 2015!
All rights reserved by Rossiyskaya Gazeta.