From the Black Sea to the Baltic: Russia by car
The problem was that it lacked a suitable road. However, massive investment in recent years largely driven by the 2014 Sochi Olympics has changed that. Compared to the scant surfaces that dominate parts of the Black Sea region, Russia's M27 highway is a wonder to behold. An engineering marvel that boasts over 20 kilometers of tunnels in greater Sochi alone, its completion has turned the route as one of the world's great drives.
In this three-part series, we follow Irish journalist Bryan MacDonald's road trip from the Black Sea in Russia's south to the Baltic Sea in the north. In part one MacDonald travels through Krasnodar Territory.


See road trip through Krasnodar Territory in a larger map
My starting point of Adler might be just a few kilometers from the Georgian/Abkhazian border, but neither ethnic group has much of a footprint here. Perhaps unexpectedly, Armenians are the largest non-Russian ethnic group in the resort town, which has become a southern suburb of Sochi. Adler is divided between extremely high-end tourism consisting of luxury hotels in its Olympic Park, and more basic family operations.
Locals offer accommodations priced from 1,500 rubles ($24) to 4,000 per night ($64), depending on the size and season. Myriad small hotels also abound, at approximately double those rates. The most popular leisure activity in Adler is either to hit the beach or one of the abundant heath spas along its seafront.
The smell of grilled shashlyk kebabs is unavoidable, as every second storefront seems to sell it, accompanied by fresh Lavash bread. For something a little different try Adriano, an exceptional place located at ul. Sverdlova 13. It offers huge seafood pizzas better than any I've tried in Italy or Croatia for around 600 rubles each ($9.75).
In the past, travel from Adler to the rest of Russia entailed enduring a snarling traffic jam in central Sochi as its narrow streets were entirely unsuited to heavy tourist traffic. However, the Olympic upgrades mean that the city itself can be avoided entirely. Thus, a high season journey that once took up to three hours has been reduced to about 20 minutes.
Now, a bypass deposits travelers on the approach to the northern Sochi micro-district of Lazarevskoye, which offers some stunning mountain views. The area serves as a kind of overflow area in summer when Sochi and Adler are filled to capacity.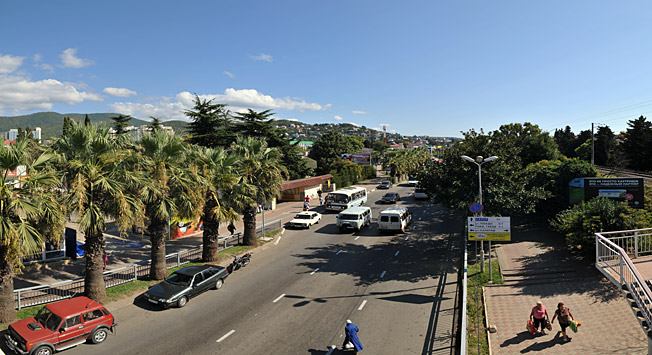 Road M-27 in Lazarevskoe district. Photo credit: Lori/Legion-Media
Tuapse, an ancient Georgian town, is next. Heavily damaged during World War II during an abortive German assault, there is little here to merit your attention. Instead, impressive cliffs break the journey to Novorossiysk, which has a far more significant war history.
Situated on a 25-kilometer long bay, the city was occupied by the Nazis for much of the conflict. While there's plenty of fascinating battle sites and even a preserved battleship (the Mikhail Kutuzov, named for the Russian Imperial military officer) to keep military buffs occupied, I was more intrigued by a literary association. The house of the Soviet socialist realist writer Nikolai Ostrovsky is preserved and worth a visit.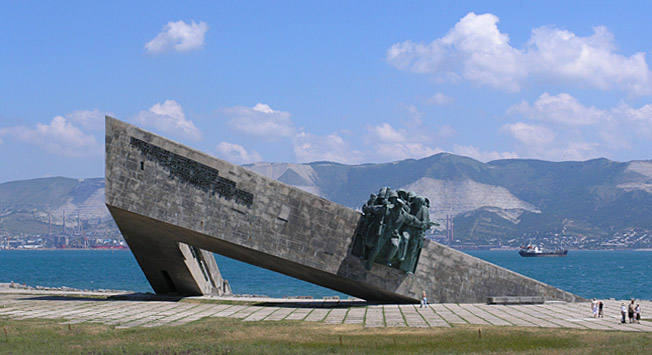 'Malaya Zemlya' war memorial, Novorossiysk. Photo credit: Lori/Legion-Media
The only polite response to the mention of Abrau-Dyurso is "more bubbly please." Located about 15 kilometers from Novorossiysk, this is the home of the famous Sovetskoye Shampanskoye (literally Soviet Champagne), which is beloved in the former USSR. Whatever its taste merits, the price of 300 rubles ($4.87) per bottle compares most favorably with its more expensive French counterpart. There is a winery and gastronomic school onsite (see: http://abraudurso.ru/en).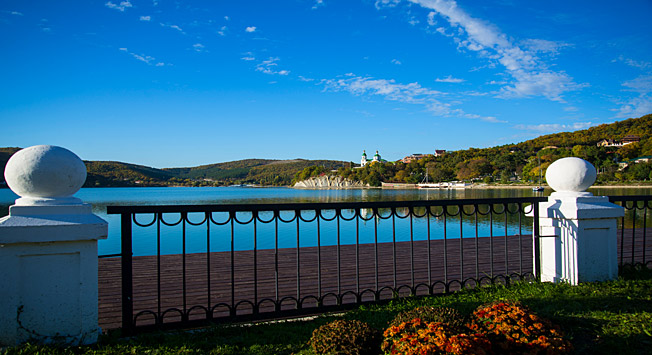 Promenade with views of the lake Abrau, Novorossiysk. Photo credit: Lori/Legion-Media
From crushed grapes to the home of a man who preferred to squish hearts, I hit Taman, just across the Azov Sea from Crimea, before doubling back to Anapa. This small peninsula features the well-maintained home of Mikhail Lermontov, arguably the second greatest poet in the Russian language after Alexander Pushkin. He also had quite the reputation as a romantic that had trouble controlling his passions. While not as impressive as Chekhov's house in Yalta, it's a piece of Russian literary history that's not to be missed.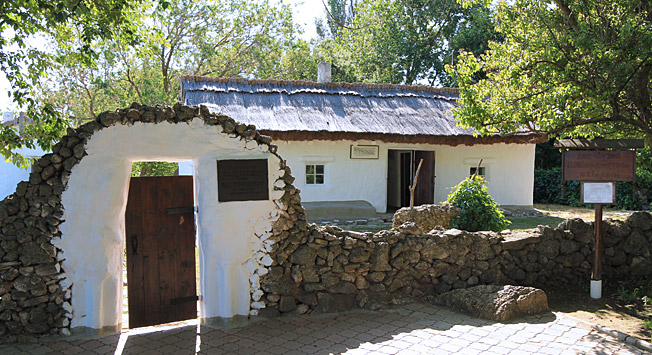 Home of Mikhail Lermontov in Taman. Photo credit: Lori/Legion-Media
In Anapa itself, the impression is of Sochi "lite." Smaller, much cheaper and far less fashionable, Anapa is to its starry southern brother what Cadiz is to Marbella in Spain. Despite that, I found Anapa calmer and often just as interesting. It is also blessed in avoiding some of Sochi's worst traffic problems.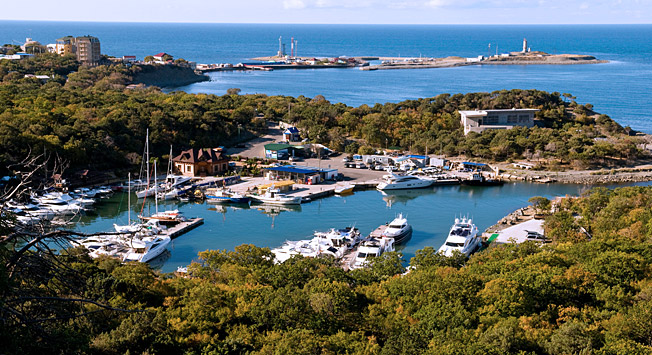 A view of 'Zmeinoe lake' yacht marina, Anapa resort. Photo credit: Lori/Legion-Media
I grabbed a glass of scotch at Chalet restaurant on Krasnodarskaya ul. 4a. From its huge summer terrace I plotted the next stage of my journey, up the famous Don highway towards Rostov-on-Don and Voronezh. After lazy sub-tropical days, the "real" Russia lay ahead.
All rights reserved by Rossiyskaya Gazeta.