Create your own tourism logo for Russia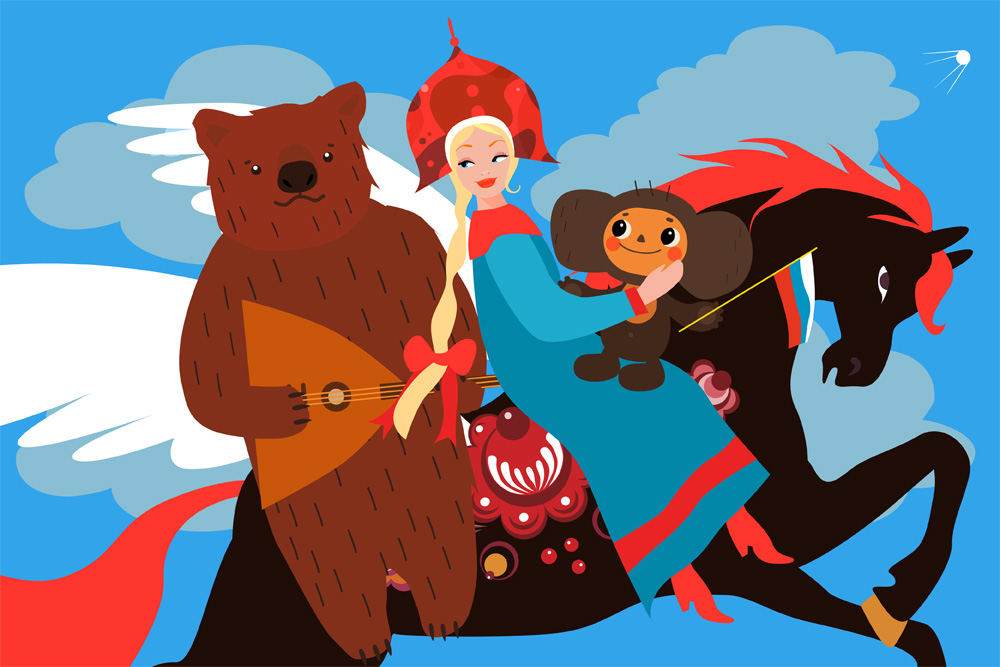 Time to create your own tourism logo for Russia!
Alena Repkina
Did you know Russian tourism still doesn't have an official logo? Well, it's time to create one! The Russian Federal Agency for Tourism recently held a competition among Russian designers and internet users to fashion a new symbol for the country. However, the RBTH team thinks that everybody should get involved: We want to invite you – our readers around the world – to send in your ideas as well!
We have developed a logo builder for you so you can easily create a tourism logo for Russia.
Share your version of Russia's tourism logo on your Facebook page with the hashtag #RBTHRussiaLogo before Sept. 1, 2016.
RBTH editors will make a shortlist with the best logos and then we will randomly choose the two most "Russian" logos and send a T-shirt with the victorious image to their designers. Entry is open to all but unfortunately we are only able to send prizes to the U.S. and the UK.
Terms and conditions
The contest officially begins on Aug. 24, 2016 at 11:59 PM (Moscow time) and closes on Sept. 1, 2016 at 11:59 PM (Moscow time). The winners from each country will be announced no later than Sept. 9, 2016.
During the contest participants are invited to create their own tourist logo for Russia. The data will be collected anonymously and will not be tied to any personal information of our users.
Contest terms and conditions
1. No purchase is necessary to enter this contest (hereafter referred to as "Contest"). Entrance is absolutely free. By entering this Contest entrants agree to these terms and conditions and acknowledge that a failure to comply with them could result in disqualification.2. To enter the Contest, simply enter the image generator and create your own picture using the suggested elements, press "Done" and submit your image before September 1, 2016. This Contest is only available to entrants that are over 18 years of age and are citizens of or residents of the U.S. or UK, excluding directors and employees of Russia Beyond The Headlines ("RBTH"), their associated companies, agencies and immediate family. The Contest shall be void where prohibited by local law. All national and local laws and regulations will apply.3. Only one entry per person is permitted. Multiple or incomplete entries will be deemed invalid. Incomplete entries are not eligible. All entries become RBTH's property and will not be returned.4. The prize will be awarded to the first selected eligible entry drawn on Sept. 9, 2016. The winner will be notified within five working days of the prize draw date.5. The winner will be required to confirm acceptance of their prize within 10 working days and may be required to complete and return an eligibility form stating their residency details. If the prize is declined, or unclaimed by the winner, or if the winner cannot be contacted from the details supplied, a supplementary winner may be drawn at RBTH's discretion. They will be notified by email. The original entry that was drawn in such a situation will be forfeited.6. Except where prohibited by law, by entering the Contest, winners agree to allow RBTH to use details of their name, prize and hometown and their likeness for online posting, and/or any advertising and publicity without additional compensation. In each case the winner will be informed about the use of his or her data by email.7. The Contest is final. No equivalent to the Prize is available and the Prize is non-transferable. RBTH gives no warranty or guarantee in relation to the Prize or as to the number of entrants who take part in the Contest.8. RBTH reserves the right to cancel or amend these Terms and Conditions or change the Prize to one of equal or greater value.9. To the fullest extent that may be excluded by law RBTH accepts no responsibility for any errors, omissions, interruptions, deletions, defects, delays in operations or transmission, theft or destruction or unauthorized access to or alterations of entry materials, or for technical, network, telephone equipment, electronic, computer, hardware or software malfunctions of any kind, or the inaccurate transmission of or failure to receive entry information by RBTH on account of technical problems or traffic congestion on the internet or at any web site. RBTH is also not responsible for any injury or damage to a participant's or any other person's computer related to or resulting from playing or downloading any materials in the Contest, or for mail-in or submitted entries that are lost, late, misdirected, damaged, incomplete or illegible.10. CAUTION: ANY ATTEMPT BY A PARTICIPANT TO DELIBERATELY DAMAGE ANY WEB SITE OR UNDERMINE THE LEGITIMATE OPERATIONS OF THE PRIZE DRAW IS A VIOLATION OF CRIMINAL AND CIVIL LAWS AND SHOULD SUCH AN ATTEMPT BE MADE, RBTH RESERVES THE RIGHT TO SEEK DAMAGES FROM ANY SUCH PARTICIPANT TO THE FULLEST EXTENT PERMITTED BY LAW. IN THE EVENT THIS PRIZE DRAW IS COMPROMISED OR BECOMES TECHNICALLY CORRUPTED IN ANY WAY, ELECTRONICALLY OR OTHERWISE, RBTH RESERVES THE RIGHT TO WITHDRAW THE ONLINE TRANSMISSION OF THIS PRIZE DRAW AND TO SELECT WINNERS FOR THE PRIZES BY RANDOM DRAWING FROM AMONG ALL ENTRIES RECEIVED.11. These terms and conditions shall be governed by and construed in accordance with Russian law. Disputes arising in connection with this Agreement shall be subject to the non-exclusive jurisdiction of the Russian courts.
The Promoter is Russia Beyond The Headlines.
Registered Office: Rossiyskaya Gazeta office, 24 bld. 4 Pravdy street, 125993 Moscow, Russia.
All rights reserved by Rossiyskaya Gazeta.