Where to survive Lent the delicious and colorful way in Moscow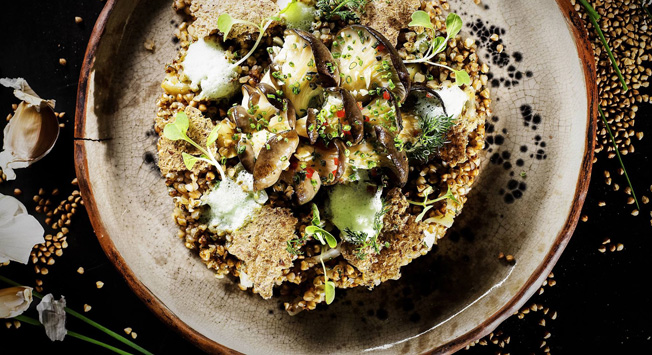 More and more of Moscow's gourmands are taking Lent seriously - and so are the capital's restaurants! But serious doesn't mean boring and here's the mouthwatering proof.
1. Christian – Avocado mousse with tomato juice and quinoa
Photo credit: Christian press photo Conveniently located in Moscow's famous Ukraina Hotel, Christian is a restaurant favored by the city's discerning gourmands. But even the gourmands need to spend 40 days resisting temptation. It needn't be as difficult as you may think, especially when you have something so delicious for the eyes and mouth as this bright avocado mousse tastefully decorated with a mix of finely cut beetroot and tofu served on quinoa boiled in freshly squeezed tomato juice.
2.Mushrooms – Tomato aspic with white mushrooms


Photo credit: Mushrooms press photo

A piece of useful insight: Mushrooms contain as much protein as meat so this is certainly a very useful – and tasty – replacement during Lent! There is a new place that's a leisurely stroll away from Polyanka metro station that owes its name and entire menu to this amazing fungus – Mushrooms. Yet another brainchild of the geniuses behind White Rabbit, Mushrooms take a totally vegan spin on a traditionally meat-heavy Russian dish called "Kholodets" (meat aspic). But in the Lenten version the ingredients go something like this: Tomatoes, marinated champignons and Kimchi sauce.

3. Osteria della Piazza Bianca – Aubergine lasagna with mashed potato and sundried tomatoes


Photo credit: Osteria della Piazza Bianca press photo

It's hard to imagine an Italian restaurant serving anything without dairy or meat/seafood but Osteria della Piazza Bianca's resourceful Italian head chef Salvatore Barbara has skillfully substituted the traditional ingredients of the popular Italian dish lasagna to make it fully Lent friendly. Even the biggest carnivores will enjoy the aubergine lasagna layered with mashed potato and sundried tomatoes.

4. Beer & Brut – Potato zrazy with mushrooms on a stick


Photo credit: Beer & Brut press photo

Beer & Brut on Moscow's central Pokrovka St. is famed for champagne, beer, cheese, meat and seafood dishes – big no-no's during Lent – but for 40 days Orthodox believers and vegans can savor this epic delight for both the taste buds and the eyes: Potato zrazy with mushrooms that arrives at your table in the form of a bright green ice cream on a stick. Make sure to enjoy the post-meal bliss with a cup of something from the delightful tea menu.

5. Vinwood – Coconut panna cotta with raspberry and mango sauce


Photo credit: Vinwood press photo

Those with a sweet tooth can have it especially hard during Lent. If that pertains to you, do not despair and head to Vinwood (Leninskiy prospekt, 148/1) to surprise your taste buds with the visually amazing coconut panna cotta with raspberry and mango sauce.
All rights reserved by Rossiyskaya Gazeta.