Creating a Legend: How a small town became an international creative hub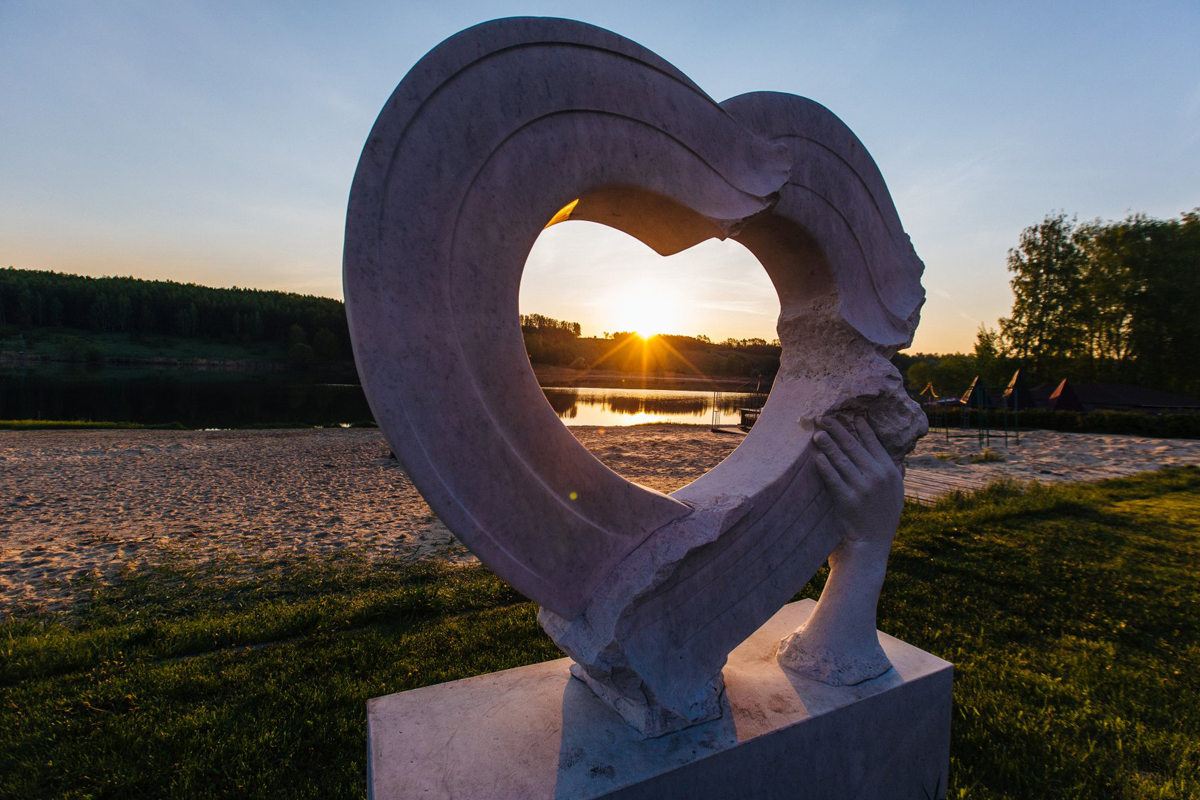 Photo courtesy: K. Volkov
Sculpture park "Legend" turns Penza into center of contemporary art.
"Until recently the main tourist attraction of the Penza region was the Tarkhany museum, the birthplace of Mikhail Lermontov, the famous Russian writer. But today the sculpture park 'Legend' is another major attraction", - says Valentina Dusavitskaya, the curator of the gallery ART Penza at "Legend", - Not long ago when I was giving a tour, some visitors admitted that they found out about us from their German friends. And this is not the first time Russians have learned about 'Legend' from foreigners".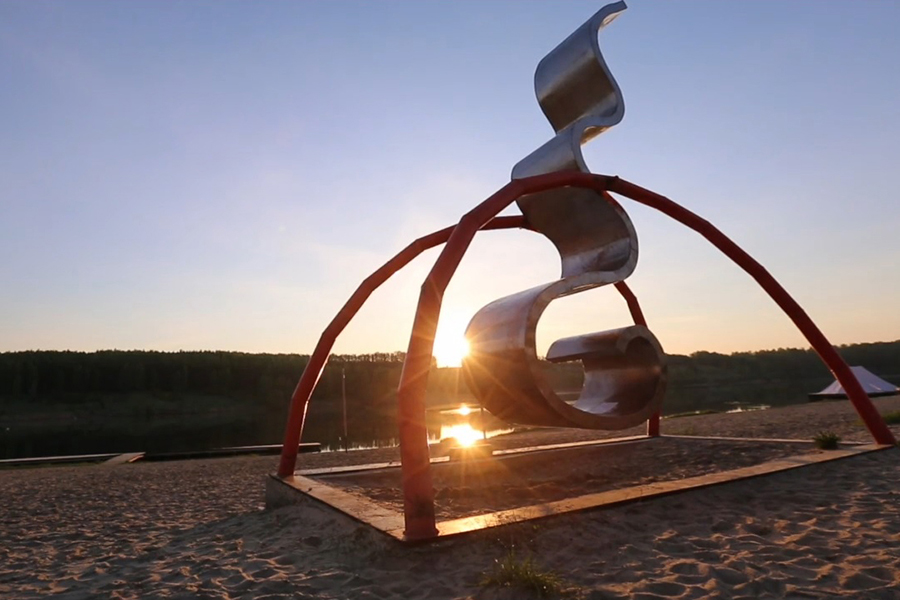 Photo courtesy: K. Volkov
We stand in front of an iron swing that reminds me of a curling piece of ribbon. At the bottom of this ribbon is a place where you can sit and swing. Two kids are swinging now, while their parents swim in the lake nearby. Every time the sculpture moves, the 40 bells ring – they're hidden inside. This interactive piece of art was created by Italian sculptor Bettino Francini. And it's only one of the 3,000 sculptures that surround us.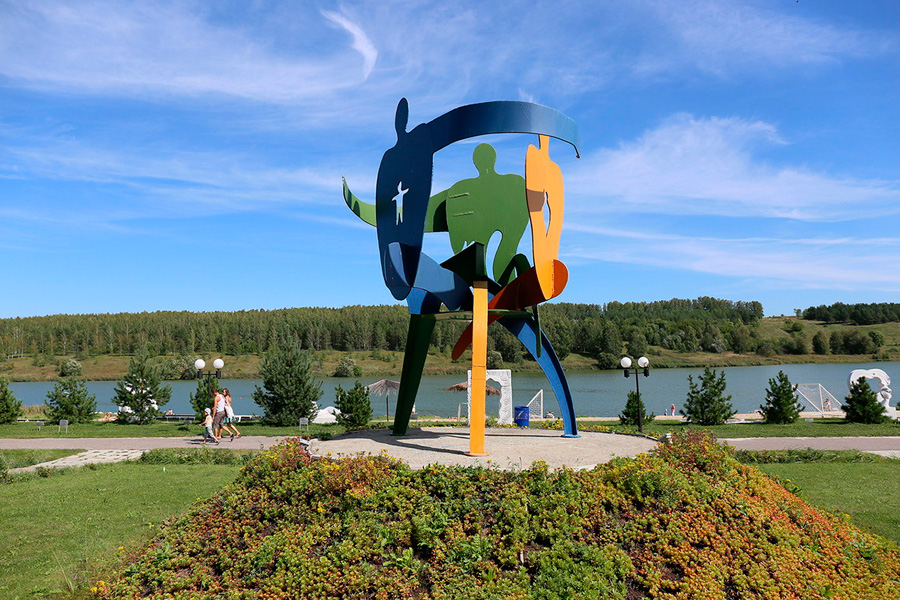 Photo credit: Natalia Maiboroda
Located about 600 km from Moscow, Penza has a population of more than 500,000, but is rarely mentioned in the Russian media. No wonder so few people know that one of the biggest open-air sculpture parks in Russia can be found just outside the city. "Legend" will celebrate its 10th anniversary this year.
Over the past years artists from around the world came here to transform this rural landscape into a contemporary art center. Today, the park, situated 20 km away from Penza, hosts sculptures made by artists from 69 countries. Animals, people, characters from fairytales, geometric shapes – all kinds of sculptures adorn the open fields.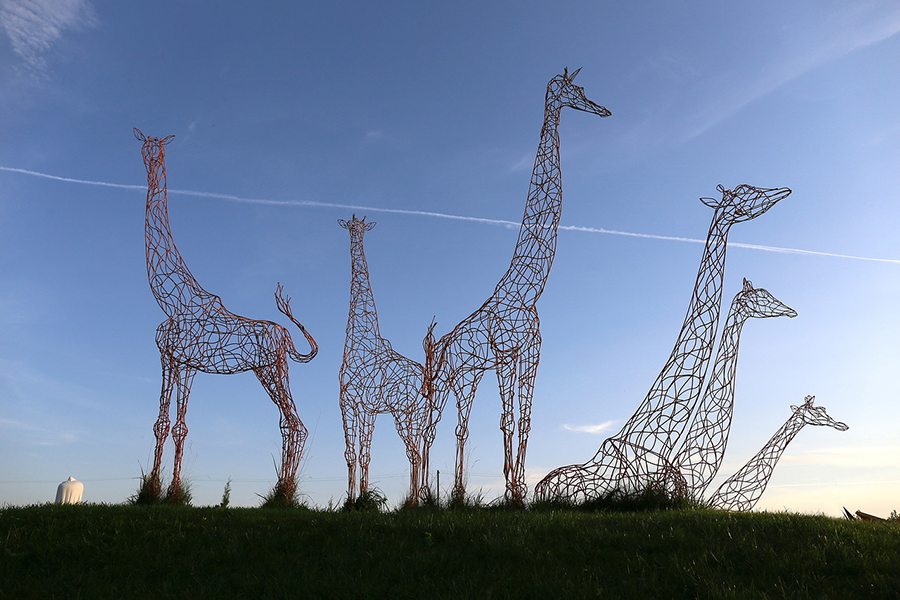 Photo credit: Natalia Maiboroda
Although there are various styles represented, they match each other well: The bunch of iron giraffes make good company for the marble woman and the swinging stones. Pegasus fits in with the colourful abstract sculptures on the background. Your eye looks to the horizon, but still can't see the limit of this park.

The Legend begins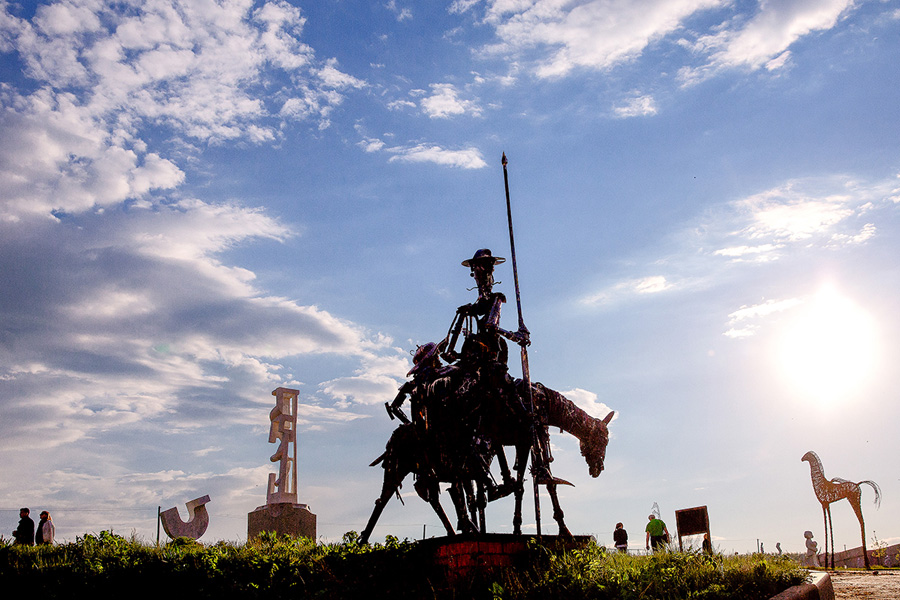 Photo courtesy: K. Volkov
I enter the park, and am struck by its size. You can easily spend two hours wandering between iron and marble creatures, both small and grandiose. The idea to fill the area with works of artists from around the globe came from Yury Tkachenko, the director of "Legend", sculptor and former Associate Professor at Penza State University of Architecture.
"In fact, Penza had a strong sculpture tradition. I wanted to bring local sculpture out of the shadows", - admits Yury Tkachenko. "The best way to fill the area with great works is to organize an International Sculpture Symposium. An event like that benefits everyone. The artist receives a grant and all the necessary materials. In the end, his work is displayed permanently in the park. We received more than 1,000 applications annually, but we can choose only 50 artists."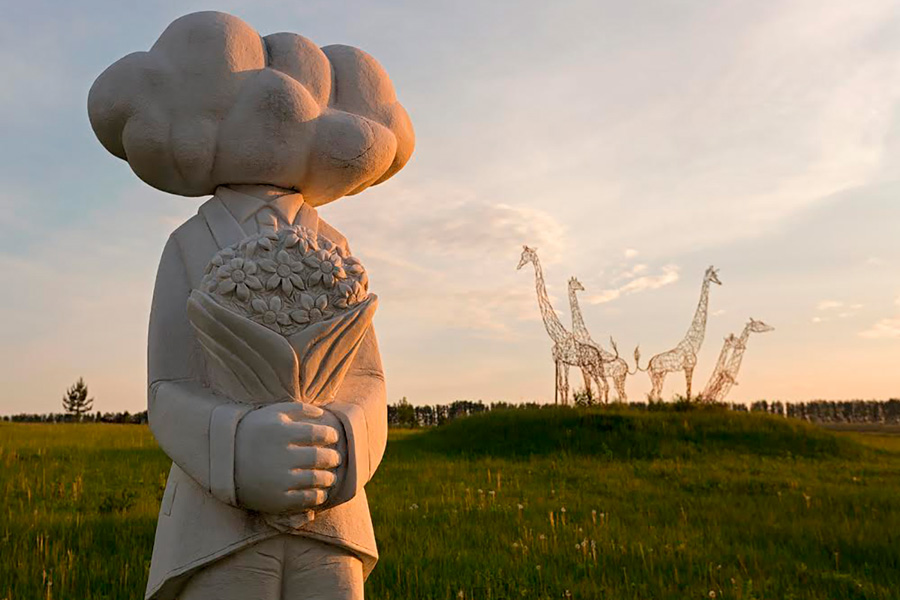 Photo credit: K. Volkov
The first International Sculpture Symposium in Penza was held in 2008. Around 50 participants experienced that rainy Russian September and worked without any of the comforts of home. It is hard to believe that back then sculptors were literally working in an open field:
Photo courtesy: K. Volkov
Today, the park offers a hotel for visitors. Around 300 sculptures are spread around the well-equipped park. The gallery itself holds more than 3,000 paintings. Recently, this symposium began to operate under the auspices of UNESCO (provided by the Commission for UNESCO of the Russian Federation.)

Uniting nations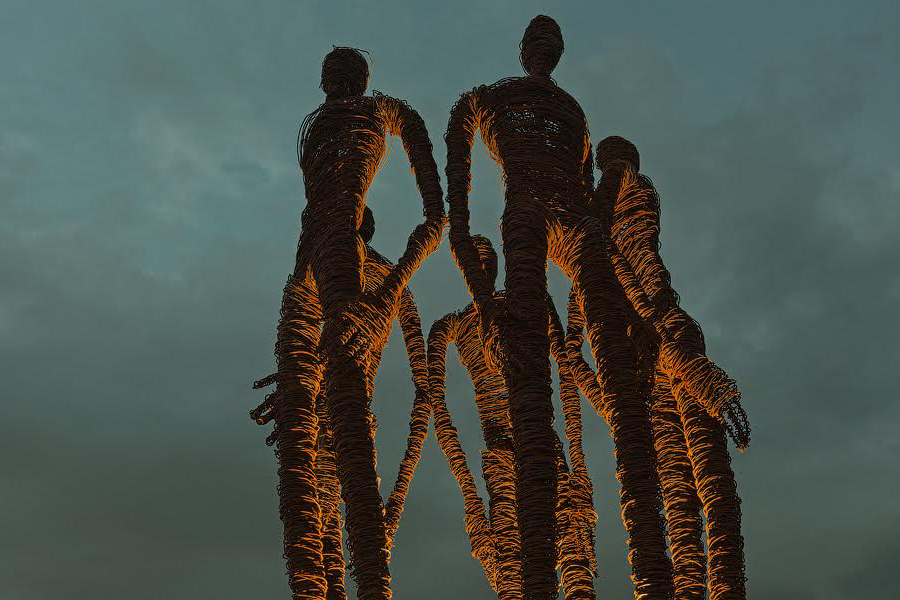 Photo courtesy: K. Volkov
Valentina and Yury give me a tour of the park. They point out a colourful iron sculpture in front of the hotel near a sandy beach. This work, which symbolizes a family, was made by well-known Japanese sculptor Satoru Takada at the very first symposium. Since then he has worked at "Legend" eight times. This year he plans to finish an ambitious project – one of the biggest Japanese gardens in the world.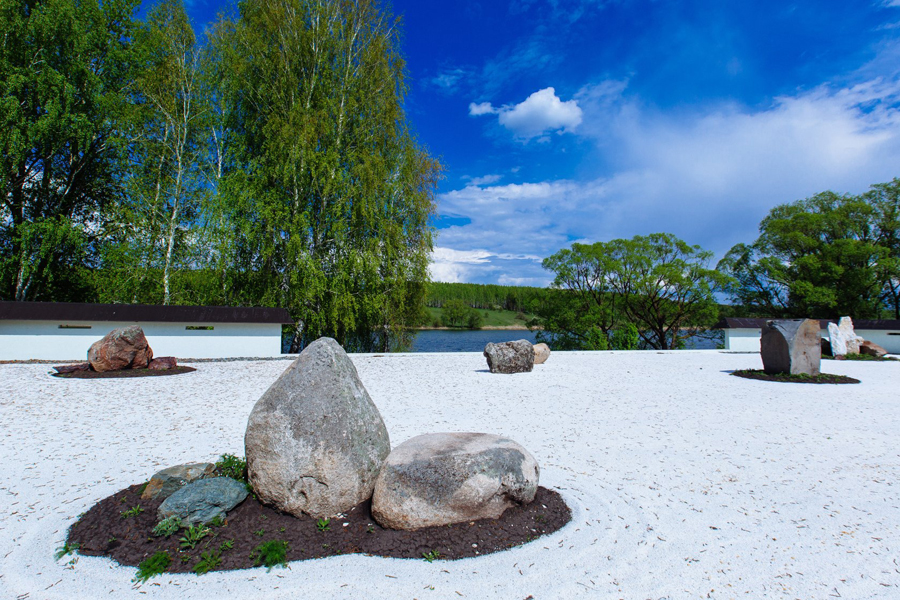 Photo courtesy: K. Volkov
"I've worked in many countries over my 40-year career. But I want to establish an art exchange between Russia and Japan", recalls Takada.
Nedim Hadziahmetovic, a Serbian sculptor who has created six monumental works for the open-air park and four iron pieces for the gallery, says that he spent about 9 months in Penza over the last 8 years.
"I've also done about 30 paintings here when the inspiration struck me", - he admits. "My works can be found in 14 different countries, like China, Gabon and even Iran. But what brings me to Penza is the advantages it offers, both professional and personal. The park provides excellent working conditions in a multicultural environment".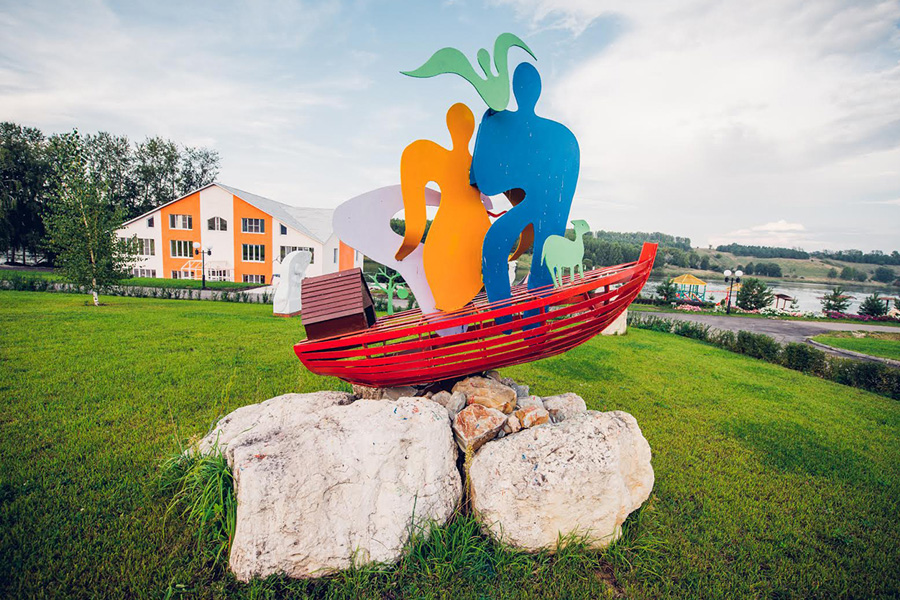 Photo courtesy: K. Volkov
Visitors take selfies with a colorful man who can barely hold up a piece of iron three times his size. This work was made by Chinese sculptor Liu Yang, who has worked in 20 countries.
"I've participated in 50 symposiums around the globe. My friends ask me why I keep coming back to this remote Russian town. Well, this place and the people here inspire me. I think that "Legend" has been shaping not only Russian art scene, but also global".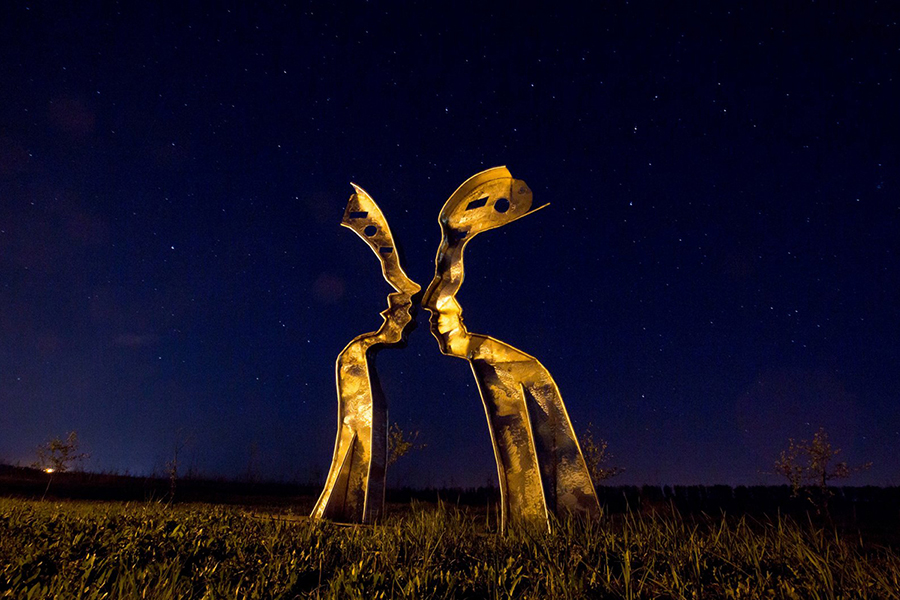 Photo courtesy: K. Volkov
The 10th International Sculpture and Painting Symposium Penza 2017 will be held at 'Legend' from 17 April until 24 August in the hotel complex Art Penza.
If using any of Russia Beyond's content, partly or in full, always provide an active hyperlink to the original material.