There's hardly a better way to absorb Moscow's atmosphere than on a ship sailing up and down the Moskva River. While complicated ticketing, loud music and chilling winds might dampen the anticipated fun, this checklist will help you to enjoy the scenic views and not fall into common tourist traps.
How to find the right boat?
There are plenty of boats and selecting the right one might be challenging. The size of the boat should be your main criteria.
Plenty of small boats cruise the Moskva River, and the most vivid one is this yellow Lay's-branded boat. Everyone who has ever visited Moscow probably has seen it.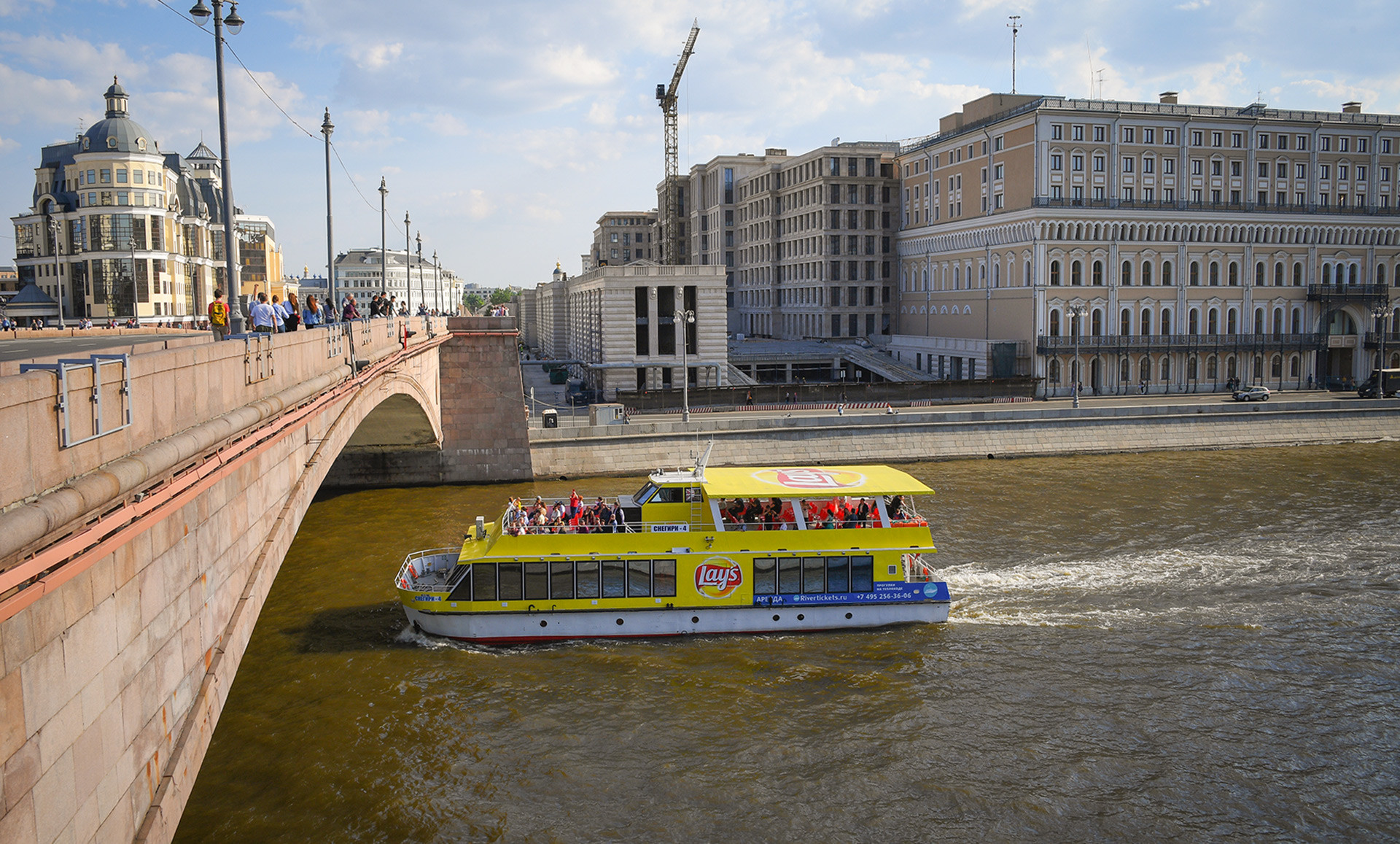 This option might leave a passenger disembarking partially deaf as the merciless Russian pop music blasts onboard. A free spirit, however, will find partying on such a vessel to be an unforgettable and authentic experience that's almost a metaphor for life in modern Russia: too loud, and sometimes too welcoming. Tickets start at $13 (800 rubles) per person.
Bigger boats offer smoother sailing and tend to attract foreign visitors because of their distinct Soviet aura. Indeed, many of the older vessels must have seen better days. They are still afloat, however, and getting aboard is a unique 'cultural' experience. Sometimes the crew might offer lunch or dinner to passengers, but this option must be purchased with the ticket. Here is one such option offering dinner for $24 (1,490 rubles).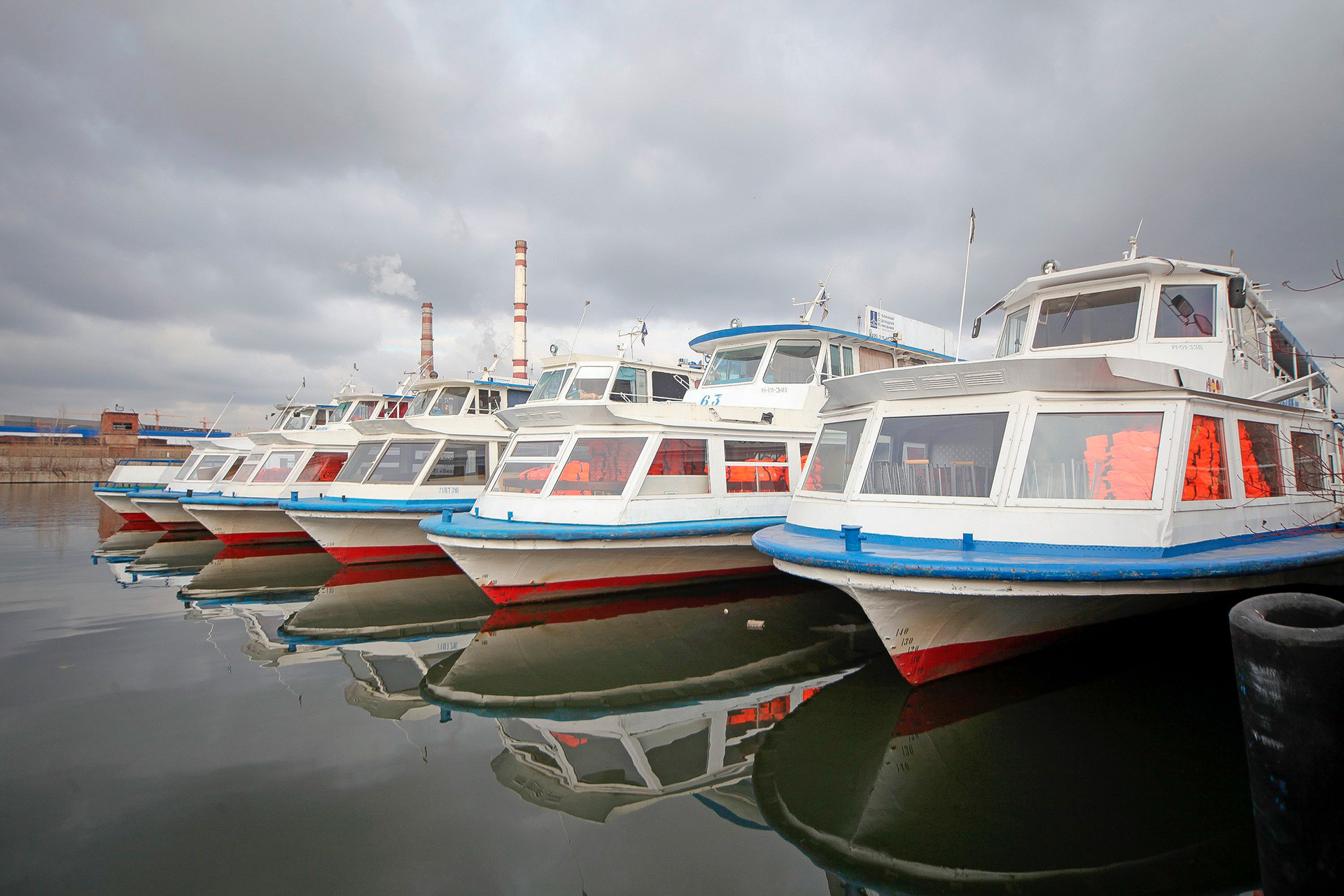 Moskva Agency
If you want to travel in style, consider Flotilla Radisson. These large, modern vessels are quite posh, with a cozy restaurant and an attentive crew at your service. Even though the selection of wines and food is modest, these vessels are still much better than other boats.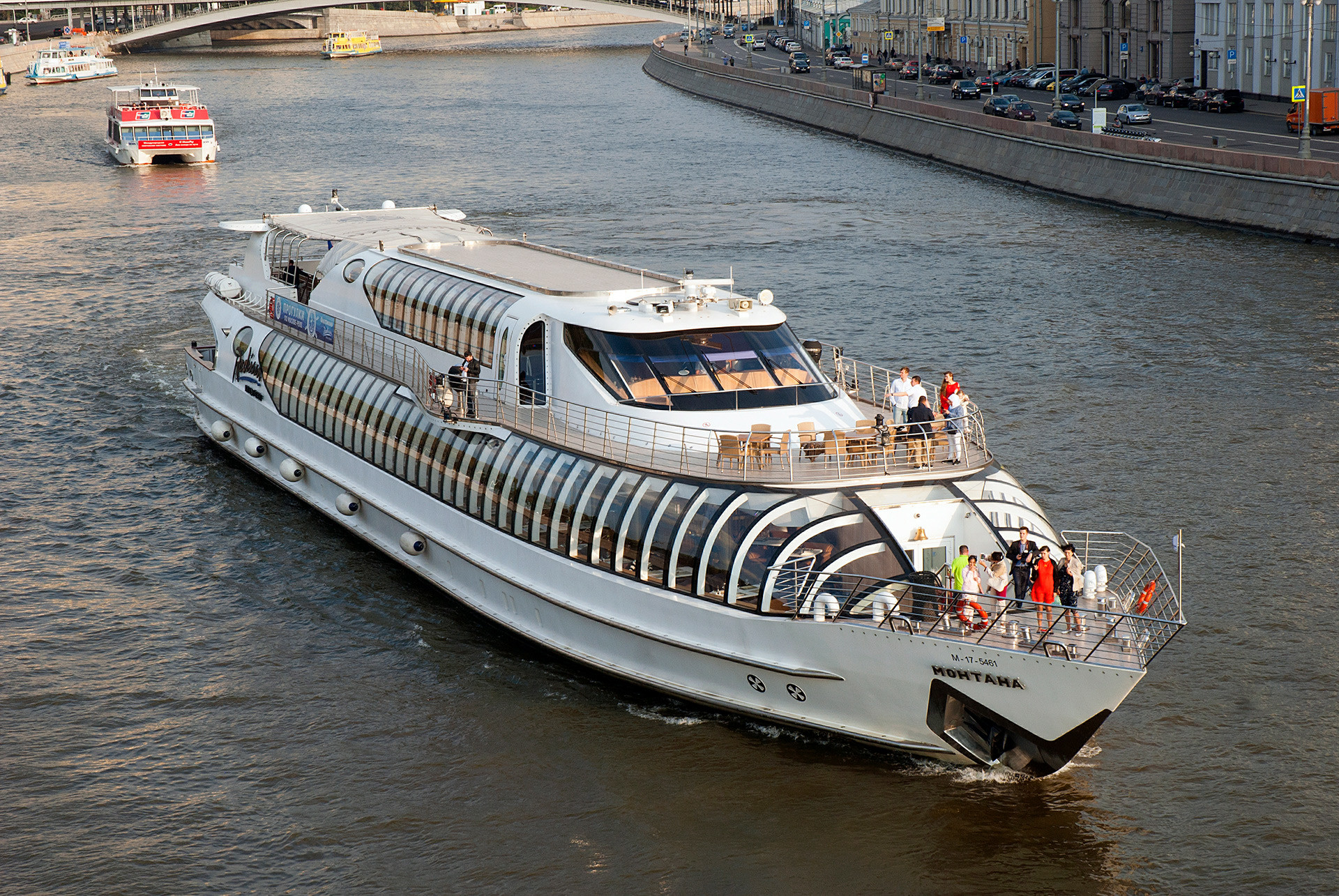 Sergey Kovalev/Global Look Press
Surprisingly, the luxurious boats are priced rather modestly, and a single ticket goes for $17-$32 (1,100-2,000 rubles); also expect a reasonable restaurant bill on top.
How to buy tickets?
Women holding photos of ships promise huge discounts to "the young and beautiful," and give personal invitations for river tours. They sound and look nice, but there's a small catch: their ticket prices are usually more than those purchased online.
"We bought tickets from street hawkers for 900 rubles each, only to later discover that the other passengers bought their tickets twice as cheap!" wrote (in Russian) a disappointed Rostislav on a travel company website.
Nevertheless, buying from street hawkers has one considerable advantage: they personally escort you to the vessel so that you don't waste time looking for the boat on your own.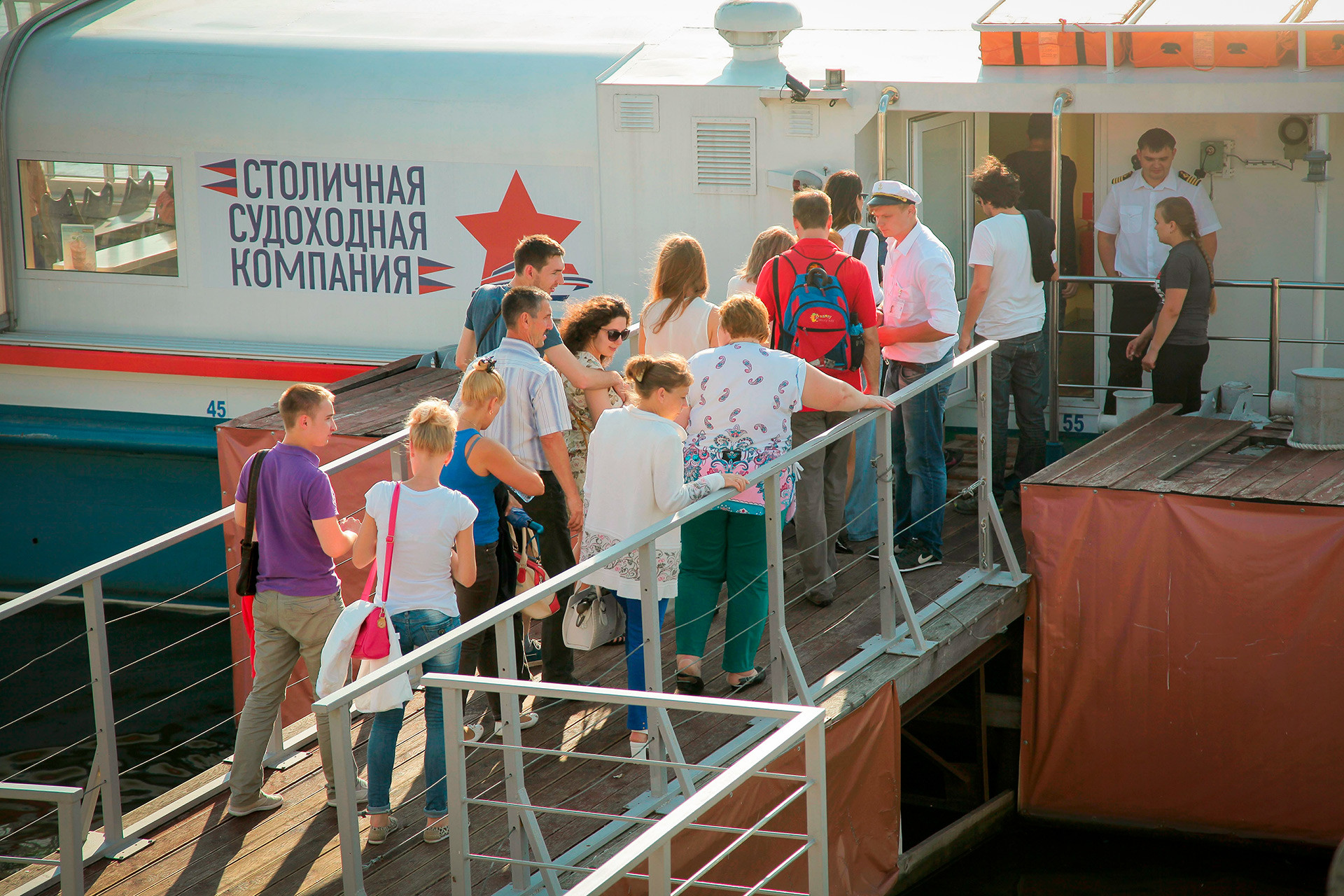 Sergey Kovalev/Global Look Press
Prices start at $13 (800 rubles) for one ride, and for an additional $6.5 (400 rubles) you can purchase an unlimited number of tours on the same boat on any given day.
Flotilla Radisson has official ticket offices at Gorky Park and Hotel Ukraine, but they're often sold out.
Buying online is an option that might save some cash. Websites such as this offer considerable discounts for tickets sold online. On a busy Friday night an online purchase might be the only chance to get a ticket on a Flotilla Radisson boat.
This website (in Russian) offers multiple options for short river cruises in and around the city center, including offbeat options such as 'disco cruises' and 'children cruises.' This other website sells tickets online, but doesn't have an English version. The interface is intuitive, however.
Buying tickets online has its bad points, however. The most common is confusing which pier you should go to and missing your river tour.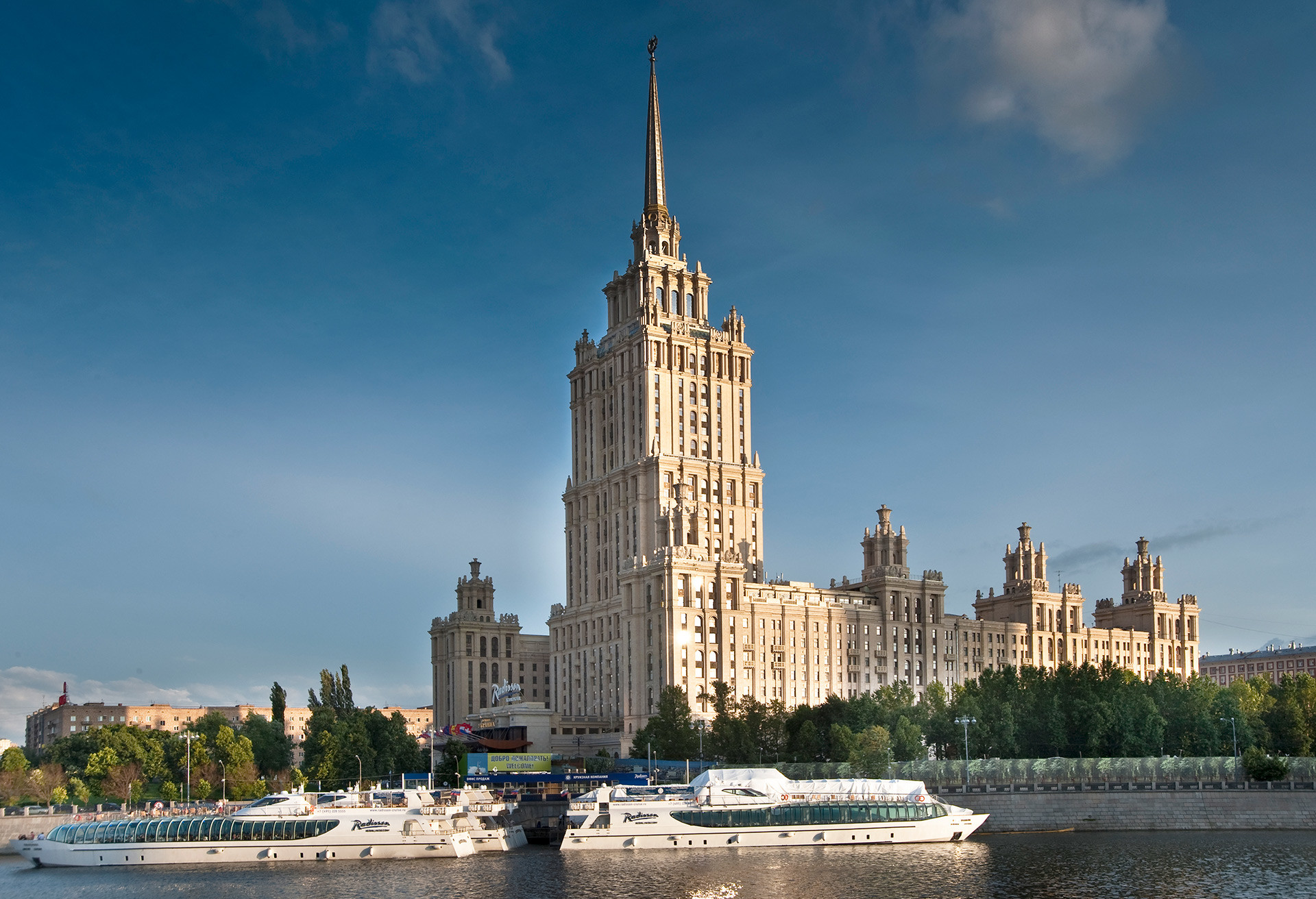 Konstantin Kokoshkin/Global Look Press
"I once bought tickets online to save with the discount that the website offered," said Igor Shvarkin from Moscow. "The pier was initially marked as 'Park Kultury,' but when I arrived it wasn't easy to find my boat because there were too many there. My guests had to walk a considerable distance before I finally found the vessel that accepted my tickets purchased online," said the man.
There are two main boarding piers in the city center: Hotel Ukraine and Park Kultury. Always take note of your particular berth when buying tickets online.
Where to sit onboard?
Even on a warm day, the headwind might be chilly for passengers on deck. Make sure you have warm clothes, or that the crew has blankets ready upon request.
The glass-encased hold makes the tour much more comfortable, but not at the expense of having an enjoyable experience.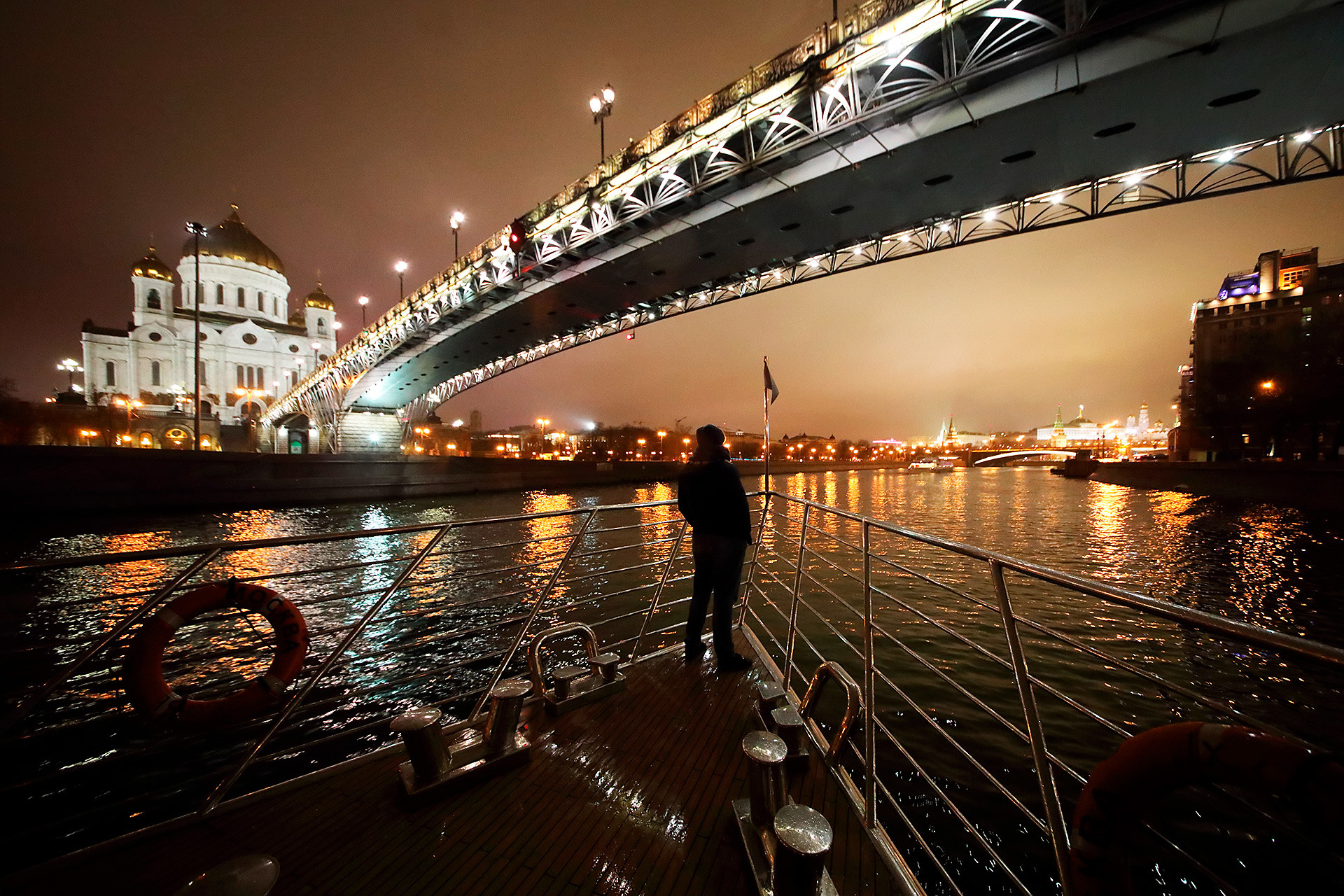 Legion Media
Getting off the boat requires preparation as well. Ideally, you should be able to disembark on any pier along the way. In reality, passengers never know where the boat's captain will make the next stop. Street hawkers often tell passengers in advance where they'll be able to disembark. If you buy tickets online then you'll have to research it yourself.
There's a chance that the captain won't make any stops at all and will take you back to where the tour began, which is the case with Flotilla Radisson. The safest option is to automatically expect that you'll return to the pier where you started.
If using any of Russia Beyond's content, partly or in full, always provide an active hyperlink to the original material.