Travel off the beaten track in the central Russian city of Yelets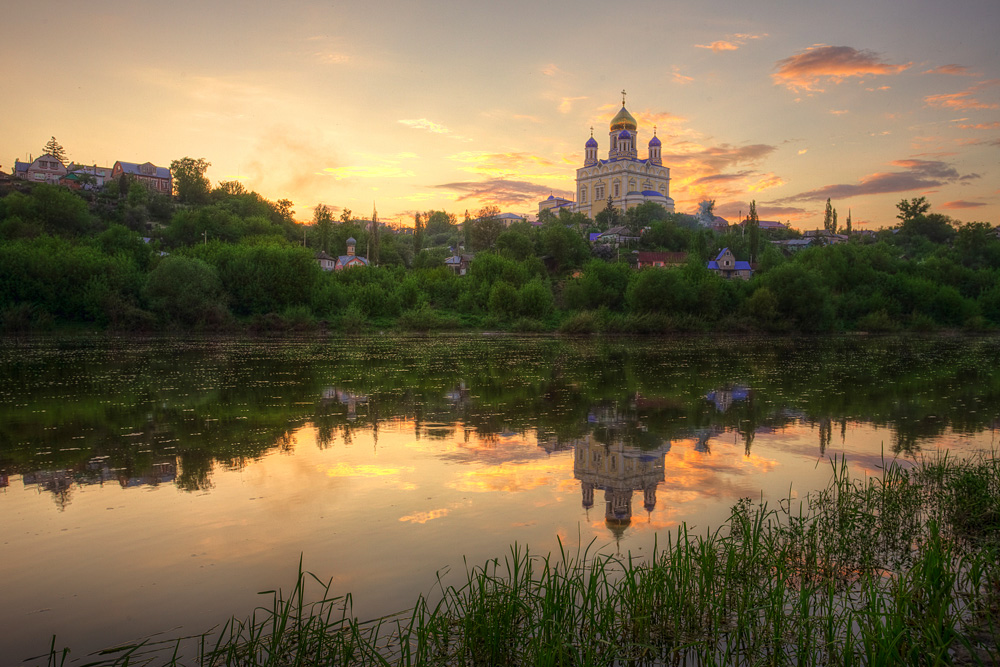 Come to Yelets, an unpretentious town filled with religious monuments, lace and literature
Lori/Legion-Media
Founded in 1146, Yelets is one year older than Moscow. Although it survived numerous Mongol-Tatar invasions in the Middle Ages, up to now it has successfully avoided touristic hordes.
Located 250 miles from Moscow, Yelets enjoys a rare balance for a Russian town: It is well-preserved, yet the real life of the city is not hidden beneath some kind of fancy touristic mirage.
Yelets is an outdoor museum of religious architecture and also features the memorial estate of Nobel Prize-winning author Ivan Bunin and a red brick clock tower:
Photo credit: Lori/Legion-Media
Farm-fresh foods
A vacation in Yelets is a perfect digital detox, with a few perks: relatives from big cities come to help their families with vegetable gardens and to make preserved foods for the winter. The first thing I did after my arrival was taste fresh goat milk. I only found time to connect to Wi-Fi on my third day.
Our neighbors have a relative who comes to visit them from the northern city of Murmansk. He spends hours sunbathing in the garden to get enough sun to survive the long polar winter back home. Meanwhile, vegetables and fruit ripen all around him.
Summer is the harvest season here, with crops so abundant that in a thunderstorm, an apricot tree can drop up to seven kilograms of suntanned fruit. The local soil is so greasy and black that walking barefoot will darken the soles of your feet. Even a visit to a Russian sauna won't help you wash them clean.
Where to find the best pig fat
The climate of the Lipetsk Region is also favorable for animal farming, with salo (pig fat) being a traditional treat that keeps for a long time. To buy some, we set out for the market.
Early in the morning, at the entrance to the fish pavilion, I found an inconspicuous elderly woman, known by locals as the "salo lady." She does not seem to be selling anything, but she's approached by those who have heard of her delicious smoked salo. She promised to bring us 10 kilograms the following week and wrote down our phone number in a tiny, grease-smeared notebook.
Bunin's estate and Russian Orthodox architecture

Mikhail Tverskoy and Alexander Nevsky Grand Ducal church. Photo credit: TASS/Shpikalov Georgy
The historical center of Yelets is like a textbook on Russian religious architecture. The Cathedral Church of Ascension on the bank of the Bystraya Sosna River remains the town's principal landmark, as the scenery hasn't changed much since the 19th century. The interior of the church's side chapel, designed by architect Konstantin Ton, features pale-green walls with a belt of ornament. Inside, icons stand on thick pillars, each one more intense and stern than the previous one. Outside, behind the voluptuous shape of the altar apse, a squat, but graceful chapel with a dark blue roof and a canopy marks the mass grave of Yelets residents who fell in the battle against Tamerlane's Mongol-Tatar hordes in 1395.
The Cathedral of Archangel Michael lay in partial ruins for a long time. However, after renovation works began earlier this year, they were able to hold the first Easter mass in a long time here. It was this cathedral that Ivan Bunin mentioned in his works, as his narrator walks along Arkhangelskaya Street. The writer himself studied at Yelets Gymnasium from 1881 to 1886.


The Cathedral of Archangel Michael. Photo credit: Geophoto
A detailed description of Yelets can be found in one of the stories from "Dark Avenues," a collection of Bunin's short stories. Bunin wrote:
"My purpose was to see Staraya Street. And I could have taken a different, a shorter route there. However, I turned to these wide streets with lush gardens, to take a look at the gymnasium. Having reached it, I could not but feel surprise: everything here has remained exactly as it was half a century ago; the stone fence, the stone-paved yard and a large stone building in the yard..."
The white plaster of the cathedral has small red brick wounds in it. These are traces left by German shells during World War II – another scar from the town's past.
A town in lace

Photo credit: Lori/Legion-Media
A blue wooden house resembling an old country cottage on Yelets' main pedestrian street is both a museum and a boutique of Yelets lace. Local lace is made by hundreds of lacemakers, both at the local factory and at home: this traditional Russian craft has been booming here since the 18th century. Yelets lace is thinner and lighter than Vologda lace, and the most delicate work is still hand-made with the use of bobbins. Women's clothes, lingerie, headscarfs, shawls, tablecloths and napkins from Yelets are displayed in museums around the country.
Lace traditions here have been preserved because several female generations of one family have been engaged in lacemaking as a result of family contracts. In the 19th century, boys were also taught to make lace, but now women are the only ones engaged in this work.


Photo credit: TASS/Valery Morev

Beginning in the 20th century, this traditional craft has been taught at the design faculty of the local university The Yelets Lace Factory also holds a two-month course in lacemaking, which anyone can enroll in.
Young Russian fashion designers often place their orders here in an attempt to support traditional arts. The designer Ulyana Sergeenko is one such example: She used local lace for her recent Paris fashion show.
All rights reserved by Rossiyskaya Gazeta.