Country life: Russia's 5 most beautiful villages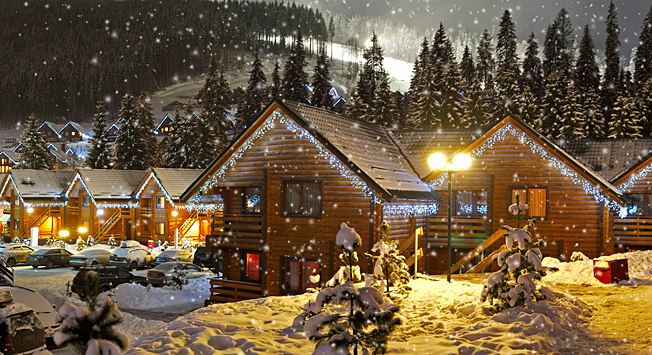 Russia has something to offer any tourist longing for pastoral landscapes, village customs and simple, but wonderfully delicious cuisine.
RBTH has selected the 5 most beautiful Russian villages that every traveler should visit.

1. Vyatskoe, Yaroslavl region

Photo courtesy: krasaderevni.ru
Beginning in October 2015 voting began in a contest to officially select the most beautiful villages in Russia. The first and currently the only winner of this competition is the old merchant village of Vyatskoe in the Yaroslavl Region (about 300 kilometers from Moscow).
In 2007 thank to private investments this poor and gloomy village was transformed into a historical and cultural complex with 10 museums, three hotels, a restaurant, a cinema and concert hall, and corresponding tourist infrastructure.
The number of renovated historical buildings made of stone in Vyatskoe is greater than in a standard village, which is why this place was nicknamed "a village that wanted to be a city."
But the most important thing is that these positive changes have affected the lives of local citizens – almost half of the village's population is currently employed in local museums. Little churches, amazing landscapes and the reconstruction of merchants' households into attractive local museums attract nearly 100,000 tourists every year to this village of 500 people.

2. Atsagat, the Republic of Buryatia

Photo credit: Lori/Legion-Media
Steppe, mountains, yurts, camel herds and an old datsan – the lives of the descendents of the Guchit tribe are concentrated around these things. They found a home in the Buryat village of Atsagat (70 kilometers from Ulan-Ude, the regional capital).
Their nomadic ancestors came here from the Siberian taiga in the 17th century and put out 100 yurts on the vast expanse of the Atsagat valley, where the air in summer is filled with the aroma of the sacred herb aya-ganga (wild thyme). Travelers who visit this place will remember this smell for a long time.
The peaceful atmosphere of the Atsagat datsan (Buddhist temple) with its 1,000 preserved figures of Buddha stands in contrast with the dynamic tourist complex "Stepnoi kochevnik" (steppe nomad): Local residents invite tourists to eat a meal of traditional buuzy (steamed dumplings), drink tea with yak's milk and salt (this is how nomads drink it), munch on a few boova (a kind of local cookies) and imbibe vodka. They offer tourists an opportunity to shoot arrows from a bow, ride their fast horses and take part in the exotic rituals of indigenous residents of Buryatia.

3. Esso, Kamchatka

Photo credit: RIA Novosti/Alex Kudenko
The location of the village of Esso, in the caldera of an ancient dormant volcano between hot springs, rivers that don't freeze in winter and mountains make it especially beautiful. These places that today are part of UNESCO's world heritage list were once occupied by the indigenous peoples of Kamchatka – the Itelmens, the Evenks and the Koryaks, who still live here today.
Lost in the wilderness 500 kilometers from the regional capital of Petropavlovsk-Kamchatsky and 6,500 kilometers from Moscow, Esso is nevertheless worth visiting. Immerse yourself in the life of the indigenous peoples, participate in their songs and dances that will put you into a trance, swim in thermal pools in the open air, climb volcanoes and perhaps even see a real bear. The area around Esso is their natural habitat, but don't be afraid – local bears stay away from humans.
Every spring in Esso the main tourist event in all of Kamchatka takes place – Beringia, a dogsledding race along a 1000-kilometer track. This race is included in the Guinness book of records.

4. The village of craftsmen Askat, the Republic of Gorny Altai

Photo credit: Valery Klamm
The village of Askat hides from civilization in the Altai Mountains (3,600 kilometers from Moscow). What makes this village so beautiful is its people: Among the 120 people living here there are 20 artists and 20 performers, who support four art galleries and the Lukomorye Center for National Culture with their work.
Askat is visited for different reasons: Tourists come to buy rare handmade items made by local craftsmen such as dresses and shirts with ancient protective embroidery or ceramic flutes known as ocarinas (the art of making these flutes is known only to several craftsmen in Askat), to meditate on the bank of the turquois Katun River, to absorb the creative atmosphere and have a deep sleep in a straw house.

5. Art village Nikola-Lenivets, Kaluga region

Photo credit: Lori/Legion-Media
This village in the Kaluga Region (220 kilometers from Moscow) was almost completely abandoned by the 1990s. Its second life began thanks to the festival Arkhstoyanie, which filled the country landscapes here with surreal objects of land art and turned potato fields, the small Ugra River and local forests into a place of pilgrimage for thousands of city residents fond of contemporary art and digital detox. The fields where cows used to graze and vegetables once grew now host capsule hotels, famous works of art by Nikolai Polissky, Ivan Shchetinin and Ivan Kuzmin and 100 more art objects for visitors to see year round. In winter and fall the land art in Nikola-Lenivets looks even more like it is from another planet against the background of Russia's snow-covered landscapes.
All rights reserved by Rossiyskaya Gazeta.