These cafes have vintage American technology, old-school standards of quality and austere socialistic ideals in their service, interiors and atmosphere. Prepare to be immersed in the world of food service as it was in the mid-20th century USSR. Don't forget your appetite, some basic Russian vocabulary, a sense of humor and a few bucks' worth of rubles. The prices haven't changed much since Soviet times, and the past does not take credit cards.
Pyshechnaya on Zhelyabova Street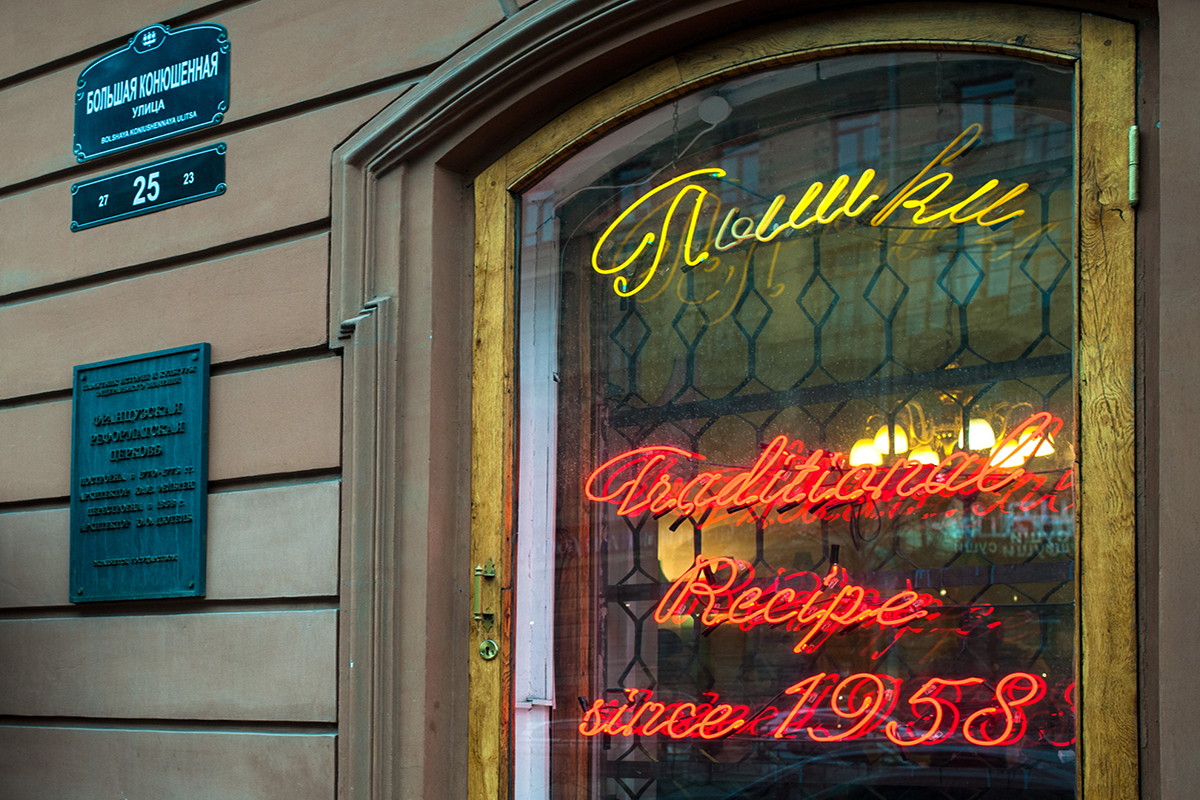 Photo credit: Marina Mironova

Pyshechnaya is a cafe where pyshki are served – mouthwatering pastries fried in oil and sprinkled with powdered sugar. The dough is soft and tender, covered with a thin, crispy crust. The taste of pyshki recalls Louisiana-style beignets. In their shape, they take after their distant relative, the doughnut.
We owe the relationship between doughnuts and pyshki to Anastas Mikoyan, a state official who was present at the very beginning of Soviet food services. In 1936, he visited the USA, and it must have been from there that he brought doughnut-baking machines to the USSR. Russian versions of these machines were installed in many city cafes. Pyshechnaya on Zhelyabova Street (the Soviet name of Bolshaya Konyushennaya) still has a machine that has been in operation since 1958, the year the cafe was opened. This machine still produces pyshki that that authentic Soviet taste.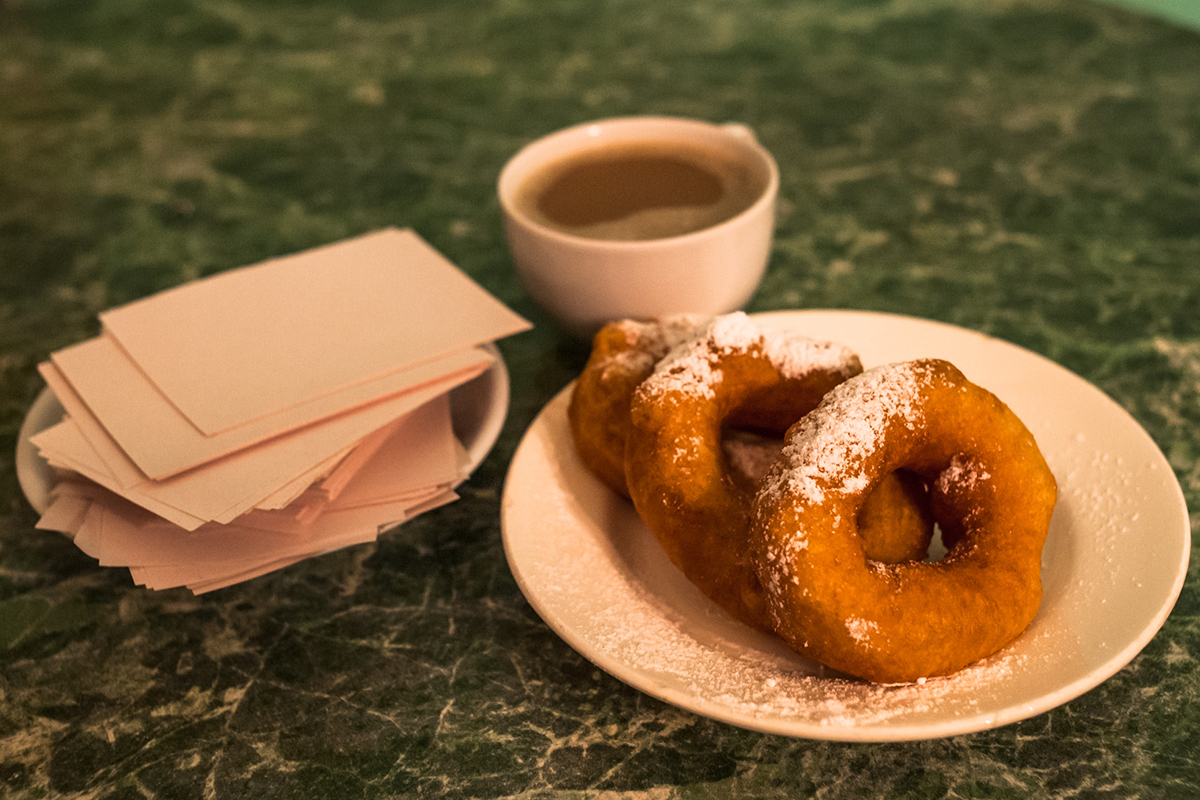 Photos credit: Marina Mironova
But the main attraction of this place is its ambience: A never-ending line, elderly staff and piles of cheap paper instead of paper napkins, which were a rare commodity in the USSR. Order some weak coffee with condensed milk, a traditional Soviet fast food drink, to go with your pyshki. Pick a bar-height table (regular tables with chairs are a novelty here) and watch how their love for pyshki unites people of all social classes.

Pirozhkovaya in Moskovsky Prospect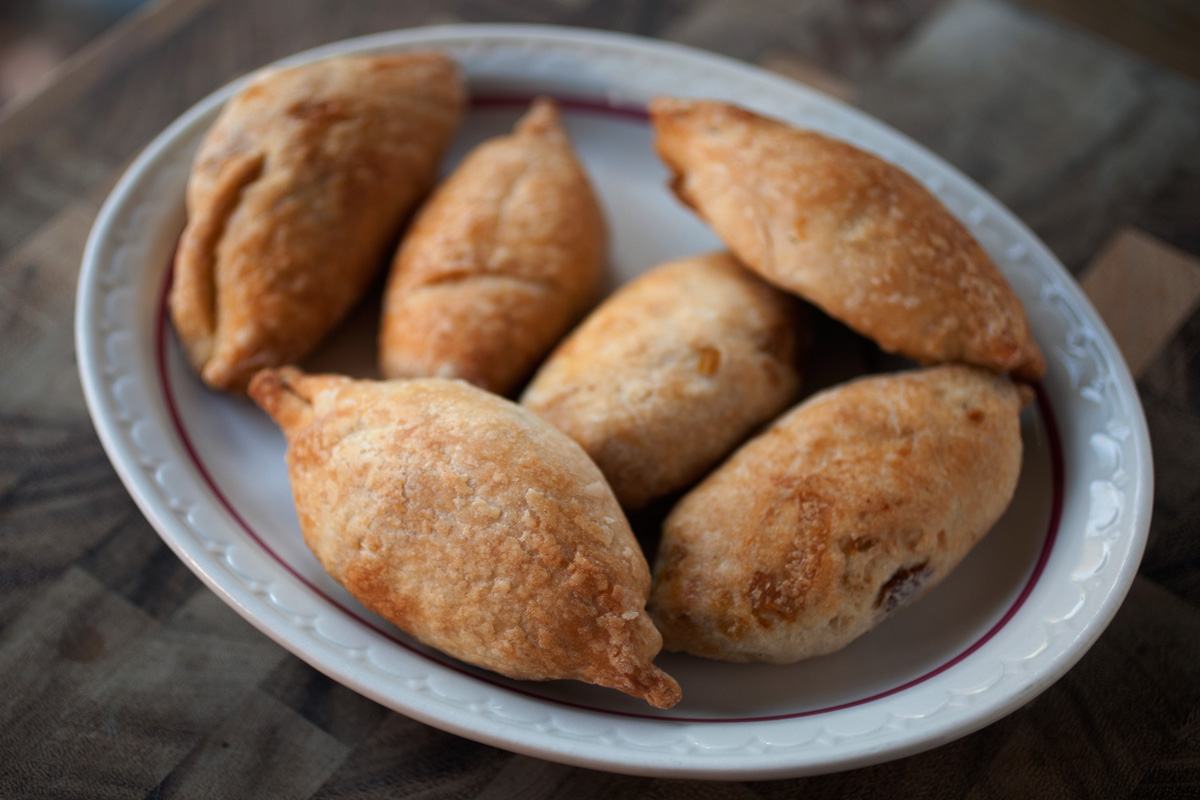 Photo credit: Getty images
This cafe is a 15-minute subway ride away from the city center and most of the tourists, and so it has managed to keep its ecosystem as it was in 1956. Customers and the staff have developed warm, almost family-like relationships. Regulars have been coming here for pirozhki, small pies with varied stuffing, for 30 or even 40 years. They go to school, work and get married in the same neighborhood: A popular Leningrad city office for weddings is in the same building. The staff have been working here for decades without retiring. The manager holds the current record: 77-year-old Valeria Romanova has been in charge of the bakery for 33 years.
It is no surprise that both the customers and the staff tend to be conservative; just like in 1956, the baker comes in two hours before the cafe opens to knead the dough and let it rise. By eight in the morning, there is a line at the entrance, and the parking lot is full of ambulances, police cars, taxis, expensive foreign cars and battered Soviet automobiles.
Inside, it feels both crowded and cozy. First, go to the register and pay for your order. Then move to the counter, where the assistant will quickly fill up your plate. The bestsellers are baked pies with herring, cheese or cabbage and round fried belyash pies with meat – a Tatar dish which has become a staple of Leningrad fast food.
Salkhino Cheburek House (since 1962)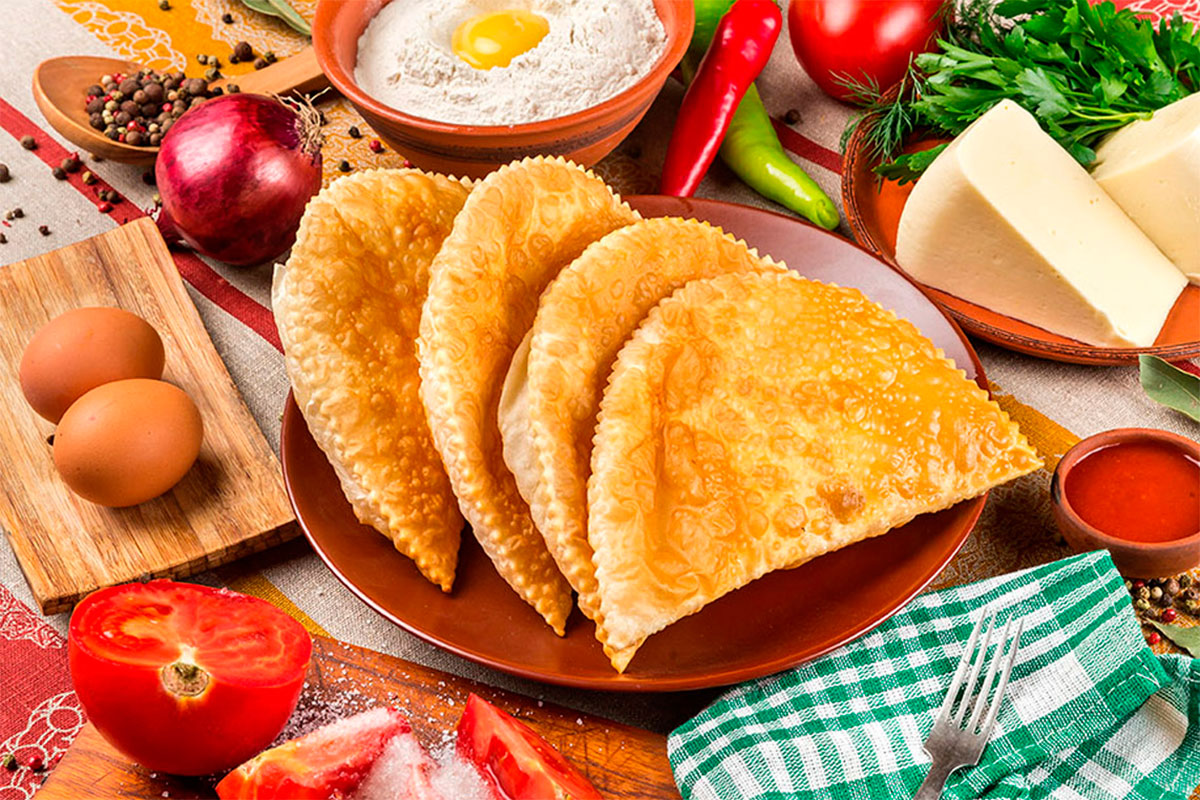 Photo courtesy: Salkhino restaurant
Chebureks are deep-fried crescent-shaped pies made with thin dough and a stuffing of juicy minced meat. This Turkic delicacy entered Soviet fast food from the kitchens of Crimean Tatars, although it is most frequently offered in Georgian restaurants. Mixing cultures was common in the USSR, where the state was trying to erase all ethnic differences in an attempt to create a single "Soviet nation."
So the best remaining cheburek house of the city is styled like a Tbilisi tavern: Wrought-iron hanging lanterns, embossed panels on walls and solemn waiters who are firmly convinced that good service cannot be fast. However, your patience will be rewarded: the taste of Salkhino chebureks is just as bright as its loyal customers' memories of their youth, when they had to stand in a long line to get into this popular establishment.
With a hot cheburek in one hand and a glass of Georgian wine in the other, you'll be enjoying the Soviet-style dolce vita with all its international flavor – and at a good price.
Russian Bliny Pancake House (since the 1980s)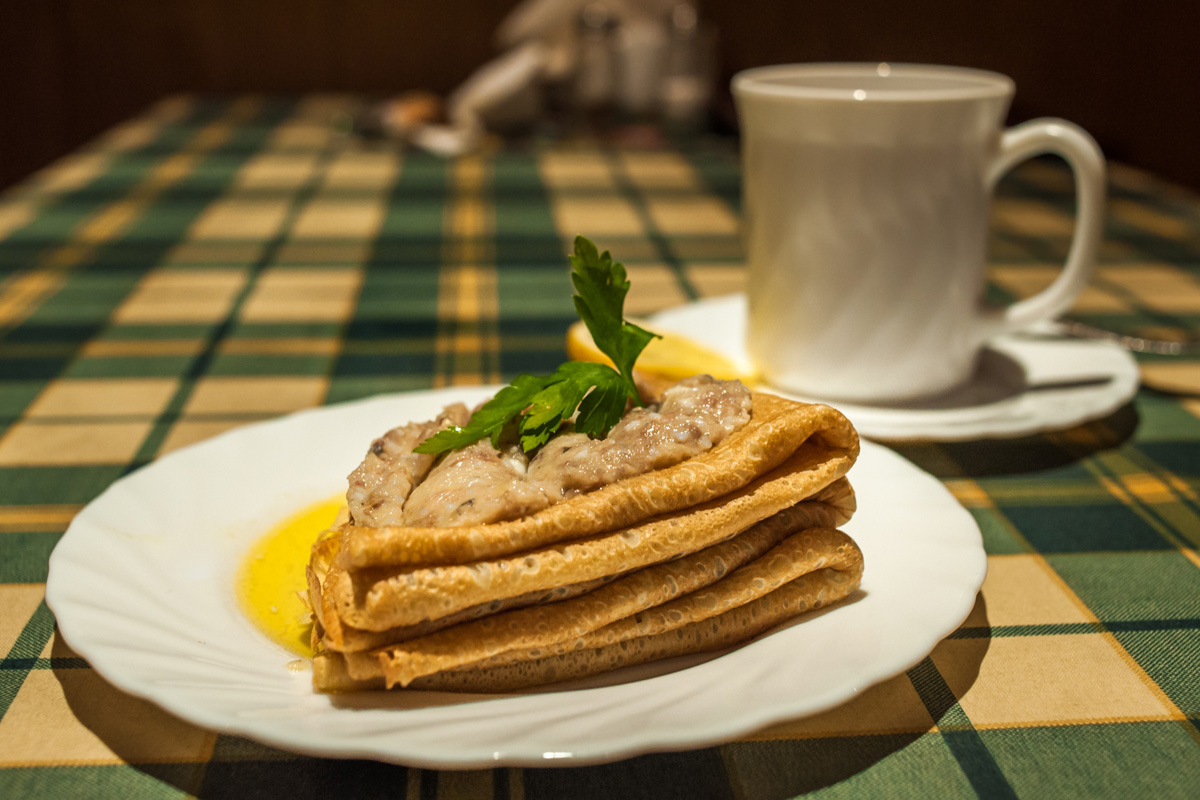 Photo credit: Marina Mironova

The hours of this pancake house (closed on weekends) are determined by what's convenient for the staff, not the customers. The interior is bleak and the service is very basic. At the same time, this establishment still meets the culinary standards established by the Soviet government, and the pancakes are excellent.
This is what fast food was like in the 1980s, a strange era full of frustration: The socialist utopia was falling apart, but no one knew that a new reality was just around the corner. Order the signature pancakes with minced herring and taste the last decade of the Soviet empire.
Ryumochnaya bar in Stremyannaya Street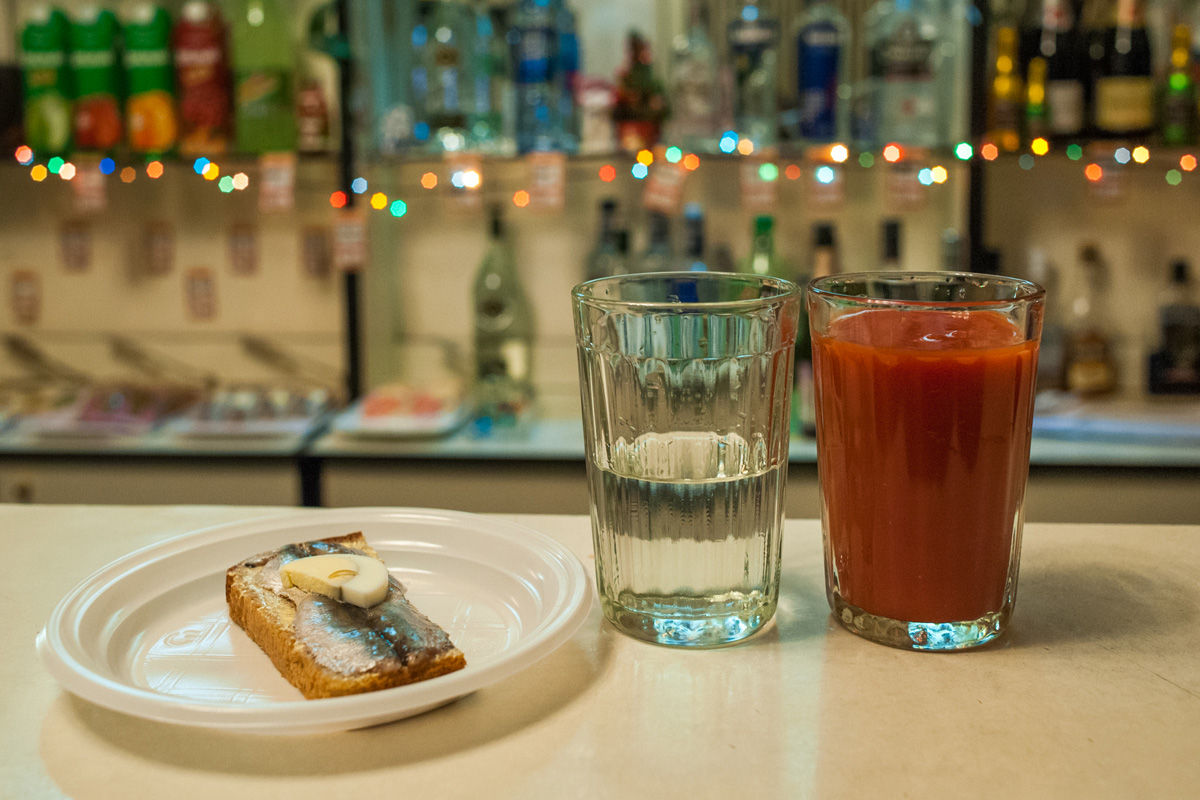 Photo credit: Marina Mironova
Need a quick drink? Yes, please! People would come here before work, during their lunch break and on their way home to grab a shot of vodka with a simple snack. This style of bar gained popularity in the Soviet period by having low prices, a convenient location, and that classic "Soviet pub" atmosphere with a university professor, a hip writer and a factory worker all drinking at the same counter.
Even today, you can get a shot of vodka with a sandwich for less than two dollars. But that's only what you can see from the outside. In fact, a ryumochnaya (which is a generic name for this kind of establishment) is not a dingy bar with cheap booze; it is a unique cultural phenomenon of Soviet Leningrad.
The Soviet government was characterized by a rigid approach to creativity and free thinking. Free thinking was allowed, but its direction was predetermined. The majority of artistic, technological and academic elite lived under severe stress and the burden of their unspoken ideas. Cheap bars were a metaphysical source of strength for the lost generation of Soviet intelligentsia, beginning in the late 1960s; there, you could speak to a like-minded stranger - or better yet, just be silent and enjoy each other's company.
Ryumochnaya in Stremyannaya Street has preserved the ambience of the era when a shabby "working-class guy" quoted classic poetry and complete strangers engaged in philosophical debates about the futility of existence. If you have missed the sound of English during your Soviet journey, your best chance to find a conversation partner is right here. You could never find a better guide who knows the soul of the city, not just its layout. However, you should keep in mind that alcohol is bad for your health. Never drink on an empty stomach!
If using any of Russia Beyond's content, partly or in full, always provide an active hyperlink to the original material.