Why is there so much security in Russian public spaces?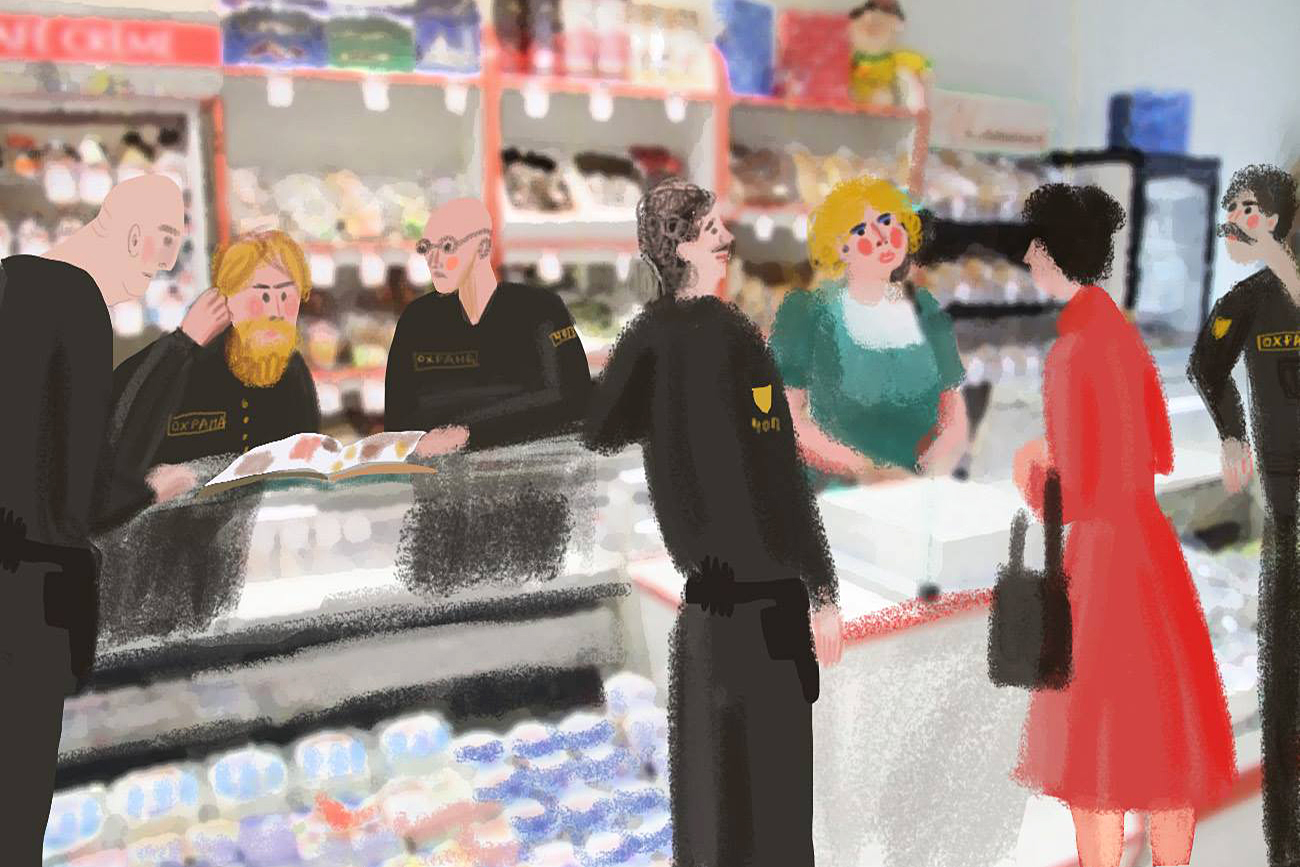 Restaurants, storages, empty building floors, inconspicuous doors - why in Russia you can encounter a guard just about anywhere.
Ekaterina Lobanova
They watch over anything and everything from Eau de cologne to sandwiches - and they can be seen in almost every nook and cranny in the country.
A bored expression etched on his or her face, a walkie-talkie, a starched uniform with the sign "Guard"...such characters are an all too common sight in Russian supermarkets, schools, hospitals, office building foyers, gas stations, and parks.
Russia is a country of guards. They are everywhere. Many of them appear redundant, simply occupying space while people wander past either ignoring them or feeling slightly irked as the guard's eyes follow them with unwarranted suspicion. They are generally poorly paid and despite the police reform in Russia, the crisis, and thousands of surveillance cameras, guards are part of the country's furniture.
A 'light' profession
Russia has more policemen than any other country in the world: Around 250,000. But if the Interior Ministry and unions' estimates are correct (while taking into account informal employment), two years ago there were about 1.5 million guards in the country - that's almost two percent of the working population. It begs the question; Why so many? Well, firstly becoming a guard is both easy and cheap.
You only need to complete 70 hours of study at a guard school, pass an exam, have your fingerprints taken, wait two months, and receive a certificate. In Moscow this procedure costs 10,000 rubles ($169). To obtain a license to carry a weapon you must pay an additional 5,000 rubles ($84). In the regions the prices are even less. Becoming a guard is therefore a quick fire way to earn some money, either as a sole job or on the side, for the likes of students and pensioners (the latter is more common). Usually the job has a flexible schedule and involves minimum physical work. Those who work at a store (and not for a security company) for example, do not even need a license, nor do they need to retake an exam each year.
A hangover from the nineties
The trend of employing guards began in the nineties, when the Soviet Union fell. "With the appearance of private property the country had a need for security guards. Basically, it was all done in order to legalize carrying weapons round-the-clock," remembers advisor to the Russian Interior Ministry's License-Permit Department Svetlana Ternova.
Back then many businessmen and security employees were guards because, in Ternova's words, they were involved in security operations.
Today not every enterprise is bolstered by heavy, gun-toting security. The overwhelming majority of guards do not have a license to carry a weapon and actually do very little. For a day's work, they are paid anywhere from 800 to 2,500 rubles ($13 to $42).
Like a 'scarecrow in a garden'
Economist and professor at the University of Chicago and Higher School of Economics, Konstantin Sonin, links the guard craze with inefficient police work and low labor productivity. "American cafes and restaurants don't have guards. Why? Because if someone behaves poorly, the waiter will call the police. It turns out that in Russia the presence of guards in a café is related to the fact that for the owner it's more advantageous employing a guard than relying on the police," he said.
However, even according to this logic, with the number of guards that Russia has, it should - theoretically - be one of the safest countries in the world. But this is not so. Experts at the World Economic Forum place Russia 109th place out of 136 countries for safety.
"It doesn't matter who it is, as long as he guards the place. A guard is a psychological factor - like a scarecrow in a garden," says Director of the Interior Ministry License-Permit Department Leonid Vedenov.
This article is part of the 'Why Russia...' series, in which RBTH answers the most popular questions about Russia
If using any of Russia Beyond's content, partly or in full, always provide an active hyperlink to the original material.