Russia's arms deal with Egypt is huge blow to US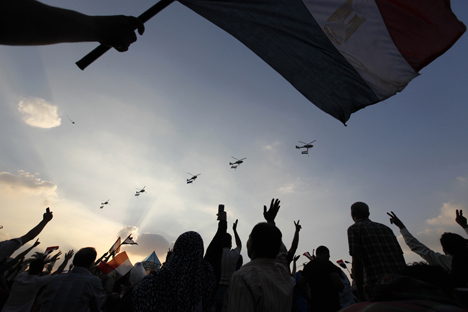 Egypt is ostensibly ready to buy Russian arms after nearly 40 years of relying on Western-produced weapons systems. Source: Reuters
Moscow's embrace of secular dictatorships in the Middle East as opposed to Islamist ones is quite consistent and has started to pay off.
Russia's policy in the Middle East has taken a new turn in recent days, after Defence Minister Sergei Shoigu and Foreign Minister Sergei Lavrov met with the generals who run Egypt and emerged from their meeting with sensational news: Moscow is prepared to sell Cairo up to 2 billion dollars of weapons. Moreover, Egypt is ostensibly ready to buy Russian arms after nearly 40 years of relying on Western-produced weapons systems.
Russian President Vladimir Putin's government is not known for wringing its hands over issues of political morality. Many Western governments are keeping their distance from the military-controlled Egyptian cabinet after the army overthrew the democratically elected, Muslim Brotherhood-affiliated president, Mohamed Morsi, and took control of the country. The Muslim Brotherhood leadership was effectively wiped out in a wave of arrests, and Morsi himself is kept at an undisclosed location.
In Washington and the European capitals, this was seen as a break with democratic legitimacy, which was supposed to have triumphed after the Arab Spring. While many Europeans and Americans (as well as, it seems, the majority of Egyptians) are pleased with the eviction of the incompetent Muslim Brotherhood government, they cannot openly say they support coups d'état. The Kremlin has no such qualms. Although it never explicitly expressed support for the generals' takeover in Cairo, it never criticized it either. Mr. Shoigu and Mr. Lavrov stated in the Egyptian capital that Russia does not interfere in the internal affairs of other states, a traditional Moscow position designed primarily to fend off even the mere idea of the West trying to meddle in Russian politics. This proposition no doubt pleased General Sisi and his colleagues in Cairo. It is not clear when the deliveries will begin and how fast the retraining of the Egyptian military (mostly used to US weapons) will proceed.
It has to be given to Vladimir Putin's Russia: Its embrace of secular dictatorships in the Middle East as opposed to Islamist ones is quite consistent and has started to pay off. This is true of Syria, where the government of Bashar Assad seems to hold out against the rebels of the Free Syrian Army. Moscow's newly found love with Egypt, until recently America's most trusted Middle East ally and one of the top recipients of US aid, including military aid, is yet another demonstrative reminder of the disdain the Kremlin has for the Obama administration. The visit to Cairo by Russia's two top ministers demonstrates that no matter how opportunistic or crude Russia's Middle East policy is, it at least exists. This contrasts sharply with Washington's dithering and indecision. Barack Obama's unwillingness to wield still-considerable US power still draws applause in the more sensitive corners of Europe, like the Nordic countries. But in Russia it elicits nothing but derision and now outright contempt. To go fishing for lucrative arms deals in one of America's most trusted Middle Eastern allies is deliberate and audacious.
Somehow the Obama administration seems to be missing the point: Moscow's blatantly cynical status quo political approach combined with quick and flexible business deals, with no Department of Justice restrictions and lectures about democracy and transparency still has quite an appeal in the region. The fact that the Egyptian generals so eagerly embraced Moscow's propositions tells us not so much about the quality of the Russian offer than about the quality of what used to be called "American leadership" in the Middle East. "Catch us if you can," Mr. Putin seems to tease to the White House. In the near future, I doubt they could.
First published by RIA Novosti.
All rights reserved by Rossiyskaya Gazeta.