Syria campaign to fight terror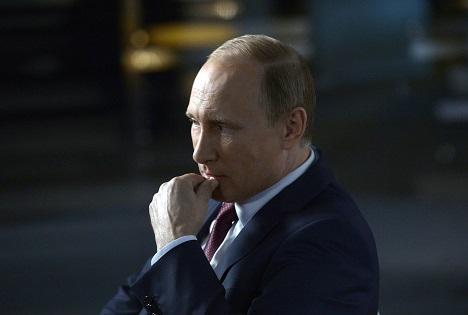 Russian President Vladimir Putin.
kremlin.ru
Russia's aerial attacks on ISIS bases in Syria are part of the campaign to combat terrorism, Russian President Vladimir Putin said in an interview to Vladimir Solovyov of Rossiya-1 television. In his first interview since Russia launched its campaign in Syria, he spoke at length about the aim of the military operation in Syria, ruling out any ground operations, dealing with terrorists, and the need to jointly fight against the scourge of terrorism.
On the terror attack in Turkey
"We need to make a joint effort to combat this scourge. What happened there (Turkey) of course is an insolent terrorist attack, a crime that has caused many victims. This is an attempt to destabilise the situation in Turkey. We will be effective in combating terrorism only if we fight this evil together. The terrorist threat dangles over many of the region's countries. The leader of one of the region's countries said to me on one occasion that the Middle East countries, the Muslim countries, are terrorism's prime victims, and this is indeed the case. We want to fight terrorism and are ready to do so.
I do not understand some of our colleagues in Europe and the United States though, when they say they are fighting terrorism, but we see no real results. What's more, it's a well-known fact that the Americans have shut down the programme to train the Free Syrian Army.
They started out with plans to train 12,000 people, then said they would train 6,000, and then they trained only 60 people, and it turned out in the end that only 4–5 people are actually out there fighting ISIS. They spent $500 million on this."
On goals in Syria
"We have absolutely no desire to get entangled in inter-religious conflicts of any sort in Syria. Our only goal is to support the lawful government and create conditions for a political settlement. This was our original aim, and this remains the guideline for our actions now. I said from the start that our active operations on Syrian soil will be limited in time to the Syrian army's offensive. Our task is to stabilise the legitimate government and establish conditions that will make it possible to look for political compromise. If we just stood by and let Syria get gobbled up, thousands of people running around there now with Kalashnikovs would end up on our territory, and so we are helping President Assad fight this threat before it reaches our borders."
On possible joint operations with the US
"Let me confirm that we informed our partners of our plans beforehand. We informed our American partners and many others, especially the countries in the region concerned, of our plans and intentions.
We are acting in full compliance with international law – at the request of the Syrian Arab Republic's official government.
When we began our operation, 11 countries were already taking part in one form or another in various strikes against Syrian territory. This has been going on for more than a year now.
If we have a mandate to act from the Syrian authorities, the simplest solution would be for others to join us and work within this same mandate. Unfortunately, we have not been able to reach any such agreement so far. Some progress has been made. I hope that this will lead to the next step, which is essential for resolving the situation: the start of joint efforts to find a political solution. We need to try to get our work together to the level of full-fledged intelligence information sharing."
On criticism about wrong targets
"Looking at the purely military dimension, we have heard reproach from others, who say that our airstrikes are hitting not ISIS and other terrorist organisations like Jabhat al-Nusra and suchlike, but forces belonging to the healthy opposition. If they really know the situation better and want to fight terrorism, they could share with us concrete locations where the terrorists are hiding out and have their command posts and arms and equipment depots."
Possibility of Russian ground operations in Syria
"This is out of the question."
"We prepared for these operations. We carried out preliminary work that involved concentrating sufficient forces, resources and equipment in the right place at the right time. We did a lot of close, long-term intelligence gathering from space and from the air, and then we analysed all of the information obtained through various channels.
Our General Staff specialists, working in coordination with our Syrian partners and other countries in the region have established an information centre in Baghdad."
Missile strikes from the Caspian Sea
"They were Kalibr missiles. We started commissioning these missiles not so long ago, in 2012. They have a range of 1,500 kilometres. They are cutting-edge high-precision weapons. These are all sophisticated weapons systems that have proven their great effectiveness in practice. They (missiles) crossed two countries. They made 147 turns along the route and flew at a height of between 80 and 1,300 metres."
On siding with Sunnis
"We make no difference between Shiites and Sunnis. A sizeable part of Russia's population – 10 percent – is Muslim. I have said many times that they are every bit as much citizens of Russia as Christians or Jews, and we make no difference between people.
All rights reserved by Rossiyskaya Gazeta.