China, "grown up," looks to enter the Syrian equation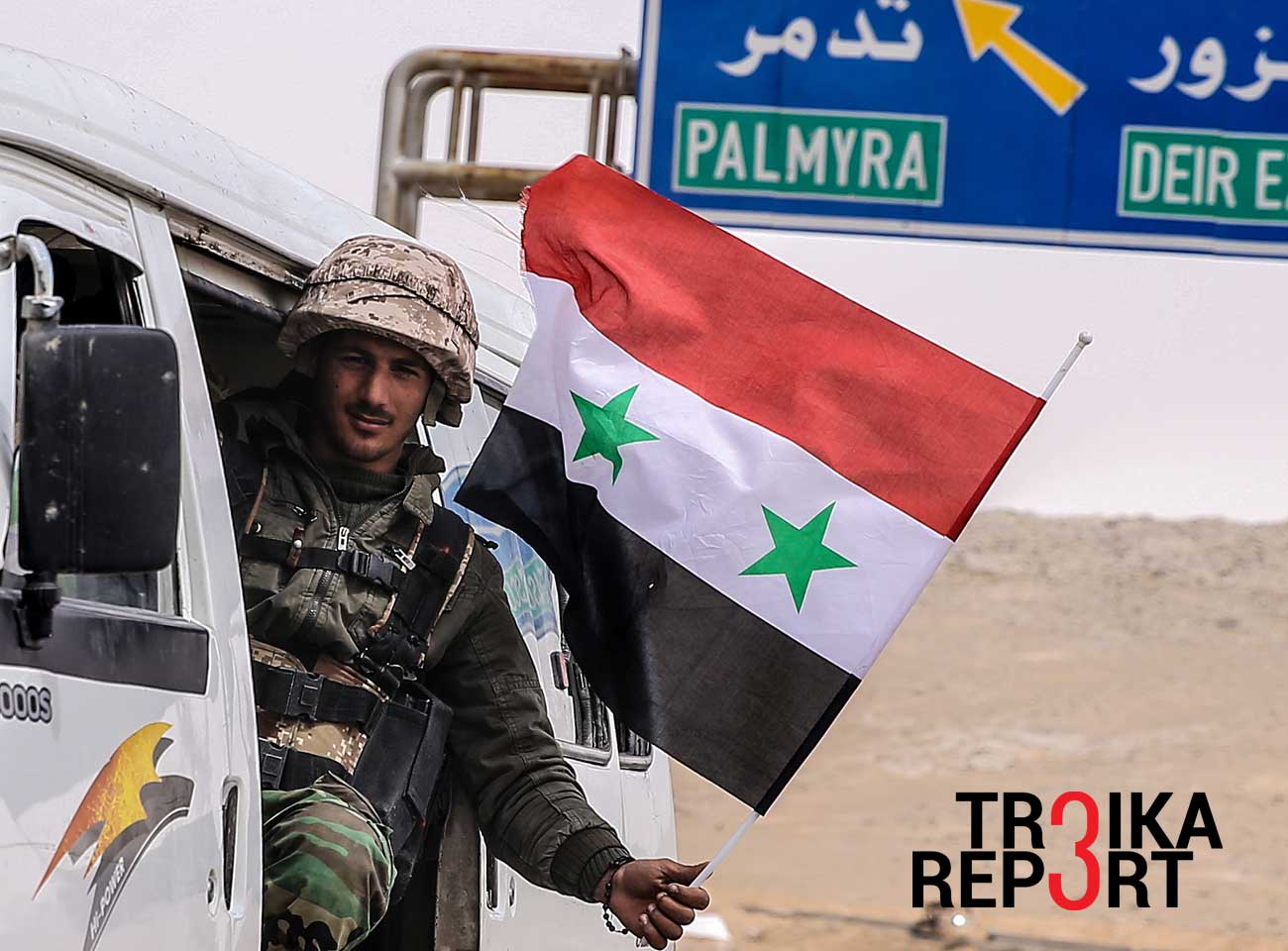 A Syrian government army soldier near the city of Palmyra, March 24, 2016.
Valery Sharifulin/TASS
There are indications that Beijing may abandon its overcautious stance on foreign policy engagement in West Asia. That Beijing is looking to send military instructors to Syria marks a stark departure from China's earlier foreign policy strategy, aimed at low profile involvement in global affairs. It also raises the prospect of an ad hoc military alliance with Russia and Iran.
China and Syria have recently discussed the possibility of Chinese military instructors training army personnel in Damascus.
Guan Youfei, Director of the Office for International Military Cooperation of China's Central Military Commission, said on August 16 that they had "reached a consensus" on the Chinese military providing humanitarian aid to Syria. However, the focus of attention shifted when he said Beijing seeks closer military ties with Damascus.
These developments come on the heels of on-going speculation that dozens of Chinese military instructors were sent to Syria in 2015. The media speculation has not been substantiated.
Recent developments, however, support the Reuters news agency's conclusion that China has recently been trying to get more involved, sending envoys to help push for a diplomatic resolution to the violence there, and also hosting Syrian government and opposition figures.
Can one detect a strategic rationale in these "unknown reasons" for the higher level of China's involvement in the Middle Eastern quagmire?
Make money, not war
Recent military setbacks and retreats by ISIS military formations in Syria have raised the prospect of Bashar al-Assad presiding over the final defeat of his numerous opponents. Beijing must have sensed the soon-to-open windows of business opportunities.
Earlier this year, the emboldened ruler of Damascus bluntly encouraged Iran, China and Russia to continue rendering support to his regime by promising to offer the trio preferential treatment when "reconstruction" of the ravaged country happens, on top of the domestic agenda.
Beijing must have placed a stake on netting lucrative construction contracts in Syria, for providing building materials as well as collateral services, thus ensuring a solid fabric of bilateral relations.
Gleb Ivashentsov, former Russian Ambassador to South Korea and now member of the Russian International Affairs Council, shares this view but says that geopolitical considerations also come into play.
"For Beijing, the invigorated cooperation with Damascus definitely serves the purpose of reserving a privileged place in post-war Syria", Ivashentsov said. "Trade and economic cooperation is at the back of Beijing's mind. However, this is also a signal to the United States that China is becoming more assertive in pursuing foreign policy goals. Moreover, I cannot exclude that this is sort of an asymmetrical response to the deployment of US anti-missile systems in South Korea."
It definitely looks like China is not going to forfeit the 'dividend of peace' once Syria is stabilised and the rebels come to terms with Assad's regime, by striking a durable and mutually acceptable deal.
New security provider on the block
China's increasingly assertive behaviour in world affairs and readiness to enter hot spots however, cannot be attributed solely to the need to tap foreign markets, shower them with consumer goods and/or extract and import their mineral resources.
It is more than that. It is about what Xi Jinping termed as the 'new diplomacy of a super' power "with a Chinese accent," Alexander Lomanov, professor at the Russian Academy of Sciences' Institute of Far Eastern Studies, said.
"It is by all means a revision of Deng Xiaoping's legacy epitomised in his guarded instructions: never take the lead, never reveal your true potential, never overstretch you abilities," Lomanov said. "This was said back in 1992, and was derived from the lessons of the collapse of the Soviet Union. But a quarter of century has elapsed since then. China has changed and is transcending the boundaries is has set for itself."
Lomanov added that China is trying to assert itself on the global stage.
"If you scan Chinese blogs, you find remarkable twists to the news of a possible upgrade of military cooperation with Syria. 'Joining the game of geopolitical football in the second half was a standard tradition with us,' asserts one of the bloggers. Now that 'we have grown up, the time has come to enter the game from the start,'" Lomanov said, quoting bloggers.
Growing up to save the world
Anyhow, it should be placed on record: the above-mentioned posts straightforwardly hint at the possibility of China abandoning its overcautious stance on foreign policy engagement.
If things do develop along these lines, China may soon try on the role of a global security provider. The Middle East might be an acceptable testing ground.
Is Beijing mature enough to carry this burden? Probably, yes.
In any case, the Chinese no longer have an inferiority complex. They claim to "have grown up."
All rights reserved by Rossiyskaya Gazeta.