Russia's turn to the East outlined at Valdai meet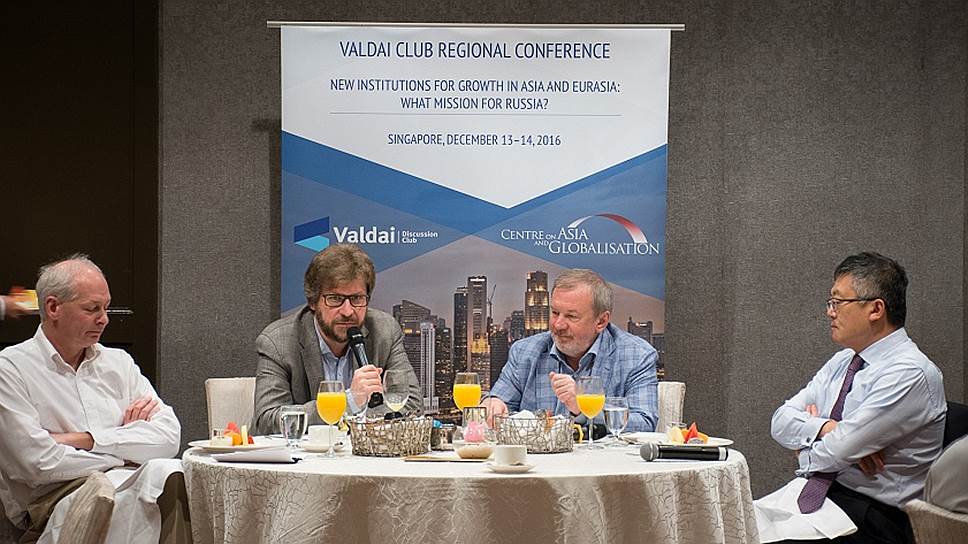 Valdai Club promotes dialogue between Russian and international intellectual elites.
Valdai club
The Valdai Club, a forum of Russian intellectuals, met in Singapore recently to analyse prospects for Russia's Turn East policy, particularly in the light of Donald Trump's election as President of the USA.
The meeting of the Valdai Club in Singapore saw participants assessing the outcome of Russia's pivot or turn towards the East in 2016. Analysts from the Club opined that the election of Donald Trump had created a lack of trust in the region towards the USA, and opened up a "window of opportunity" for Russia. However, to take advantage of this, and to be competitive in comparison with its neighbors, Moscow would still have to hone in on an Asian Strategy, and do a great deal of preparatory work.
American President-elect Donald Trump's future policies and the opportunities it would create for Russia in Asia were the main topics of this special Asian session of the Club, held at the National University of Singapore (NUS). "The credibility of the USA, as the guarantor of stability in Asia, has been seriously shaken," Fyodor Lukyanov, head of the Russian Council on Foreign and Defence Policy, told Kommersant. "The corridor of opportunities has become much wider for Russia, but it still needs to be passed through, and this will require a clear strategy, which currently does not exist."
The peculiarity of the current situation, said Huang Jing, Director of the Asia and Globalization Centre at the NUS, is that by electing Donald Trump, the USA has lost a significant part of its credibility among Asian countries. "Trump is against the policy of win-win, against US commitments to protect the region – and for narrow national interests," Huang explained. "If now the USA, even temporarily, weakens its involvement in regional affairs, Asia will fall under Chinese rule, and the Americans will never be able to regain this ground."
Russia, Valdai Club members believe, has a number of opportunities it could well take advantage of to strengthen its positions. First of all, said Viktor Sumsky, Director of the ASEAN Centre at MGIMO University, Russia "is proposing an alternative model of globalization, which does not erode national characteristics and does not destroy the nation-state." Secondly, Konstantin Kuzovkov, Director of Finance and Economy at the Summa Group, believes that Russia can provide three things that the countries in this region lack today, besides oil and gas – physical space, transport arteries and security guarantees.
Russia's turn towards Asia, according to Kuzovkov, has finally began moving "from rhetoric to customs statistics". "During the first two quarters of 2016, the volume of foreign direct investments in Russia grew by 327%. Investments from Korea increased by 26%, investments from Singapore – more than ten times," he said. "Russian investments into other countries, during the same period, increased by 84%, including in Vietnam – by 186%, in Hong Kong – by 272%, in India – by 302%." China, he said, maintained its position as Russia's leading trading partner. Trade with China rose by 0.3% in 2016, after a crushing drop of 28.9% in 2015.
However, many problems remain. Sergey Afontsev, Head of the Department of Economic Theory at IMEMO, RAS, believes the Russian government has recently "begun too many trade negotiations of dubious economic value". "Moscow is considering trading blocs as a continuation of political blocks," he explained to Kommersant. He drew attention to negotiations on the formation of a free trade area (FTA) with the Association of Southeast Asian Nations (ASEAN). "The ASEAN is a very loose structure, where each country has its own requirements for exemptions, and therefore, negotiating with them is difficult," said Afontsev. "China suffered through this not that long ago, and completed the process of signing an FTA agreement, only because it was important to do so politically."
Not everything is going smoothly even with the development program for Siberia and the Far East. "People are leaving the area, the business infrastructure is practically not being modernized, and production is falling," lamented Chen Kang, Professor at the NUS. "Investors are not yet confident that they will turn a profit, if they invest their money in that area," echoed Professor Huang Tszin. "Plus, there is the problem of a mismatch between the priorities of the regional and federal authorities, their positions often contradicting each other."
Foreign participants of the forum positively assessed the format of this event of the Valdai Club, which is tasked with the "promotion of dialogue between Russian and international intellectual elites".
"I fully understand that this forum has not only a scientific, but also a propaganda component," a foreign participant told Kommersant. "Nevertheless, I am glad to be able to communicate with colleagues from different countries, and learn the views of government leaders and the Russian expert community first hand."
First published in Russian by Kommersant.
All rights reserved by Rossiyskaya Gazeta.