Producers warn of oil output cuts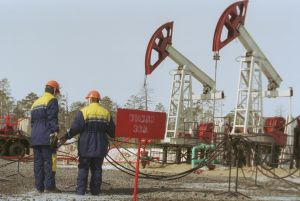 Executives at two of the country's largest oil producers said Wednesday that output would fall next year if prices remain low and the state doesn't provide further tax cuts, in a sign the financial crisis has put the energy industry on edge.
LUKoil vice president Leonid Fedun went so far as to say Russia should join OPEC to help buttress global prices, which have crashed to levels that jeopardize investment. "It would be a boon for Russia," he said on the sidelines of an investment conference.

The company, Russia's second-largest producer and biggest private oil firm, is the first to advocate joining the organization.

A chorus of Russian and international energy analysts have said private oil companies are the biggest stumbling block on Russia's way to joining the Organization of the Petroleum Exporting Countries, because it would be difficult for the government to influence their production plans.

Fedun, speaking at an investment conference, estimated that the country's 2009 output would fall by up to 1.5 percent, although he said LUKoil would increase production next year.

Gazprom Neft's vice president for finance, Vadim Yakovlev, had an even less optimistic forecast, saying output next year would decline by as much as 5 percent without better prices or new tax cuts.

The wave of pessimism comes as Russia faces its first annual decline in output in a decade, despite government efforts to engineer an increase by cutting taxes and giving investment incentives.

European spot prices for Brent crude were up 7 percent to 66.35 per barrel in Wednesday evening trading. A range of $60 to $65 will lead to a 2 percent decline in output next year, UBS said in a note Wednesday.

Rosneft is budgeting for an average 2009 price of $50 to $60 per barrel, chief financial officer Peter O'Brien said at the conference. Gazprom Neft was assuming the price would rise to $70, Yakovlev said. LUKoil's base scenario was for a price of $65, Fedun said.

The proposal that Russia join OPEC and cut production in line with other members suggests that producers aren't expecting demand to rise soon.

LUKoil slashed production in 1998 when prices fell to $9 per barrel and could do so again if the government agreed to help cover the costs, Fedun said. To make cuts possible, the government must lift property taxes on wells that would stop operating, he said. After a standstill, the government should pay to bring the wells back into production by lifting the mineral extraction tax on them for half a year, he added.

The government would also have to amend the law on subsoil resources use, which requires companies to maintain certain production levels set by their licenses, Fedun said.

But the proposals were not certain to face a warm welcome from the government, which has said it will maintain an independent energy policy, even as Russia looks for broader international cooperation on energy.

President Dmitry Medvedev held his first-ever meeting with OPEC's secretary-general last week, but Deputy Prime Minister Igor Sechin said the country would not join the body in production cuts.

Government spokesman Dmitry Peskov said Wednesday that the country was not considering membership in OPEC.

Sally Jones, a spokeswoman for OPEC, said she was unable to comment immediately.

Another way to help oil companies, Fedun said, would be to further ease the tax burden on the sector.

"So far, the Finance Ministry and the government are looking at the industry as a milking cow," Fedun said. "The cow needs to be fed. ... If you put the cow under a press and push it won't get you much milk."
---
Previous articles on the topic:

Russia might join OPEC if gas cartel idea is supported

Russia seeks closer ties with OPEC
All rights reserved by Rossiyskaya Gazeta.