Winds of change or just venting?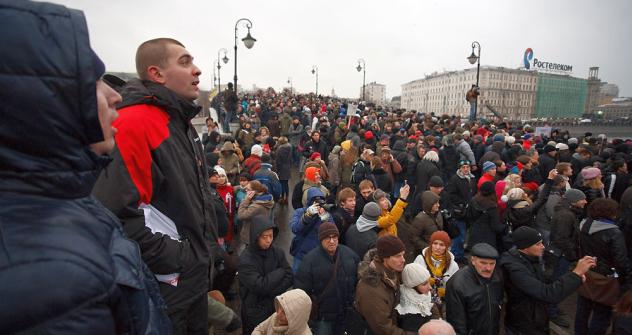 Photo by Ruslan Sukhushin
This weekend's protests against election fraud – Russia's largest in over 10 years – gathered between 25 and 100 thousand people in downtown Moscow. While some commentators claimed they marked the rebirth of civil society, others predicted their disappearance into historical oblivion amid the New Year fuss.
Protests were a success
"The feeling of composed power and righteousness was astonishing," Boris Dubin, head of sociopolitical research at the Levada Center (Russia's largest independent pollster), said of the rally at Bolotnaya Square. He added this feeling was even more surprising after the events of 1990s and 2000s, characterized in Russia by both extreme aggression total indifference.
Stanislav Kucher, a political commentator at Kommersant FM, was confident that Saturday's protests were a success. President Dmitry Medvedev commented on the demonstrations on his Facebook page, indicating a willingness to engage the opposition in dialogue.
"Russian authorities will make serious compromises [with the opposition]. Federal TV broadcasting will revive and change dramatically. Clubs, TV and radio-stations will become a place for long-awaited public discussion. Presidential elections will become [competitive] and will be held without [Central Election Commission Chairman Vladimir] Churov. [But] nothing significant should be expected before the New Year."
According to an editorial in business daily Vedomosti, Saturday's protests could be seen as a permit for Russian civil society to organize [similar] mass activities. "Those [demonstrators] will continue to attend rallies, especially when the presidential campaign starts next year."
The protests both simplified and hardened the tandem's dialogue with the West, wrote Konstantin von Eggert, Kommersant FM's international affairs commentator. On the one hand, Russia's rulers can now claim they are in control of the country while simultaneously respecting democratic rights. On the other, they can no longer blame the likes of Hillary Clinton for causing the protests, said Eggert.
"What's next? Nothing."
Moscow faces vote protests. Click the picture to view gallery
Gazeta.ru was much more pessimistic about Russia's political future: "Russian authorities won't make any concessions and won't fulfill the demands of the protesters," according to an editorial. Moreover while Medvedev's Facebook comment showed he intends to investigate election violations, he also didn't express solidarity with any of the other demands.
After observing the protestors, Andrey Kolesnikov of business daily Kommersant concluded that he had witnessed an oxymoron: "a protest of satisfied people." Elena Racheva of OpenSpace.ru was more blunt: "You can't alter politics by liking stuff on Facebook and retweeting videos of ballot stuffing. You can't create an opposition movement by writing "Go f*** yourself" on a poster and adding lawyers' numbers to your mobile phonebook. And even applying a resolution with re-elections claims is not enough…What's next? Seems to me, nothing."
Finding an alternative
"We have to create an alternative system from a scratch. We have to bring together economists, lawyers, and well-educated people and find working mechanisms which can replace the existing system through a discussion," commented Nikita Petukhov, deputy editor-in-chief of the Moskovskiye Novosti daily. "It's the only way to at least try to create a state system as a strong alternative to the current one."
All rights reserved by Rossiyskaya Gazeta.