The Russian opposition's bad date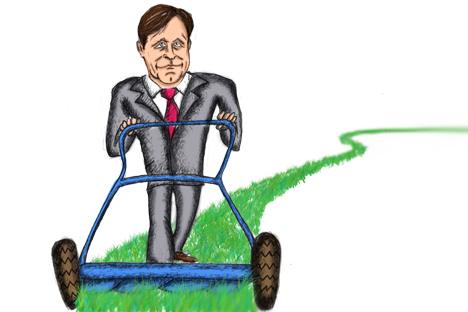 It remains to be in what way U.S. Ambassador Michael McFaul will promote democracy in Russia. Source: Drawing by Niyaz Karim
Opposition leaders may think they have an ally in new U.S. Ambassador Michael McFaul, but the situation could still blow up in their faces.
Michael McFaul, the sixth U.S. ambassador to post-Soviet Russia, arrived in Moscow on Saturday, Jan. 14. On Monday, his first day on the job, McFaul met with Russian Foreign Minister Sergei Lavrov. The next day, McFaul invited a group of Russian politicians and civil-society activists for a short meeting at the Spaso House, U.S. ambassador's residence.
McFaul came in Moscow at a challenging time in U.S.-Russia relations: the "reset," of which he is widely considered one of the architects, has obviously stalled over a host of difficult issues, such as European missile defense and Russia's position on Syria and Iran. Making things worse, anti-American rhetoric has been on the rise in the past few weeks after Prime Minister Vladimir Putin accused U.S. Secretary of State Hillary Clinton of inciting the anti-government protests that swept Moscow and other Russian cities in December.
Complicating McFaul's life even further are the presidential elections taking place in both countries. It seems almost certain that no serious decision concerning U.S.-Russia relations can be made or even contemplated until after Putin's expected inauguration in May. Given the lack of warmth between Putin and U.S. President Barack Obama, it's also unlikely that Putin will move quickly to establish solid rapport with him until Obama is re-elected. Moreover, should a Republican president move into the White House next January, the very fate of the "reset" will become uncertain. Nor is it certain at all that a Republican president will keep McFaul in Moscow. It's therefore conceivable that in the best case scenario, this year, McFaul won't be extremely busy with his ambassadorial duties. In the worst case scenario, this year will be his last.
But let's not forget that Michael McFaul is not only one of the architects of the "reset;" he's even better known as one of the leading U.S. experts in "democracy promotion." (His latest book is titled "Advancing democracy abroad: why we should and how we can.") Speaking of McFaul at the swearing ceremony, his new boss, Hillary Clinton, said:
"Few Americans know Russia or know democracy better than Mike McFaul. And I can think of no better representative of our values and our interest in a strong, politically vibrant, open, democratic Russia, as well as a deepening U.S.-Russian partnership."
Was it by accident that in this sentence, Clinton mentioned "democratic Russia" before "a deepening U.S.-Russian partnership?"
By sending the prominent expert in "democracy promotion" McFaul to Moscow, the Obama administration is trying to appease the critics of the "reset" who charge that its benefits came at the expense of what they call "Russia's deteriorating human right situation." Evidently, the attempts by the administration to show that the focus of its Russia policy is shifting to human rights issues have not been lost on Obama's critics. Mark Kirk, the hawkish senator from Illinois who voted for McFaul's confirmation, said that he was the right man for the job:
"I will be supporting his nomination also because he will be good in working with the opposition and human rights communities in Russia."
And "working with the opposition" is exactly what McFaul is going to do in Moscow, as his second day on the job clearly shows. Being aware that he may not be able to buttress his reputation as an architect of the "reset," McFaul may have decided to use his new position to advance his credentials as expert on "democracy promotion." For future use.
While McFaul's objectives for the date with members of the Russian opposition might be well understood, the same can't be said about his Russian sweethearts. Sure, their loyalty to McFaul, who always showed his support for them, is commendable. But now that hundreds of thousands of ordinary Russians around the country have hit the streets in the protest actions organized by the opposition, it's time for the opposition leaders to realize that they have another, more important, constituency to care about; it's time for them to reassess their priorities – and to learn how to explain them. The people who came to the Embassy – all no strangers to media attention – could at the very least tell the journalists blocking the entrance to the Spaso House about the goals of their meeting with McFaul. Instead, they were sneaking inside the building as if deliberately trying to project an image of co-conspirators heading for a secret gathering. One could call unwarranted or even insulting Putin's insinuations of the foreign involvement in the protest movement. Yet McFaul's dates did a great job in lending support to such insinuations.
The Kremlin likes to point to the marginal character of the Russian opposition: no single leader, no unified platform, and no brazen ideas. This is true: when you treat the grass around your house with napalm, it's difficult to expect your lawn being of a golf-course quality. But the opposition does exist, and for the first time ever, it may even have broad public support. Not to lose the moment, the opposition leaders must rapidly grow up. Generating ideas and creating platforms may take years. Learning fundamental lessons of good behavior shouldn't take this long. This is one of them: always consider very carefully from whom you accept a date. Even if you enjoyed it, it could still turn out to be bad for your reputation.
Eugene Ivanov is a Massachusetts-based political analyst who blogs at The Ivanov Report.
All rights reserved by Rossiyskaya Gazeta.