Political fraud fuels civil action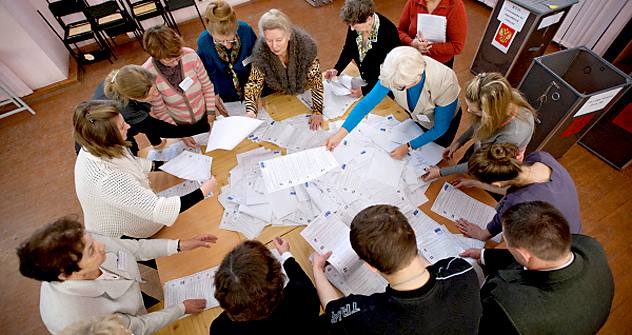 The vote fraud during the 2011 parliamentary elections resulted in social activism among Russians. Source: RIA Novosti
Young people looking for a way to get involved in creating a fair electoral system in Russia are finding their way thanks to online activism.
The allegations of vote fraud during last December's Russian State Duma elections have led to a rise in projects hoping to monitor the March 4 presidential election. The increase in activism is considered a good sign for the development of Russian civil society according to experts and observers, even as some experts question the staying power of the protest movement.
Since early December, both new and existing civil society organizations have seen an increase in involvement. RosVybory, a new project of Russia's vocal anti-corruption blogger Alexei Navalny, enrolled more than 10,000 volunteer election monitors by the end of January. The liberal opposition party Yabloko also saw its ranks of monitors swell to between 20,000 and 25,000 observers, according to party deputy chairman Sergei Mitrokhin in an interview with the web-based analytical magazine "Slon;" and Russia's Association of Lawyers already has enlisted 4,500 volunteer observers and hopes for more. The League of Voters, an Internet-base watchdog founded by prominent Russian journalists and bloggers is also engaged in recruiting and training volunteers.
And the numbers are not only increasing among the opposition. Prime Minister Vladimir Putin's headquarters is expected to provide about 35,000 observers, according to Slon.
Elena Panfilova, the head of Transparency International - Russia, views this trend as positive. However, she argues that the amount of observers is secondary to their quality. "In this situation, statistics are not so important as the quality of volunteers," Panfilova said. "What matters is whether people are able to fulfill their commitments as observers."
Russia has also seen an increase in grassroots watchdog activity among Internet users, who are creating both groups in social networks and special websites for monitoring the elections. Two Russian students studying abroad founded the online Grakon project to promote transparency in the upcoming presidential vote. Mikhail Panko, who is studying at Boston University in the United States and Sergei Kopylov, from Lancaster University in the UK hope that their project will promote active involvement in politics as well as teach people how to defend their political rights. The Grakon website, whose name is derived from the Russian words for "civil" and "control" will give a set of recommendations for what individuals can do before, during and after the elections to help track down falsifications. According to the beta version of the site, the project will also allow voters to file a complaint in case of violations of the election legislature.
Interest in vote monitoring is increasing particularly among students.
"During the parliamentary elections I was disappointed with the work of observers and falsifications on my polling station," said Lesya Ryabtseva, a fourth-year student from Russian State University for Humanities (RGGU). "That's why I decided to be recruited as observer for the presidential elections."
"I am going to monitor the elections because I want to see for myself that at least one polling station in Russia will have no falsifications." said Roman Medvedev, a second-year student at the Moscow State Institute of International Relations (MGIMO).
Yury Korgunyuk of the Indem think tank views the rise of the civil activity among Russians as a good sign, although he questions how much it will actually affect the voting process. "There are a lot of remote regions, 'hidden corners,' in Russia which are difficult to reach and monitor," Korgunyuk said. "They may be out of the reach of observers who can succeed only in big cities where you can easily monitor. We also should keep in mind that there are a lot of fake organizations supported by the government that create only the illusion of social action," he added.
Yevgeny Minchenko from the International Institute for Political Expertise says that regardless of the actual effect, the overall trend is very positive. "The more people participate in politics, the less falsification we'll see," Minchenko said, adding that today in Russia there is a high level of competition among such watchdog projects, which encourages them to be professional and effective.
"Unfortunately, I didn't sign up as observer for the parliamentary elections, but now I want to be enrolled as an observer," said Kira Tverskaya, a journalism student from Moscow State University. "It's very interesting to look at the presidential elections from the inside, keep track of probable violations and, thus, minimize the possibility of vote fraud. After all, it has proved to be effective during the State Duma elections when observers filed a lot of complaints to the court even though it remains unclear whether they will get through it. "
The increase in the number and activity of organizations working to involve people in the political process is encouraging ordinary Russians to be more politically aware, even if the trend is only temporary.
"I believe that one should go to the elections as an observer," said Darya Petryagina, a graduate of the journalism department of Moscow State University who served as an observer during the Dec. 4 State Duma elections. "People should know what happens in the polling stations during the vote count. Even though they may fail to change the results of the elections, at least they will be able to witness the falsifications and tell their friends and relatives about this. And this does matter because it makes the election process more transparent and less manipulated."
All rights reserved by Rossiyskaya Gazeta.