Vote and track down violations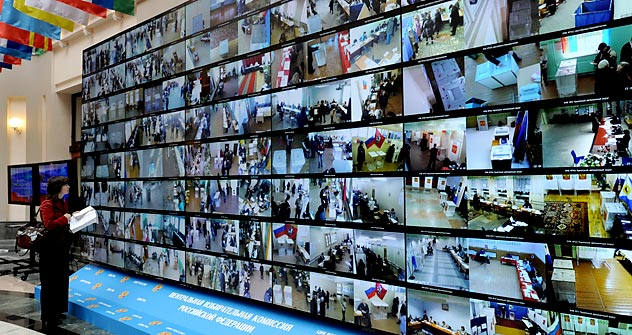 Russians electing the new president. Source: RIA Novosti
Russian citizens went to the polls on March 4 to elect the country's new president. Vladimir Putin took about 63 percent of the vote during at Sunday's presidential election; Communist Party leader Gennady Zyuganov came in second, with more than 17 percent, according to the preliminary data from the Central Election Commission. The rest of the candidates - Mikhail Prokhorov, Vladimir Zhirinovsky and Sergei Mironov - won no more than 10 percent. Putin avoided a run-off by winning more than 50 percent of the vote.
The 2011 parliamentary elections were reported to have seen a lot of falsifications and violations which resulted in the public unrest that turned into a series of rallies held in central Moscow in support for honest elections. The alleged political fraud during the parliamentary elections encouraged civil activism among some Russians who decided to volunteer as observers during the 2012 presidential elections.
Kira Tverskaya served as an observer from Golos, a grassroots organization aiming to combat vote fraud during the elections. "We had to visit at least eight polling stations," Tverskaya said. "What we had to do was to keep track of possible violations ranging from barring observers from doing their job at the polling stations to carousel practices. Actually we had to gather the information about the number of voters at a polling station, including those who voted from home and voters without permanents residence registration. Nearly every polling station we visited recorded between 2,000 and 3,000 votes."
When asked about violations at the polling stations, Tverskaya said: "I didn't witness that any observers had been prevented from moving along the station, videotaping and taking pictures. But nevertheless some officials asked us to fill out a permission form to do recording at the poll. In addition, we saw some suspicious voters, young people who, as a matter of fact, didn't have the right to vote at the polling station because they don't have the permanent residence registration and they looked pretty nervous while voting which seemed to me a bit suspicious."
Vladimir Putin is the clear winner in Sunday's elections, with preliminary results showing that he took 63.3 percent of voters. However, he garnered only 48.7 percent in some Moscow's polls, which is the lowest in Russia.
Lesya Ryabtseva from the Russian State University for Humanities (RGGU) was an observer at polling station 1210. She was confused by the fact that some officers at her polling station gave two ballots to some voters who wanted to vote for their relatives. "Although the elections seemed to be honest I was a bit surprised when a woman came to the poll and said that she wanted to vote for her husband," Ryabtseva said. "And the officer of the polling election commission gave her two ballots. It looked pretty weird to me."
Likewise, she was a bit surprised when 18 employees of a company located not far from the polling station voted together although they didn't have the right to vote there. As the officers of the election commission explained, the leadership of the company asked the permission for them to vote at this polling station because they couldn't interrupt the working process in the firm, Ryabtseva said.
The election results:
Vladimir Putin – 63.60 percent
Gennady Zuyganov – 17.18 percent
Mikhail Prokhorov – 7.98 percent
Vladimir Zhirinovsky – 6.22 percent
Sergei Mironov – 3.85 percent
While observers were tracking down the probable violations, young Russian voters were casting their ballots.

"I voted for Vladimir Putin because he proved to be a strong leader who fulfilled his pledges," said Maksim Rudnev, 23, a student at Russia's Academy of Law and Governance. "His words and deeds are never at variance. It was he who brought stability in the country and recovered Russia's low profile"
"I elected Gennady Zyuganov from the Communist Party, because I find him the most eligible person from the Russian opposition who proposes the most adequate program and ideas," said Ilya Overchenko, 21, a history major at Moscow State Regional University.
Artem Avtandilov, studying engineering in Kazan State Technical University voted for Mikhail Prokhorov. "Although he is not well-experienced enough in big politics I think that he is the only candidate who may bring positive changes into our inefficient [political] system."
But some students didn't vote at all. For example, 24-year-old Airat Bagautdinov, a student at the Higher School of Economics, refused to vote. "I couldn't find any worthy candidates for Russia's presidency," he said. "Of course, there were some compromise options among them but, nevertheless, I didn't vote."
Likewise, Tatyana, a 21-year-old journalism student from Moscow State University decided not to vote because she found the election results too predictable. Tatyana doesn't think that she will be able to change the situation. "Everything we witnessed during Election Day was nothing but well-orchestrated theatrical show," she said. "Every candidate plays his own role on the stage."
Russians went to the polls to elect the country's new president. Source: Russia Now TV
All rights reserved by Rossiyskaya Gazeta.