Russian pop-rock is out to conquer Europe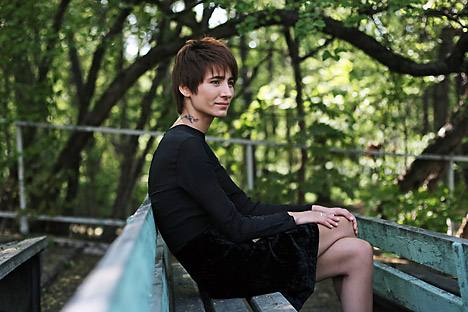 the Russian pop-rock scene from the outset, Zemfira, referred to by music critics as 'Kurt Cobain in a skirt.' Source: Kommersant
Although she has dominated the Russian pop-rock scene from the outset, Zemfira, referred to by music critics as 'Kurt Cobain in a skirt', is currently exporting her cracked voice and dark lyrics to Europe, and is performing in London on 15 March.
Zemfira comes from Bashkiria [The Republic of Bashkortostan] and was propelled to stardom by her first wildly successful album, released in 1999. The singer, now aged thirty-five, reached the summit of the Russian rock scene where she has remained ever since.
As heiress to such major Russian groups as Moumy Trol, Akvarium and Kino, Zemfira is also inspired by Radiohead and Deep Purple in her music compositions and song lyrics. After a professional career lasting thirteen years, including five hit albums, she has evolved a very personal style that clearly separates her from the mass of contemporary rockers. Her boyish figure and spiky hairstyle are deceptive. Her powerful voice comes from the depths of her being and grabs you by the throat, her lyrics are captivating and enigmatic.
Through the lyricism of her albums, Zemfira has succeeded in expressing the problems of a whole generation. So much so that in 2004, she was mentioned in a high school history book, in the chapter "Spiritual Life", as the founder of a totally original musical youth culture.
Zemfira receives the adulation of millions of fans, yet she has gained the reputation of being rather wild, brusque and very demanding. She doesn't hit it off with record producers or journalists and currently prefers virtual communication to public interviews and press conferences. She remains very reserved.
Zenfira's composition "London Sky". Source: Youtube / Sirotadot
Zemfira runs her own official web page on which she comments on her concerts and her calendar of tours and recordings. She also answers questions from her groupies. Can they wait outside her house to present her with a bouquet? The reply: 'No thank you, that would irritate me. I prefer being on my own, even though I've chosen such a public career. Unless it's the person who chose me? I would be very grateful if people left me alone between concerts'. And there are many a concert – in Moscow, St. Petersburg and elsewhere in Russia, in stadiums or more intimate venues.
"I am always working", she confides to her fans. "I have to rewrite some songs two or three times. The problem is that I have to do so much myself. I produce genuinely authored albums, I play a lot, I record, I edit. I need to be in charge of everything". Although the issue date has not yet been fixed, Zemfira has already warned that she is making one last large-format album. In the future, she will restrict herself to EPs (seven or eight tracks).
Zemfira is performing in London on the 15 March, 7pm, at the HMV Forum, 9-17 Highgate Road, Kentish Town, London, NW5 1JY
All rights reserved by Rossiyskaya Gazeta.