The historian with a knack for negotiation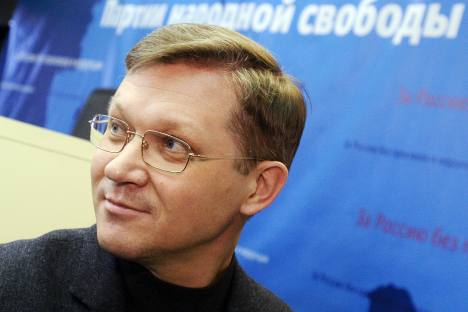 Vladimir Ryzhkov, one of the senior opposition figures: "You have to be careful and sometimes even indecisive if you don't want to damage the crop. If I was a determined politician, I would have called for the storming of the Kremlin." Source: ITAR-T
At 45, Vladimir Ryzhkov is one of the senior opposition figures. His Achilles Heel is his cautiousness – but that could again open political doors for him.
"Neutral and harmless" is how opposition politician Boris Nemtsov describes Vladimir Ryzhkov. The characterization may sound like an insult, but it seems that Ryzhkov's neutrality is paying off. Thanks to Russia's recent political reform, his Republican Party, founded in 2007, is about to be reregistered, paving the way for Ryzhkov's possible return to parliamentary politics.
At a recent protest, however, Ryzhkov looked nothing like a man interested in returning to the State Duma. He was in his element, leading the crowd like he did during the first democratic rallies he organised in his native Altai Region in Eastern Siberia.
Ryzhkov, a historian by profession, acquired his political experience and the ability to choose his words correctly over the course of many years, as he moved from street democrat during the perestroika years to State Duma Deputy and Deputy Chairman of the pro-Yeltsin "Our Home is Russia" party.
Ryzhkov entered the Duma in December 1993 at the age of 27. In 1997, he became deputy speaker of the parliament, and in 1998 was named deputy prime minister for social affairs by President Boris Yeltsin. But Ryzhkov declined the post because he lacked experience.
Vladimir Ruzhkov's profile
Job: Historian
Calling: Politician
Age: 45
Vladimir Ryzhkov was born in 1966 in the Altai city of Rubtsovsk. After his army service and time at university, he became one of the leading politicians in his region. In 1991, he became deputy governor of Altai, and in 1993 was elected for the first time to the State Duma; he was its youngest member. He remained a member of parliament for four legislative sessions. Ryzhkov is mainly orientated towards regional politics. In the 1990s, he became a leading member of the "Our Home is Russia" Party, which supported President Boris Yeltsin. Soon after Yeltsin's resignation, Ryzhkov found himself without a party. In 2003, he ran as an independent candidate in his Altai constituency. In 2007, Ryzhkov withdrew from parliamentary politics and has since then belonged to different opposition alliances. He was recently one of the organizers of the demonstrations "For Fair Elections."
His political opponents still accuse him of cooperating with the governments of both Yeltsin and Vladimir Putin. In response, Ryzhkov has said: "Yes, we made a lot of mistakes, but were looking to have a bigger market and more democracy. During my time there, the parliament was a place for discussion." Ryzhkov stressed that he went into opposition and began to criticise the newly-elected Putin, immediately after the arrest of media mogul Vladimir Gusinsky in 2000. He calls himself the oldest opposition figure since he began to criticize Putin earlier than his closet rivals – Nemtsov and Mikhail Kasyanov.
Ryzhkov remained a member of the Duma until 2007, when his Republican Party was dissolved. He has been in opposition ever since. He also teaches at the Moscow School of Economics, hosts a program on the Ekho Moskvy(Echo of Moscow) radio station, and writes articles for various newspapers.
More than anything, Ryzhkov loves to talk about Tsar Alexander II, who abolished serfdom. "He initiated fantastic educational reforms, introduced high schools and a modern army. At that time, the economy flourished. Now Russia needs a leader like that, as well as the right environment," Ryzhkov said.
Russia? Canada times seven
He does not see Putin as Alexander: "He has led the country like [the leader of] a criminal gang for 10 years. Now we need to create political institutions. Russia can become one of the richest countries in the world: Canada multiplied by seven."
Ryzhkov has a personal bone to pick with Putin: in a television appearance in December 2010, Putin accused politicians Nemtsov, Ryzhkov and Vladimir Milov and fugitive oligarch Boris Berezovsky of having ''billions stashed away'' because of criminal activity in the 1990s. These allegations elicit a derisive laugh from Ryzhkov: "What billions could I have put aside as a member of parliament? When you look at those who have plundered, the comparison doesn't flatter Putin. Putin was the deputy mayor of St. Petersburg, then well known as a city of bandits. The citizens of St. Petersburg know who did the plundering."
Negotiating with rogues
Ryzhkov looks younger than his 45 years. His biggest weakness is his alleged indecisiveness. As one of the organizers of the demonstrations, he was asked if the protestors might have been more successful had they taken bigger risks.
"Putin and Medvedev were forced by pressure from politicians and ordinary citizens to make concessions," Ryzhkov replied. He considers the laws on the liberalization of the political system one of the successes of the protest movement. "I know I'm considered indecisive. But you have to be careful and sometimes even indecisive if you don't want to damage the crop. If I was a determined politician, I would have called for the storming of the Kremlin." Ryzhkov has promised to keep participating in protests, regardless of how few people attend. But as a responsible politician, he believes that only dialogue can lead to change: "I will sit at the negotiating table even if I have rogues in front of me," Ryzhkov said.
Despite Ryzhkov's harsh words about the Kremlin, Putin is less suspicious of Ryzhkov than he is of Nemtsov and Kasyanov. This may have to do with Ryzhkov's clearly dismissive attitude towards the nationalists who were also represented at the early demonstrations. He works with politicians with whom he does not agree and he sits with Sergei Udaltsov, the leader of the Left Front, in a working group for the reform of the political system, which is chaired by the deputy head of the presidential administration, Vyatsheslav Volodin.
All rights reserved by Rossiyskaya Gazeta.