Pussy Riot reveals the fault line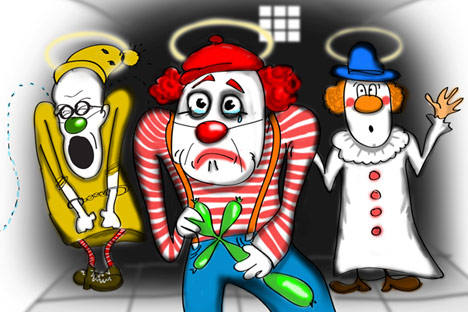 The punk provocateurs put the country's contradictions in clear relief. But so far, there are only losers.
They are designated "prisoners of conscience" by Amnesty International and Human Rights Watch and their Twitter account is one of the trendiest among Russian followers. Finally, Pussy Riot's dramatic saga became a symbol of one of the many divides that cleave Russian society.
In late February, masked members of the self-proclaimed all-women "feminist punk-rock band," which goes by the name of Pussy Riot, burst into Christ the Savior cathedral, its national church, and performed what they called a "punk prayer," a chant entitled "Holy Virgin, Chase Putin Away!"
This was the group's best-publicized show, following previous impromptu performances on Red Square and from the roof of a prison. Obscene lyrics and radical causes are Pussy Riot's trademark. Those few minutes in the cathedral ignited fierce debate throughout Russia and propelled the obscure radical art activists to international fame. Or notoriety, depending on how one looks at their act.
Initially it wasn't Putin but members of the group that were chased away by the security guards. The incident had all the signs of being a one-day sensation. That's until the police detained three alleged members of Pussy Riot a few days later on charges of hooliganism. If convicted, the punk rockers could face a prison term of up to seven years. Heated debates about the fate of the young women, Anastasia Tolokonnikova, Maria Alekhina and Yekaterina Samutsevich (the first two are mothers of young children) has revealed tensions that once simmered under the surface: Christian believers versus secularists, democrats versus Putin supporters, reformist Christians versus traditionalists – Russia's many ideological rifts are on display here.
There are very few Russians that think what Pussy Riot did was appropriate or even particularly clever. But the severity of the punishment has made even many Orthodox believers aghast. "Robbers and violent criminals sometimes get less, so why should a totally peaceful if provocative action carry such dire consequences?" – this question is being asked over and over again, in blogs, TV and radio talk shows and café conversations.
The main loser in this situation is the Russian Orthodox Church and its hierarchy. It is considered insufficiently resolute by the conservative laity, which wants maximum punishment for blasphemy to be meted out to Pussy Riot. And it is seen as callous, unmerciful and too reliant on the powers of the state by more tolerant, younger believers, mostly big city dwellers. More broadly speaking, the Pussy Riot story, no matter what its outcome, marks a watershed in society's attitude to the church.
For twenty years after the collapse of the Soviet Union, it was largely exempt from the criticism leveled at other institutions. Perceived as the victim of communist persecution, the church enjoyed a degree of public goodwill that it may not enjoy for much longer. Ever since the primate of the Russian Orthodox Church Patriarch Kirill allied himself with Vladimir Putin, making his support quite transparent during the March presidential elections, the idea that the church is politically neutral holds no water with Russians.
Opposition activists who rallied in support of Pussy Riot and portrayed their action as an innocent prank also lost. Instead of mitigating Orthodox fears that the democratic movement is hostile to religion and religious people, they have strengthened this stereotype. This doesn't look like a good political canvassing tactic. They handed the authorities a great chance to portray them as liberal dogmatists, divorced from Russian reality and oblivious to the country's spiritual foundations.
The authorities are so far the only winners in this situation. In the aftermath of the national electoral season, which brought so much discomfort to Vladimir Putin and Russia's ruling class, the public rage has been redirected towards the Orthodox Church and the patriarch personally. But the crisis is far from over. If Pussy Riot members continue to spend time in pre-trial detention (which in Russia is not different from being in a regular jail) more and more questions will be directed towards the Kremlin. The patriarchate's officials hint (on conditions of total anonymity) that the decision to jail the punk rockers emanated not from them but from the authorities. They promise to publicly demand clemency once the trial begins. A few minutes of what was conceived as a performance turned into one of those turning moments that made Russia's stark contradictions stand out in sharp relief, there for everyone to see.
Konstantin von Eggert is a commentator and host for Kommersant FM, Russia's first 24-hour news radio station. He was a diplomatic correspondent for Russian daily Izvestia and later served as the editor-in-chief of the BBC Russian Service Moscow Bureau.
All rights reserved by Rossiyskaya Gazeta.