Russians around the world take dictation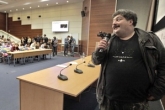 Writer Dmitry Bykov reads a dication text to Moscow residents taking part in the nationwide campaign and literacy test "Total Dictation" at the Moscow School of Social and Economic Sciences. Source: RIA Novosti
A program aimed at promoting literacy among Russian speakers, brought together 15,000 people in 85 cities across the world for a writing exercise.
Traditionally, Russian students spend hours learning the Russian language and classic Russian literature through a system of recitation and dictation beginning from the very earliest grades. Today, however, parents and educators alike fear that the Internet and the switch in Russian schools from the traditional written exam to the Single State Examination is causing the younger generation to become less engaged with classic texts and the language itself. On April 21, an exercise called "total dictation" challenged Russians around the world to test their language skills. More than 15,000 people in 85 cities across the world, including Paris, Berlin, London, Yekaterinburg, Samara, Krasnoyarsk, Kazan, Irkutsk and Vladivostok, took part in the event.
The dictation was compiled by well-known writer, philologist and opposition member Zakhar Prilepin, who dedicated it to the citizens of the Siberian city of Novosibirsk. "The text is complicated and difficult in terms of spelling and content. I talk about what lies in store for our country, for our people and for our nation. The task of any nation is to raise the bar high, even if only one percent of the population manages to reach it. If the bar is lowered, then nothing good will come of it, because we cannot simplify nano-technologies or have a surgeon carry out only simple operations," Prilepin said.
In the dictation, Prilepin raises thorny questions about Russia's fate. The text reads in part: "If the country called Russia suddenly discovers that it has lost a substantial part of its territory and a large share of its population, it could be said that in the early 2000s we had our hands full and that in those years we were preoccupied with more important things than preserving our statehood, national identity and territorial integrity. But if the country survives, then there were no grounds to lament citizens' indifference to the fate of their country to say the least."
Prilepin believes that writing and taking part in the dictation was part of his mission in life, and he was surprised by the excitement it caused. "Language is a system that orders not only itself, but our lives. Therefore, all those who in one way or another associate their lives with the country's future, and who intend to raise children, must understand that linguistic space is the space of our life, the space of our future. All that we are able to do will depend on how well we know and understand the Russian language."
In Moscow, the dictation was read by prominent writer Dmitry Bykov. "You know what struck me: people used to write practically without commas. That, of course, is a sign of illiteracy, but also a sign of freedom. Now the time of the overly cautious has come: people are so afraid to take a wrong step – to break the rules – that they put commas everywhere. If they had their way, they would put them after every word," Bykov told journalists.
In Moscow, 600 people wrote the dictation. There was barely an empty seat in the large auditorium of the Moscow School of Social and Economic Sciences, one of the sites where the dictation was held. The majority of those who took part were students, but there were also some for whom it had been several decades since their last time in a classroom.
Participants emerged from the auditorium bright-eyed and excited, discussing the tricky points in the dictation like schoolchildren coming out of an exam. Maria, a 10th-grader, regularly writes dictations at her school. But testing her literacy was not what brought her to the event. "I learned about Total Dictation from Facebook and immediately liked the idea. Isn't it great that they are writing this dictation today even in Paris? It is a very unusual and interesting action that unites people. At school we tend to think that a dictation is something dreadful and complicated, but the people here do it with joy."
Preliminary results show that only 1 percent got the top mark (5), 10 percent got a 4 and more than 60 percent got a 2, a failing mark, according to a report by RIA Novosti. Participants are entitled to a certificate with their mark. The results of previous years show that more than 50 percent received failing marks. But this serves more to motivate participants than it does to discourage them; people who have taken part in previous years have admitted their failures on social networks: "Last year I was one of the majority who got a failing mark. I will try to do better this year," read one comment.
The Total Dictation event was invented by students from Novosobirsk State University in 2004. In the beginning, just 150 Novosibirsk residents took part. By 2010, there were 2,400 participants. The number of cities hosting the dictation expanded rapidly: Last year, more than 5000 people took part in the dictation that was read in 12 cities across Russia, as well as in many foreign cities. Prominent writers were commissioned to write the dictations: sci-fi writer Boris Strugatsky in 2010, Dmitry Bykov in 2011 and, most recently, Zakhar Prilepin.
"The dictation that I wrote last year was simpler than the one Zakhar Prilepin wrote this year. I myself would probably have made a mistake," Bykov said.
All rights reserved by Rossiyskaya Gazeta.