Despite the Russian love of passionate dancing and strong alcoholic beverages, over the past 10 years, several decent Mexican restaurants in Moscow have closed forever. For example, Mariachi near the Yugo-Zapadnaya metro station and Hola Mexico at KuznetskyMost, have shut their doors. But that doesn't mean that nachos and tequila are no longer being served in Russia's capital. Foreign connoisseurs of Mexican cuisine gave their opinions on where to find the best nachos and margaritas – and where it's best to avoid temptation.
---
Pancho Villa
52 Bolshaya Yakimanka (Oktyabrskaya metro station)
This restaurant is organized to resemble the actual headquarters organized by Pancho Villa, the hero of the Mexican Revolution of 1910–1917. A tavern, the Hotel Tamarind, a street, church, prison, three bars, Pancho's office and a bedroom are all located within the headquarters. At night, however, at its heart are passionate salsa dancers – and not just the kind who dance in clubs, but just people who are passionately devoted to the Latin dance. The food here is pretty authentic and it's a favorite of the expat community. The restaurant was located on the Arbat, but relocated to Bolshaya Yakimanka in 2004.
The average bill is 2,500–3,000 rubles ($85–100)
Ilaria Parogni, social media manager: "It's a nice and warm environment, very rustic. The only problem is the food, especially if you are looking for a truly Mexican food experience. The dishes tasted good, but they are a dumbed down version of Mexican food – not spicy enough, not flavorful enough. The funniest thing was that I was there with some Russian friends – and they could hardly deal with how "spicy" my very mild-tasting enchiladas were."
John Mann, PR specialist: "Mexican food has never been the same around here since Hola Mexico and the original Pancho Villa on the Arbat closed down. Hola Mexico and the old Pancho Villa on the Arbat had something close to the Tex-Mex you'd expect back in the U.S. (I never felt the new Pancho Villa was nearly as good, plus it feels like a dungeon."
---
Amigo Miguel
47 Leningradsky prospekt (Aeroport metro station)
Amigo Miguel is positioning itself as a beer restaurant. Its website invites visitors to have a "dinner with spice." But the chef, Alfredo Romero, is Mexican and so the restaurant offers exclusively Mexican cuisine – without a separate sushi or burger menu. The beer is German and Czech and there is also a huge selection of tequilas and tequila cocktails.
The average bill starts at 1,500 rubles ($50)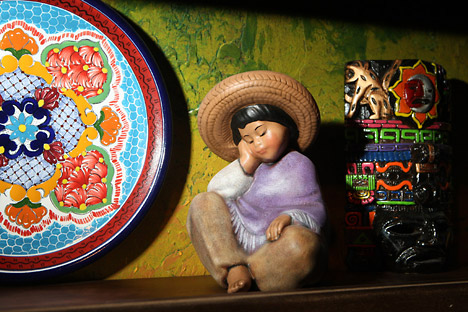 Amigo Miguel Restaurant. Source: Kommersant
John Mann: "Of the places I've tried, Amigo Miguel is the closest at the moment. Its main problem is it's not very central, so I don't go that often. That doesn't mean the food is perfect. I still make a point of getting some good Mexican food sometimes when I travel because I so rarely have it here."
Catherine Blanchard, magazine editor: "I will also vote for Amigo Miguel. They have a very professional chef who cooks brilliant Tex-Mex dishes. It's not that kind of food that you can find in Starlite or somewhere else; it's authentic Chimichanga and salad with cactus. I like that there are different rooms – white, red like traditional and scary, which reminds of the Latin American mafia."
Evy Meng-Lan, freelance writer, blogger: "Sort of out of the center and not so well known, but the food is actually very good."
---
La Cantina
5 Tverskaya (Okhotny Ryad metro station)
La Cantina offers Tex-Mex cuisine and tequila. Dispensing this fiery water are special girls in Mexican half-cowboy outfits. Located right on Tverskaya Street, the restaurant isn't especially noticeable, but through the window its possible to see cacti and sombreros. Around the corner is an Irish pub where you can continue the evening.
The average bill is 1,500–2,000 rubles ($50–70)
Catherine Blanchard: "The food at La Cantina is uneatable."
Evy Meng-Lan: I like La Cantina for its atmosphere, occasional live music, which makes it great for hanging out casually with friends. I like that they didn't overdo it with the interior, decorations, costumes, etc. It is a quite decent place. They have a good selection of Mexican dishes and food is reasonably priced for being located right in the center next to the Ritz Carlton.
---
Manito
9A Sokolnicheskaya Pl. (Razdolye shopping center, Sokolniki metro station)
The wicker chairs and imitation windows with wooden shutters, a-la a tavern, in this Mexican-Peruvian restaurant, which used to be called Carambos, are dazzling. Russian visitors like this styling as well as the carnival parties on the weekend. On the menu, however, alongside the Mexican and Peruvian food, you'll find Russian salad.
The average bill without alcohol is 1,500 rubles ($50)
Alexandra Guria, tourist: "The food is not so bad, but I was waiting too long for it. Portions are huge so you can take one plate for two – that is so similar to Latin America. There were playing Los Mariachis, I liked it and gave them generous tips."
Maria Andreeva, an expert in Mexican cuisine: "As a Russian fan of Mexican food I would recommend El Manito. Every time we are there there's a bunch of Spanish-speaking people, which is probably a good sign."
---
Casa Agave
17 Bol. Cherkassky per. (Lubyanka metro station).
The colors of Casa Agave's interior are incredibly bright––entering the restaurant is like walking into a store featuring Mexican clothing – or like you are sitting right on a sombrero. The dishes on the menu are completely Mexican, and there is a business lunch. Every day the restaurant offers a nice bonus: on Tuesdays and Thursdays there are Latin dance lessons, and on Monday there's free hookah. Every day from 4 pm until 9 pm, the restaurant has a happy hour with margaritas, tequila, beer, Cuba Libre, and orange vodka.
The average bill is 1,500–2,500 rubles ($50–90)
Catherine Blanchard: "There is so much tequila! A really wide choice, that's great! But me and my friends, we didn't like the girls in extremely short frocks that are offering tequila to each table. It's weird."
Evy Meng-Lan: "This is some apparently authentic place. It's good if you order nachos with salsa (super guac) and cocktails, but some of the dishes are not that great and also not Tex-Mex."
All rights reserved by Rossiyskaya Gazeta.