Blue berets to meet green ones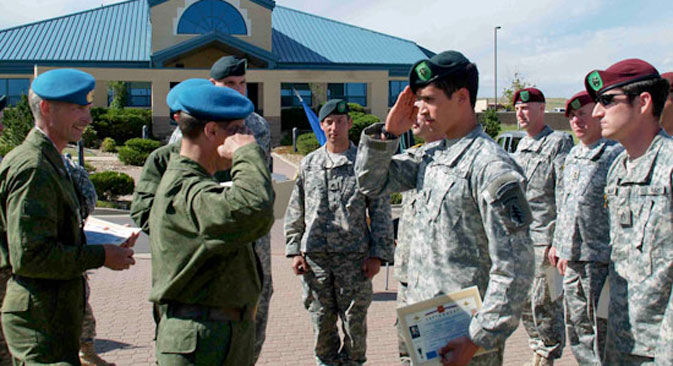 Russian Airborne Troops are going to be involved in joint military drills with their American counterparts at Fort Carson in Colorado. Source: Mil.ru
Russian Airborne Troops to experience joint military drills with American special forces in Colorado
When Baby Boomers think of Russian paratroopers on American soil, they may recall the Hollywood movie "Red Dawn," in which the American heartland is occupied by the Soviet Union, and only Patrick Swayze and his high-school friends can fight the invaders.
Instead, the reset has found its way, remarkably enough, into military exercises. For the first time, members of the elite Russian Airborne Troops (VDV) will be jumping out of planes, training and flying helicopters at Fort Carson in Colorado.
Fort Carson is home for the 4th Infantry Division as well as other U.S. Army units including the 10th Special Forces Airborne Group.
The maneuvers in Colorado will be held in accordance with the December agreement between the U.S. and Russian General chiefs of staff. This agreement also envisions reciprocal joint exercises in Russia and plans are in place to send a handful of U.S. service members to Russia next year for similar training.
Meanwhile Russian Airborne Forces spokesperson Col. Aleksander Kucherenko told RBTH that drills in Colorado will be taking place from May 24 to 31. They include planning and conducting a tactical airborne operation, reconnaissance and assault on terrorist camps and evacuation by helicopter.
"This is the first time such an event is being held," Col. Kucherenko stressed.
According to Fort Carson spokesman Lt. Col. Steve Osterholzer, twenty-two Russian soldiers will undergo weapons and equipment training with their American counterparts. Russian military members have never before trained on a U.S. base, Pentagon officials told RBTH.
"For us it is helpful to know how Russians do medical evacuation and vice-versa. Also there will be two days of basic mountaineering skills and we are going to expose Russians to how we're doing operations in the mountains," Lt. Col. Steve Osterholzer said, adding that the primary goal for joint drills is "establishing relations."
The U.S. military is interested in possible interactions with the Russian side not only in terms of counter-terrorism cooperation, but also to establish mutual understanding for possible participation in humanitarian relief operations.
It's also quite remarkable that Russian "Blue Berets" will parachute jump with "Green Berets" from U.S. Special forces. During the jumps members of the winged infantry (as paratroopers are often referred to in Russia) will become acquainted with how parachute jumps are performed in the U.S., Army Lt. Col. Osterholzer said. "Building the spirit of a comrade-in-arms relationship" starts with joint parachute jumps, he added. "The end result of this program is an improved understanding on our side of how other foreign militaries work."
Alexander Gasyuk is Rossiyskaya Gazeta's Washington, D.C. bureau chief.

All rights reserved by Rossiyskaya Gazeta.