Take a vacation in the city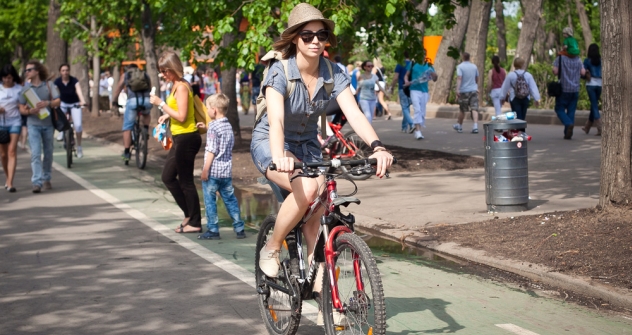 Moscow's Gorky Park has four facilities where you can rent bicycles. Source: Gorky Park / Press Photo
Moscow's parks offer plenty of options for beating the heat this summer.
On a recent Sunday afternoon, with the temperature hovering close to 80 degrees, two girls in bikinis listen to music as they read a book while, a little farther away, crammed into a jigsaw of towels on the sand, other young people take in the sun, fanning themselves with newspapers and chatting in Russian.
This is not the Crimean seashore or any of the other places Russians usually spend their summer holidays. No, it is the heart of Moscow, only a few miles from Red Square. The Russian capital's iconic Gorky Park (metro Park Kultury, Oktyabrskaya or Frunzenskaya) has added an artificial beach this summer as part of its extensive renovations.
Among the swaying hammocks, open air dance floors and large poufs scattered throughout the gardens, it is difficult to resist the thousand attractions set up in the park, which draw nearly 20,000 visitors a day in high season.
Not far from the shores of the lake, skimmed by colorful pedal-boats, rises the city's first open air cinema, which shows film reviews and screenings after sunset.
Every week the park is also home to dance classes, seminars on yoga, art and children's games, set up on the broad banks of the Moscow River. And that's not all. The park also has chess tournaments, bike and skate rentals and challenges on the petanque courts.
On a larger space, in the south of the city, there is an immense green field of Kolomenskoye Park (metro: Kolomenskoye) hosts a museum, snack bars and game areas among its church cupolas and rows of apple trees.
Other parks not to be forgotten are Sokolniki (metro Sokoniki) and Tsaritsyno (metros Tsaritsyno and Orekhovo). These are peaceful shelters, far from traffic, where visitors often encounter groups of people dancing. Very quiet and just as enticing, surrounded by a long bicycle lane and bathed by the waters of the Moskva, Vorobyevy Gory (metro Vorobyevy Gory) also offer relief, separated as it is from the chaos of the city on the other side of the river and blocked by the high green hills that encircle this silent green paradise.
All rights reserved by Rossiyskaya Gazeta.