A home for the world's best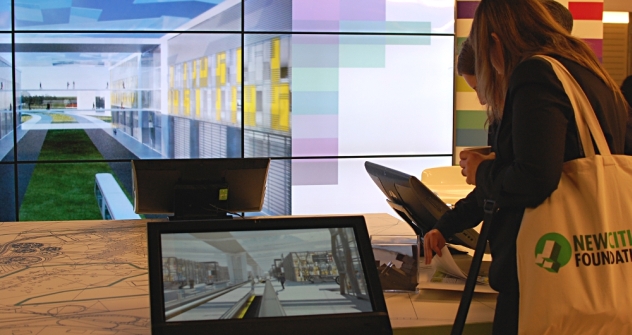 "The Cube," the Skolkovo Inovation Center's first building is expected to open in September. Source: Press Photo
The first building at the Skolkovo Innovation Center is nearing completion, and it is just the beginning.
When CNN's Richard Quest filmed a documentary about cities of the future earlier this year, he arrived at the Skolkovo Innovation Center outside Moscow too early to see the first building completed. "The Cube," which will open in September, is the first hi-tech edifice of the sprawling 400-hectare plot.
Jean Pistre, chairman of the Skolkovo Fund's construction committee is a fan of the building and the changes it represents. "We need to rid ourselves of city planning that places offices and stores 50 kilometers away from homes," Pistre said at the New Cities Summit in Paris last month. Russia's answer to Silicon Valley, whose first roads and electric grids are beginning to take shape outside Moscow, has eco-efficiency planning at its heart – transportation within the city will be dominated by bicycles and electric cars, while green alleys and walkways will serve as the main thoroughfares.
"Skolkovo will combine lecture halls, research centers and private companies in one place. Despite the simplicity of this idea, it has not been entirely implemented anywhere else in the world. It must be at the heart of the new city's ideology and its main reason for success," Pistre continued, adding that the plans will allow the new city to avoid the common problems facing other metropolises: traffic congestion, overpopulation and inefficient grid patterns.
Skolkovo's utilities will be regulated by a single electronic network – developed by international giant Cisco – capable of monitoring energy consumption and altering traffic patterns to optimize usage. A single platform for ordering any kind of service or product – from pizza to a doctors' visit – will save time and energy. The architects also promise that over half the city's energy will come from renewable sources.
"We're interested in the experience of mayors from other cities that have successfully attracted investments and creative people. We're interested in the people who helped create them," said Jacob Bennett, Deputy City Manager of Skolkovo.
The Cube
The complex's first building, whose construction was recently inspected by Moscow Mayor Sergei Sobyanin, will be ready by this autumn and is intended to be the primary venue for the 2014 G8 summit in Russia. The Cube, as the building is known because of its ergonomic, yet basic design, will be covered on all sides by solar panels that can also be used to display artwork and advertising. The interior will consist of easily adjustable panels to allow for changes in layout.
The Skolkovo Innovation Center's 3-D model. Source: Skolkovo / Yuotube
The Cube's only physical connection to the outside world will be electrical: an internal water system linked to a nearby artesian spring will provide self-sufficient cooling and heating, while waste products will be converted on the spot into energy.
A home for the world's best
"We want half of Skolkovo's residents – researchers, businesspeople, students and specialists – to be citizens of foreign countries," said Skolkovo Vice President Seda Pumpyanskaya. The local university will have lectures in both English and Russian. "We must create living conditions that will people from different cultural backgrounds will feel completely comfortable living with each other and their families. This is a very difficult goal," she said.
Said Bennett: "The basis of Skolkovo will be a high-tech society, united by a single network."
All rights reserved by Rossiyskaya Gazeta.