A fight over "invisible" helicopters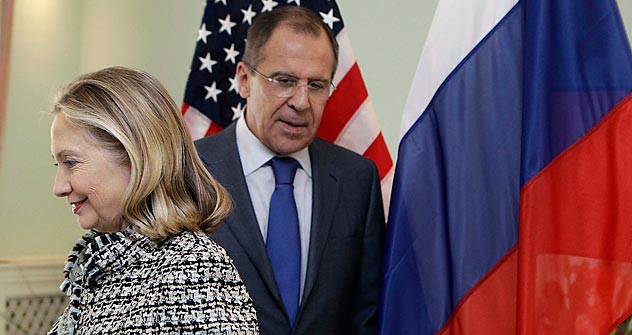 Russia's Foreign Minister Sergei Lavrov and his American counterpart Hillary Clinton. Source: AP
The U.S. has accused Russia of aiding Syria's attack on civilians by selling Damascus new helicopters. U.S. President Barack Obama and Russian President Vladimir Putin may discuss the issue during a bilateral meeting on the sidelines of the G20.
The deliveries of Russian helicopters to Syria has evolved into an international mystery. The U.S. State Department keeps insisting that Moscow has shipped attack helicopters to Syria for use by Damascus against civilians; the Russian Foreign Ministry denies the allegations.
Geopolitical agenda:
Although U.S. Department of State didn't give any clear evidence that Russia shipped to Syria its helicopters, it also refused to officially repudiate its statement. It may be one of the key issues during the negotiations between Russia's President Vladimir Putin and his American counterpart Barack Obama at the upcoming G20 summit in Mexico.
"We are concerned about the latest information we have that there are attack helicopters on the way from Russia to Syria," U.S. Secretary of State Hillary Clinton said on June 12. Commenting on this statement, State Department spokeswoman Victoria Nuland said: "I think the concern we have is that the arms the regime has are not being used for external defense. They're being used to kill their own citizens, especially civilians – women and children and men."
The U.S. Department of Defense refused to back the State Department, telling reporters that it has no information about Russia supplying attack helicopters to Syria. Capt. John Kirby, U.S. Department of Defense spokesman, told a media briefing: "I see no reports about shipments of Russian helicopters to Syria."
When asked repeatedly to confirm whether Clinton's accusations mean that Russia was shipping new attack helicopters to Syria, White House spokesman Jay Carney did not give a direct answer. "I have no specific reports on this matter,"Carney told the media.
Russian Foreign Minister Sergei Lavrov has also denied that Russia is supplying new attack helicopters to Syria. "I said a few days ago that we were fulfilling previously signed and paid-for contracts," Lavrov said during a press conference in Tehran. "All these contracts have to do exclusively with air defense systems."
Yet the State Department insists that new helicopters are on their way to Syria. Asked whether Lavrov could be wrong, Nuland said: "I would encourage him to check with his own authorities."
A New York Times report clarified the situation somewhat. "Pentagon sources suggested that Mrs. Clinton was referring to a Russian-made attack helicopter that Syria already owns but has not yet deployed to crack down on opposition forces. While these helicopters, known as Mi-24s, are flown by Syrian pilots, Russia supplies spare parts and maintains them," read an article published June 12.
This "exchange of civilities" between the foreign offices of the two countries might as well continue; yet the verbal swordplay between Clinton and Lavrov implies something else.
Last week, the U.S. Senate Armed Services Committee demanded that the Pentagon impose sanctions on Russia's Rosoboronexport, the state agency that sells arms. Sen. John Cornyn (Republican-Texas) expressed his "grave concerns" in a letter Monday to Defense Secretary Leon Panetta: "Lawmakers are deeply troubled that the Defense Department might knowingly do business with a firm that has facilitated the mass atrocities in Syria … Such actions by Rosoboronexport warrant renewal of U.S. sanctions against it, not a billion-dollar contract."
In 2010, the U.S. government awarded the Russian firm a contract to supply 21 Russian-made Mi-17 helicopters worth a total of $550 million for Afghanistan's forces. Shortly after the tender, American helicopter builder Sikorsky Aircraft Corp. filed an official protest, accusing the military of failing to comply with the tender terms and the Buy American Act and sought to have the contract annulled. The protest was rejected at that time. Later on, 17 lawmakers requested that the secretary of defense to put an end to purchases of Russian helicopters. The recent attacks on Russian arms must be seen in this context.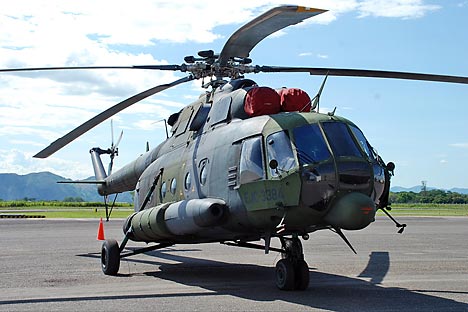 MI17. Source: Press Photo
On June 12, Assistant Secretary of Defense for Public Affairs George Little defended the contract, saying that Afghanistan required reliable defense forces and that the contract should be treated separately from the concerns over possible arms deliveries to Syria.
Konstantin Makyienko, assistant director of the Center for Analysis of Strategies and Technologies has no doubt that the current media assault against Rosoboronexport "is directly connected with the attempts by the American industrial and regional lobby to thwart the Pentagon contract for Russian-made Mi-17 helicopters."
Time will tell whether there is a connection between Clinton's remarks and those made by the lobbyists. In the meantime, Reuters reported on June 14 that the Pentagon had notified Congress of plans to purchase 12 more Mi-17V-5 helicopters from Rosoboronexport for the Afghan military, in addition to earlier supplies.
All rights reserved by Rossiyskaya Gazeta.