Romney keeps the gloves off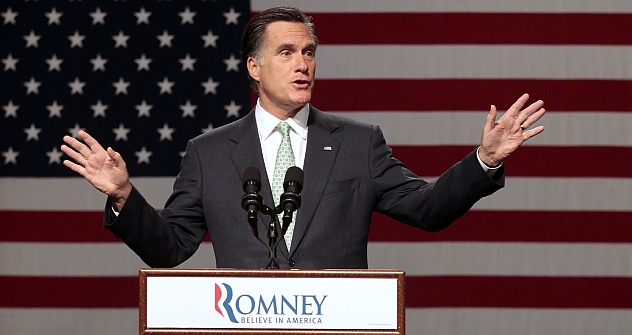 "Russia is America's number one geopolitical foe," GOP nominee Mitt Romney said. Foreign policy experts were bemused to see Russia at the top of the list. Source: Reuters / Vostock Photo
Mitt Romney stays confrontational on Russia for now, but observers say that could change if he makes it to the Oval Office.
Now that Republican presidential front-runner Mitt Romney has the GOP candidacy behind him, the former governor of Massachusetts is ready to broaden his challenge to incumbent President Barack Obama on a range of foreign affairs.
Romney set the stage by depicting Russia as America's "number one geopolitical foe." Advised primarily by veterans of the Reagan administration and both Bush administrations, he is poised to step up his attacks not only on Obama's overall approach to foreign policy but also the much-maligned-by-the-right reset, GOP observers told RBTH.
Since public opinion polls show that President Barack Obama enjoys a significant advantage in public confidence when it comes to handling America's foreign policy, it is not at all surprising that the Republican nominee's task is to undercut this advantage.
But how come Russia (even more than China and Iran) has so far turned out to be the centerpiece of Mitt Romney's anti-Obama electoral crusade on foreign policy?
Leon Aron is the director of Russian Studies at the conservative American Enterprise Institute and one of the Romney's foreign policy advisers.
In an interview with RBTH, Aron said that "Russia hit the center of electoral debates and Mitt Romney's interests pretty unexpectedly."
It was a mistake on the part of the Obama administration to herald the reset policy with Russia as a brilliant foreign policy accomplishment, Aron said, adding that the boasting "invited Republican attacks."
The controversial "hot mic" conversation between then-President Dmitry Medvedev and Obama in Seoul didn't help matters any. Obama's request to Medvedev "for more flexibility" was a lucky moment for the GOP that sparked Romney's confrontational rhetoric.
President of the Center for the National Interest Dimitri Simes agrees that the current U.S. administration has mistakenly "politicized Russia policy and exaggerated its successes."
Given the sharp disagreements between the United States and Russia on Syria, which is now careening toward civil war, Republicans will harshly criticize every attempt by Obama to further emphasize any progress in bilateral relations. "Some realism regarding U.S.-Russia relations would be constructive for the White House if it wants to avoid Republican attacks," Simes told Russia Now.
But this doesn't mean that presumptive GOP nominee Mitt Romney, if elected, will transform his public anti-Russian statements into political practice.
"I believe that most likely Governor Romney believes in the statements he made, but that does not mean that in practice this rhetoric will be his guide for action," Simes said.
"Many statements from the GOP candidates including those on foreign affairs surely have to be taken in the context of the political and electoral reality in the U.S.," Aron said.
"It is not only possible, but highly probable," that Mitt Romney's views on Russia will evolve if he is elected, Simes said.
American political history is rife with examples of strategic U-turns that begin the morning after the inauguration balls.
When Dwight Eisenhower ran for president, his advisers—such as the famous John Foster Dulles—spoke of Harry Truman's "cowardly" policy of containment of the Soviet Union and called for the speedy liberation of Eastern Europe. However President Eisenhower instead started the process of normalizing relations through personal meetings with Nikita Khrushchev in 1955 and 1959. President Richard Nixon was viewed as a leading anti-Communist, but it was Nixon who found the way toward detente. Nixon made the first-ever trip by an American president to then-Communist Russia in 1972, but also opened the door to dialogue with Communist China.
No one should be too surprised that Mitt Romney, if elected, might rethink his position. When needed for supply routes, Russia is no longer America's "number one geopolitical foe." As a president, many observers believe he would take a more realistic approach to handling bilateral ties.
Alexander Gasyuk is Rossiyskaya Gazeta's Washington D.C. correspondent.
All rights reserved by Rossiyskaya Gazeta.