Russian observers go to Syria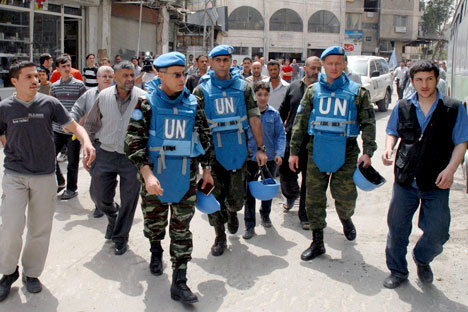 The United Nations' observers in Syria. Source: ITAR-TASS
But small number of participants sends mixed signals to the international community.
By the end of May, 300 UN military observers will be deployed in Syria to monitor the cessation of armed violence between the Syrian opposition and troops loyal to President Bashar al-Assad's troops. The team will include four specialists trained in Russia.
The team is officially called the UN Supervision Mission in Syria (UNSMIS). Russian Foreign Minister Sergei Lavrov said previously that the Russian observers would arrive at the Syrian scene of conflict from the Golan Heights, where a peacekeeping mission has been in place since 1948 to maintain peace between the newly-created state of Israel and the Palestinians.
"The military observers have functions markedly different from peacemakers," said the UN spokesman in Moscow Yury Shishaev. "Peacemakers are equipped as combat troops; they wield arms and are entitled to use them first – during certain missions and in certain environments. Observers can carry a pistol at best and are authorized to use it only in emergencies. Their mission is to monitor peace agreements between the conflicting parties, register violations and report them to the UN agencies concerned."
According to Leonid Ivashov, president of the Academy for Geopolitical Affairs, who headed the central department for international military cooperation of the Defense Ministry in 1996-2000, all of the Russian military observers engaged in UN missions before 2009 graduated from a UN Military Observer Course. The course lasted two months and included English-language classes focusing on military vocabulary. The future observers were supposed to study the English names of arms and materiel components, as well as the acronyms and terms used in the UN document turnover. Furthermore, the cadets were taught to drive under combat conditions and in emergencies, operate communications equipment employed in the UN (including NATO equipment). They were also taught the rules of international law and the laws of the host country. The course ended with an exam and a training exercise.
In 2009, however, the course was shut down. "When the Defense Ministry was reformed, not only the courses, but also many institutions that provided foreign language training to army specialists were discontinued. The international cooperation department was abolished, too, at least in the form in which it used to cooperate with the UN," Ivashov said.
According to Anatoly Isaenko, one of the first Soviet military observers, who worked in the UN mission in Egypt after the Arab-Israeli War of 1973, the falling number of Russian specialists engaged in UN mission is perceived negatively by military professionals.
"They establish the Syrian mission, an important one, and Russia promises to send only four men. It looks as if Russia does not care. The Defense Ministry gets no money for this and it appears that no one is interested," Isaenko said.
First published in Moskovskiye Novosti.
All rights reserved by Rossiyskaya Gazeta.